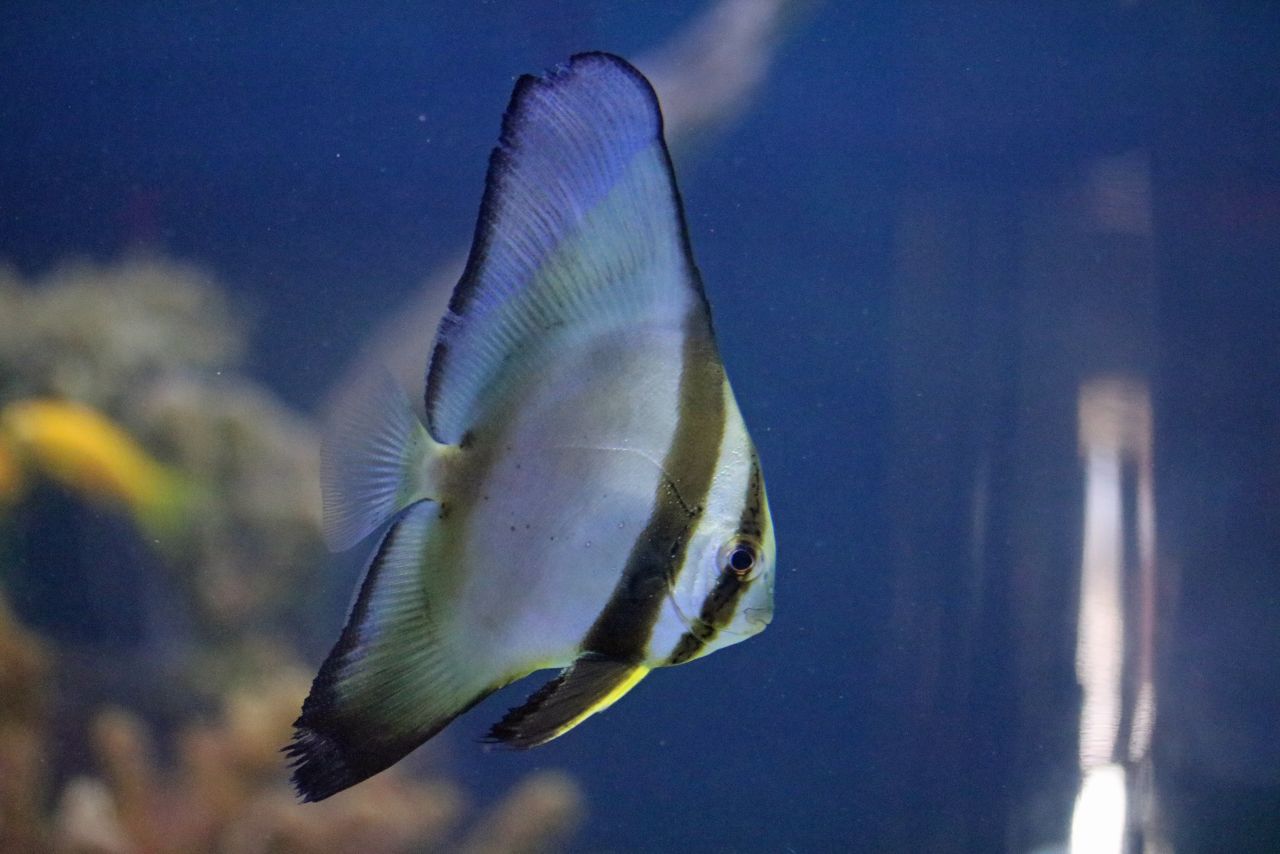 The orbicular batfish is a large, disc-shaped fish with a flattened dusky silver body. Its anal and dorsal fins are symmetrical, giving the adult batfish a spade-like appearance. Its dorsal, anal and tail fins are translucent yellow with black margins, and its pectoral fins are yellow. It has two prominent vertical black bars, a thick one behind the head that crosses the gill cover, and a narrower bar though the eye. Some sub-populations have small black spots on their sides.
The adult orbicular batfish very closely resembles the longfinned batfish, and distinguishing between the two is understandably difficult. The longfinned batfish has dark blotches under its pectoral fin and on the bottom edge of its anal fin which are absent on the orbicular batfish.
The juvenile orbicular batfish relies on its long fins to mimic a dead leaf by flopping onto its side and allowing the current to take it. It has a great affinity for brackish coastal environments, particularly mangroves and lagoons and can change its colour to a rusty brown to more closely resemble a leaf.
As it grows larger, it takes on a silver colouration more closely resembling the longfinned batfish. Gradually its fins become shorter until it takes on the characteristic spade shape of other members of its family.
The adult will move out of its sheltered coastal habitat to reefs where it will feed primarily on algae, but will snack on small fish if given the opportunity. Perhaps its strangest dietary quirk, the orbicular batfish will often follow sea turtles around to eat their faeces.
It ranges from Knysna in the Western Cape to the Red Sea, Australia, Polynesia, Japan and Alaska. Invasive populations are also present in the Caribbean.
Also known as a circular batfish, orbiculate batfish, round batfish or orbic batfish.
Grows up to 50cm long, and is usually taller than it is long.
True batfish carry the genus name Platax and are not related to deep-sea batfish, which are in fact a type of anglerfish.