Tracking our Turtles: Grand travels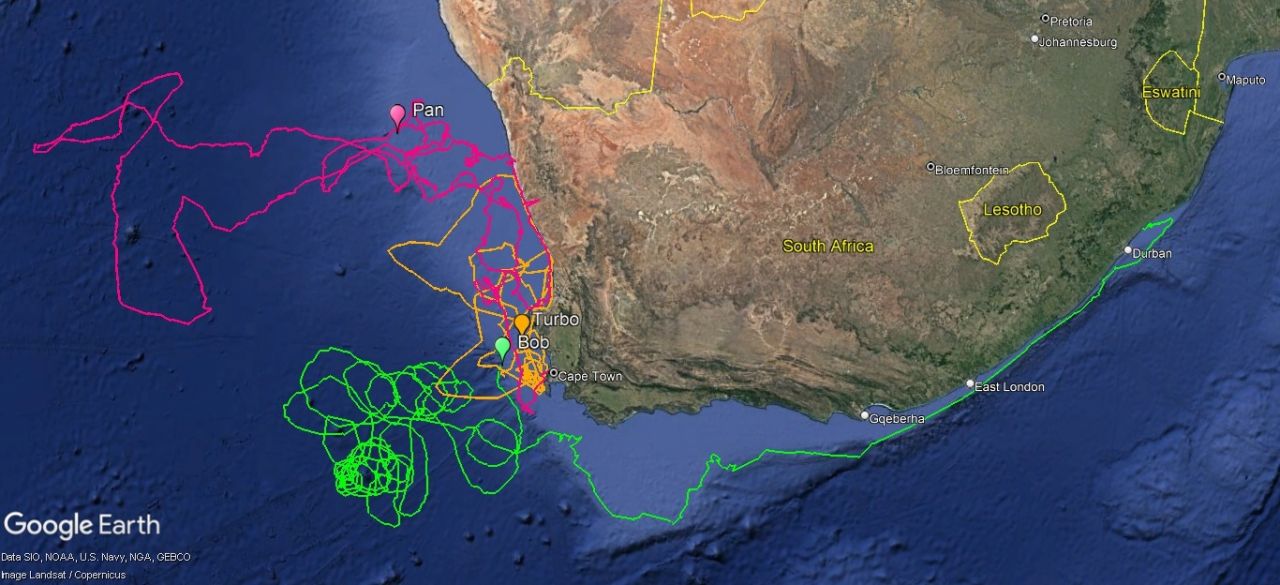 The turtles' journey so far:
Bob
It has been 231 days since Bob, the beloved green turtle, was released. We are so proud that Bob has travelled 11 209km, sent us 1 932 tracking transmissions, and swam through or past over half of South Africa's 42 Marine Protected Areas (MPA).

The last time we checked in with Bob, she was cruising near the Southeast Atlantic Seamounts MPA, a stunning underwater mountain range!
In the last months, we have come to expect Bob's pattern of swimming smartly in the surface currents, leading to some interesting (and quite beautiful) twirls in the South Atlantic Ocean.
This has certainly not changed in recent weeks. As the currents shift and move, we have seen them moving closer to the Western Cape coastline. Bob, following these swirling currents, is now only 96 kilometres away from Cape Town! She is currently hanging out in 16°C water.
Bob is right on the edge of the continental shelf, following it in a northerly direction. The water here is 2 300 metres deep! But, if she were to move just slightly further east onto the shelf itself, the water depth would quickly become much shallower (to a couple of hundred meters!).
There is a lot of swell (about 3.5 metres high) in this part of the ocean, so Bob might be riding some cool waves, maybe with some dolphin friends?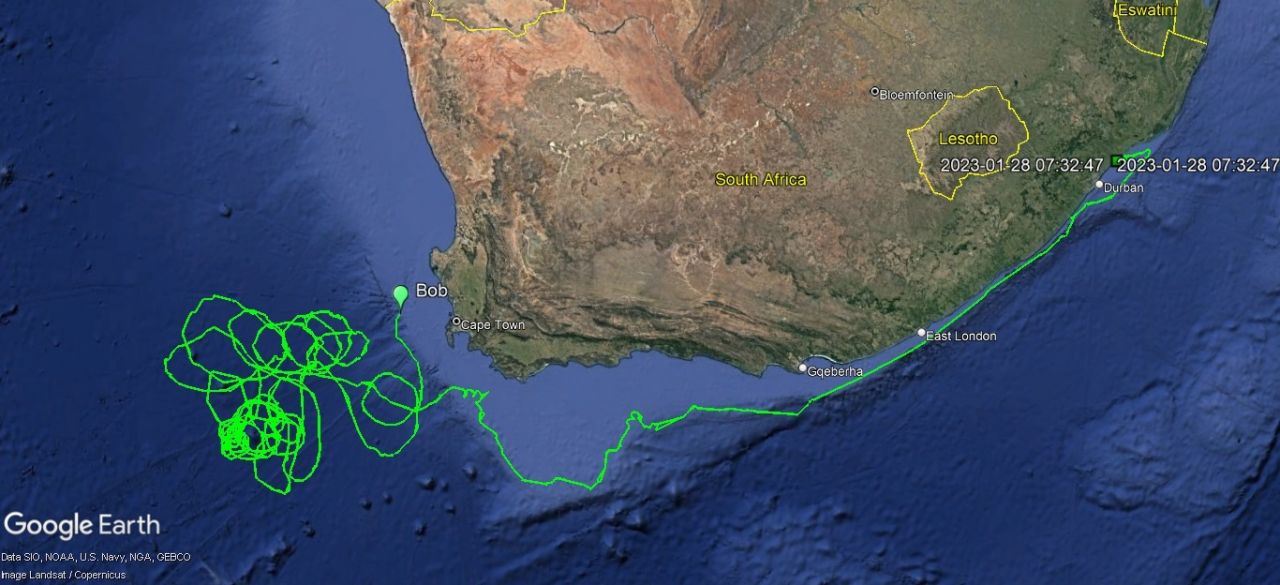 Pan
It has been around 14 months since Pan was released! Pan is a juvenile loggerhead turtle who was rescued in 2019, and this is the first time that our team at the Turtle Conservation Centre has had insights into the behaviours and movements of a juvenile loggerhead. What an incredible opportunity!

Pan has not been travelling far, but rather meandering and hanging out in a radius about 100 kilometres wide. Clearly, he's taking things at a chilled pace!
He is 250 kilometres off the coastline of the Namaqua National Park and just outside the boundary of the Namaqua National Park MPA.
Similar to the land beauty of the Namaqua flowers, this MPA has beautiful kelp forests, deep mussel beds, and West Coast rock lobster that it protects. This might very well be leading to some abundant food supply for Pan!
Since his release 14 months ago, our little Pan has travelled 9 792 kilometres and sent us 2 336 transmissions. We are so chuffed that we are getting the opportunity to track him for so long!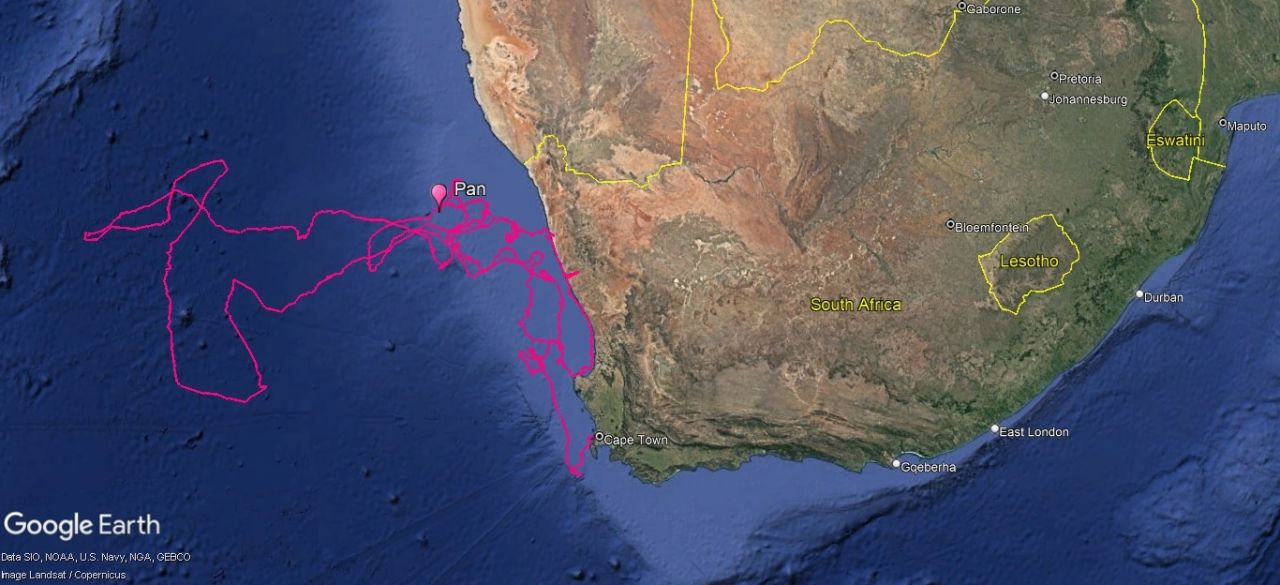 Turbo
In the last 272 days at sea, we have received 972 transmissions from our feisty Turbo. He has travelled 4 500 kilometres – that's just over three transmissions and about 16.5 kilometres per day!

Although he is following a different swimming pattern to Bob, Turbo is physically quite close to Bob right now! He is about 67 kilometres northeast of her, and therefore experiencing similar water temperature and swell.
When we last checked in with Turbo, he was about 80 kilometres off the coast of Lamberts Bay. In the last month, he has meandered down to Cape Point, staying within about 30 kilometres off the shore. This forms part of the Table Mountain National Park Marine Protected Area (MPA), where vibrant reefs, incredible biodiversity, and majestic kelp forests are sure to keep Turbo entertained!
Turbo hung around the outer peninsula of Cape Point for a few days before heading back up towards the West Coast National Park (to see the flowers I am sure!).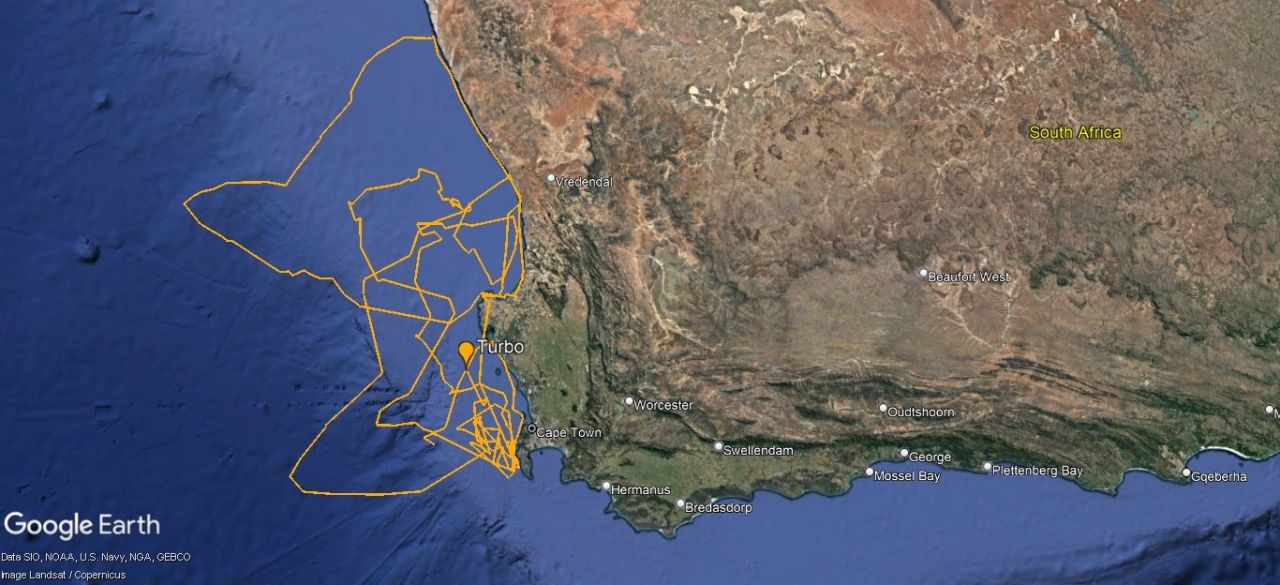 Bob stats:
Days since release: 231
Distance travelled: 11 209km

Nearest town: Cape Town

Water depth: 2 300m