Tracking our Turtles: Jellyfish Feast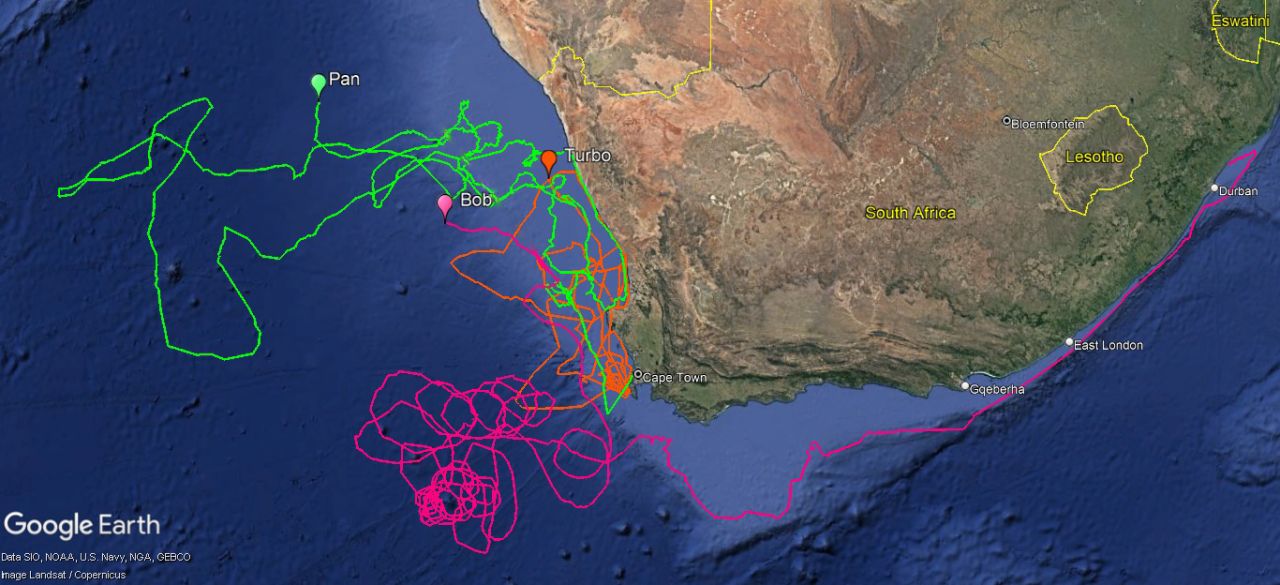 The turtles' journey so far:
Pan
Pan is a juvenile loggerhead turtle who was rescued in 2019 - this little turtle has been giving our team at the Turtle Conservation Centre amazing insights into the behaviours and movements of a juvenile loggerhead.
Pan has spent the last few weeks slowly moving further offshore again. He is 450km offshore from the Orange River mouth and Alexander Bay. Over 452 days since release, Pan has travelled a whopping 8 760km! That's around 19.4km per day. The water is sitting around 16°C and is about 4km deep.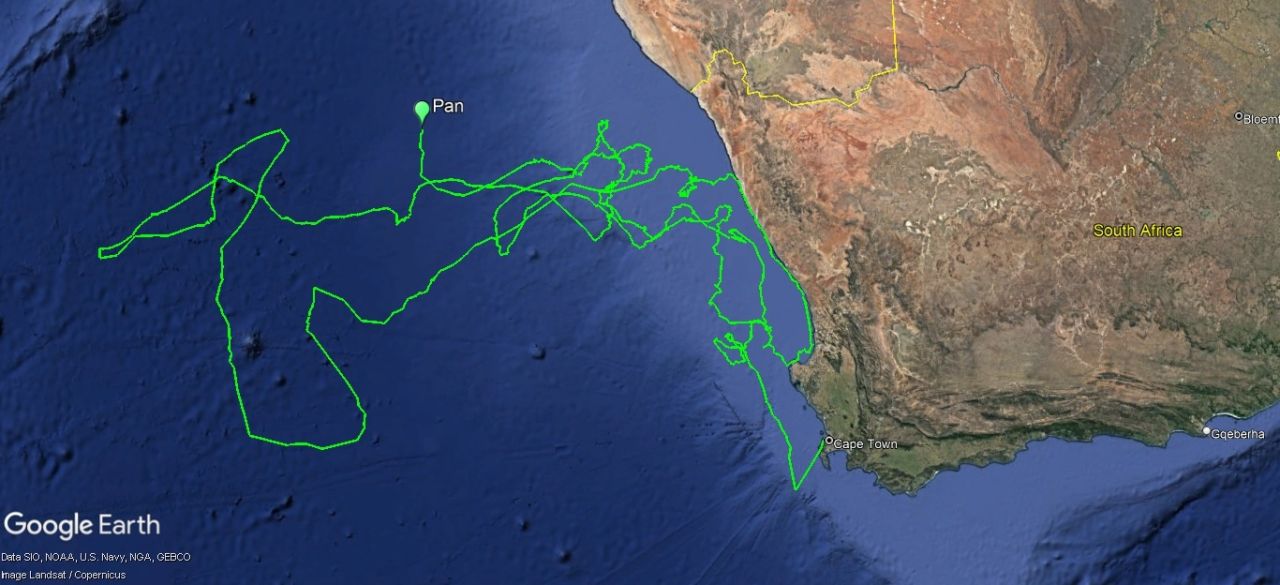 Turbo
Turbo the green turtle has been zooming around at sea for 301 days!

Turbo is about 190km south of Pan. Over the last month, Turbo has moved northward with intention. He hasn't explored around as much but moved with more focus in a straight line. Since his release 301 days ago, Turbo has travelled about 4 867km, an average of 16.2km per day.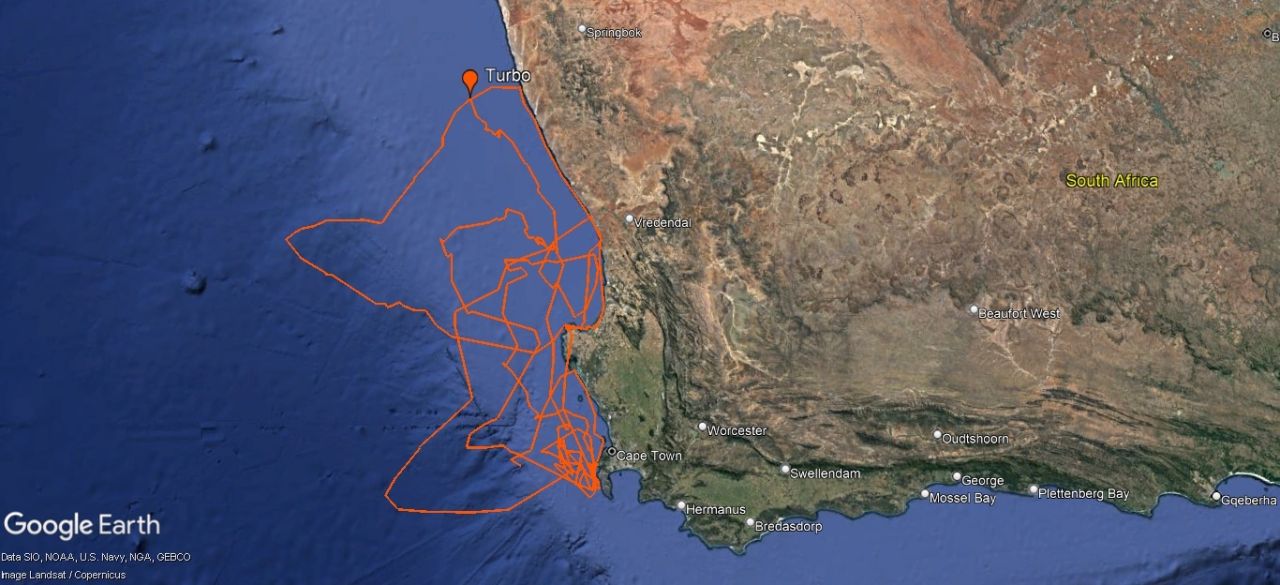 Bob
It has been 256 days since Bob, the beloved green turtle, was released. In 256 days, Bob has made some incredible progress and travelled impressive distances. She's even visited 28 of South Africa's 42 Marine Protected Areas (MPA)!
Recently, Bob has decided to move in a more straight-line direction and has forgone her southern Atlantic twirls. Bob is currently about 200km offshore of the Namaqua National Park, also moving north. She has stuck to the continental shelf as she has moved north and is now in pretty deep water at depths of 2.5 km. Seeing Bob move up the West Coast to where Pan and Turbo are really does make us wonder…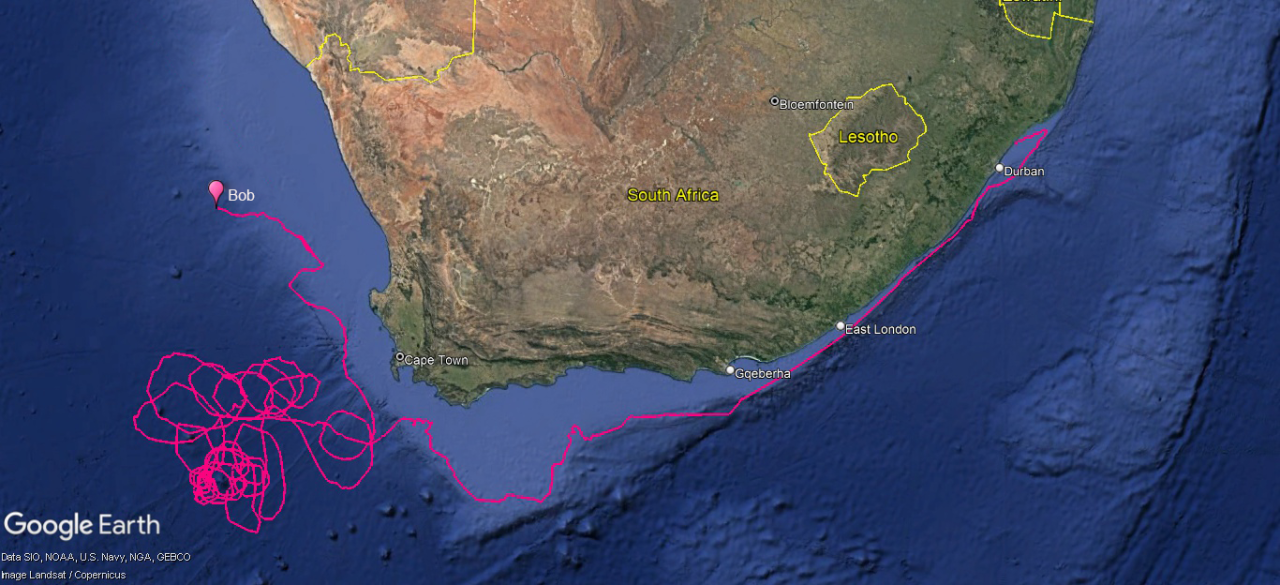 Why is the West Coast seemingly the best area for turtles?
The answer is quite complex and layered, but food is certainly a significant motivator.
We are entering into Jellyfish season up the West Coast. The offshore coastal winds on the West Coast move all the surface water offshore, which is replaced by colder, more nutrient-rich deep water. This water is the perfect place for young jellyfish to grow quickly and in abundance.
There are three species of jellies common along the West Coast: The Benguela Compass Jelly (Chrysaora fulgida), the Cape Compass Jelly (Chrysaora agulhensis), and the Crystal Jelly (Aequorea forskalea). These jellies are being pushed north by the Benguela Current coming up from Antarctica, but Namibian winds are also pushing the jellies south toward the West Coast of South Africa. Basically, this is the perfect spot for the turtles to have a jellyfish feast!
I do not doubt that all three of our turtles are taking full advantage of this access to food and that they will enjoy the opportunity to get a nice full belly!