Meet Pan, the newest member of our I&J Ocean Exhibit community of sea turtle rehabilitation patients. Pan is a loggerhead turtle (Caretta caretta), and despite his diminutive size, Pan can potentially grow to over 450kg - and with proper care at the hands of the Two Oceans Aquarium Foundation team, Pan will get the opportunity to reach that size in the wild!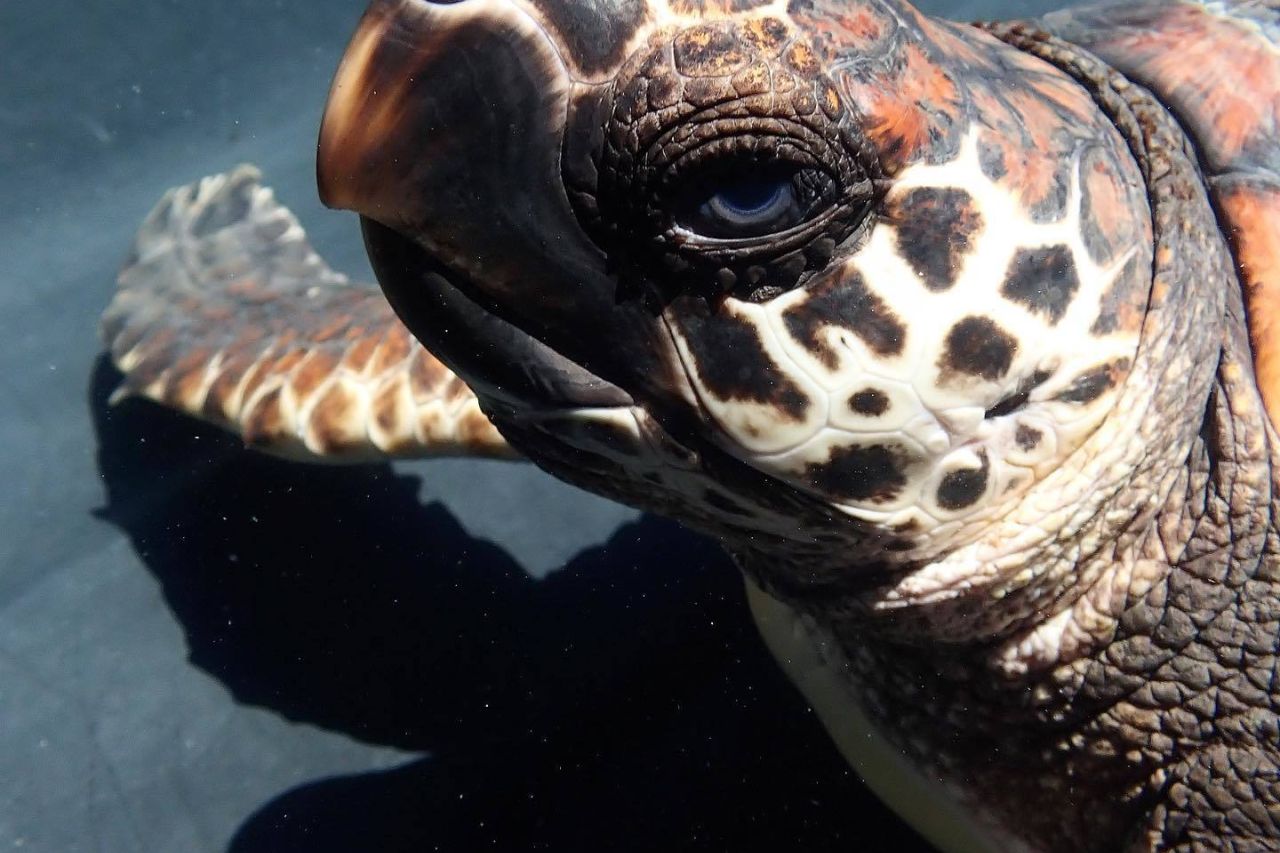 Pan was rescued by members of the public at Struisbaai on 29 April 2019, weighing only 49.5g! Like many of the stranded loggerhead sea turtle hatchlings that wash up on our coastline, Pan was affected by the cold waters around the Western Cape after being ejected from the warm Agulhas Current - resulting in the turtle becoming "cold-stunned", which in turn can lead to a host of other problems, particularly dehydration, immunocompromise, and metabolic difficulties.
With proper care, most sea turtle hatchlings are able to make a full recovery and be released in the summer of the year that they were rescued. Unfortunately, Pan developed a recurring ear and bone infection that did not clear easily, despite multiple courses of antibiotics and surgeries to clear infected tissue, so he missed the usual hatchling release season in 2019... and in 2020... and in 2021...
Now, Pan has grown to almost 185x the size he was when originally rescued (although at about 9kg, he's no Yoshi yet!) and is finally on the path to recovery. During his third ear surgery, abscesses were removed from his skull, and antibiotic implants were inserted - this treatment seems to have finally done the trick, and the Foundation team report that Pan is healing well, with no signs of returning infection! We'd like to thank the incredible team at the Cape Exotic Animal Hospital, who were able to use CT scans to guide their surgery, and finally relieve Pan of this stubborn infection.
Pan has been given a clean bill of health and is undergoing some final monitoring before being considered "release ready". As has become a bit of a tradition here at the Two Oceans Aquarium, turtles that have spent a long time in the rehabilitation facility get to make use of the large space in our I&J Ocean Exhibit for exercise while awaiting the optimal season for release. Little Pan has joined Nobomvu, a larger sub-adult loggerhead turtle, and Bob, a large sub-adult green turtle, in this exhibit - be sure to stop by and learn about these incredible survivors this school holiday!