On the evening of 7 March 2020 the Two Oceans Aquarium, in partnership with the UCT Underwater Club, will be hosting an exciting public event all about scuba diving, called Diver24.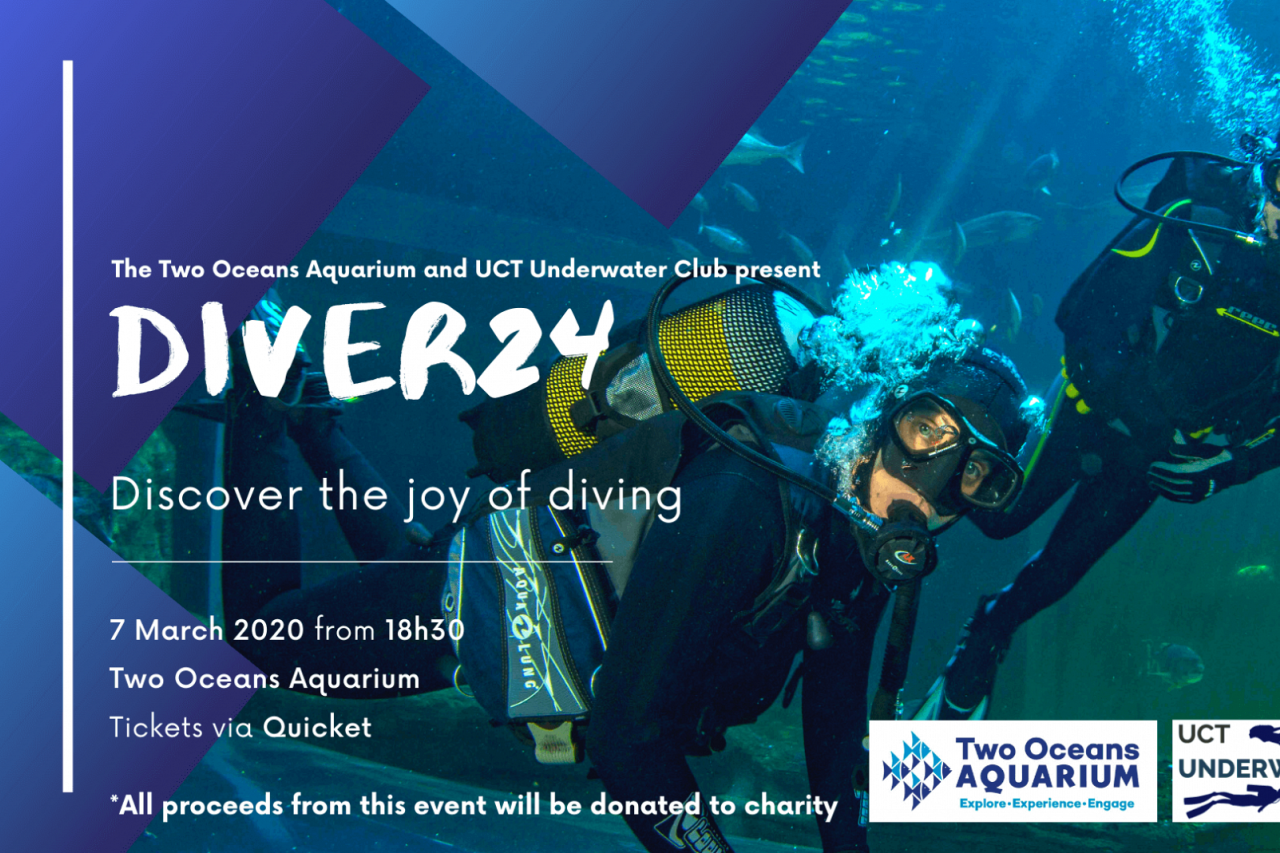 Discover the joy of diving
Get deep into this thrilling outdoor activity with the following event highlights at Diver24:
Hear from three diving experts, covering the history of scuba gear, the incredible sights of Southern African diving sites, and what it's like to work with sharks … underwater!
Try on some scuba gear and get an idea of what it feels like to be wearing a "self-contained underwater breathing apparatus".
Learn more about the Two Oceans Aquarium Foundation's impact on people, places and animals … like rescuing, rehabilitating and releasing hundreds of turtles every year.
Find out about the different kinds of diving that let you explore the wonders of the deep blue ocean.
Watch scuba-inspired short films while enjoying delicious burgers, made right here by the Two Oceans Aquarium's functions team.
Enjoy the Aquarium after closing time, for a special night-time view of the fish.
CLICK HERE TO BUY YOUR TICKETS FOR DIVER24.
Please note: During the UCT Underwater Club's marathon event from 7 to 8 March, our diving exhibits have been booked out for the Club's exclusive use, so guests who attend our evening event will not be able to dive on the night. However, you are free to book a dive with us at any other time.
Divers will be in the exhibits throughout the evening and we have one or two other special tricks up our wetsuit sleeves… Don't miss out! You'll be contributing to some incredible causes and may just get bitten by the diving bug…
This event forms part of the annual #Diver24 24-hour scuba marathon, and it's the fourth year in a row that this fundraising event is taking place inside the exhibits of the Aquarium. This year we are raising funds for the Two Oceans Aquarium Foundation, Shine Literacy, and the Rural Education Access Programme.
More than 100 student divers from UCT will once again be undertaking the marathon scuba dive event, making sure they are diving for 24 hours straight (alternating divers every hour).
It's an awesome cause, and one we want to let the public in on. That's why this year we are having an extra special event to help raise funds and to introduce you to the joy of diving. It'll be a casual night with a variety of programme items to suit your pace and interests. All proceeds from the ticket sales of this event will be donated to the listed organisations.
Event details
Date: 7 March 2020
Time: 18h30 till 22h00
Venue: Two Oceans Aquarium
Food and beverages will be available for sale on the night. No alcohol will be served, and all ages are welcome!
Tickets are available via Quicket. All proceeds from ticket sales will be donated to the organisations that are receiving the funds raised by the UCT Underwater Club's Diver24 activity in 2020.
Active members enjoy a 25% discount for this event! Email us on members@aquarium.co.za to learn more.
Who you'll meet at Diver24