Tracking our Turtles: Pan and Turbo's travels!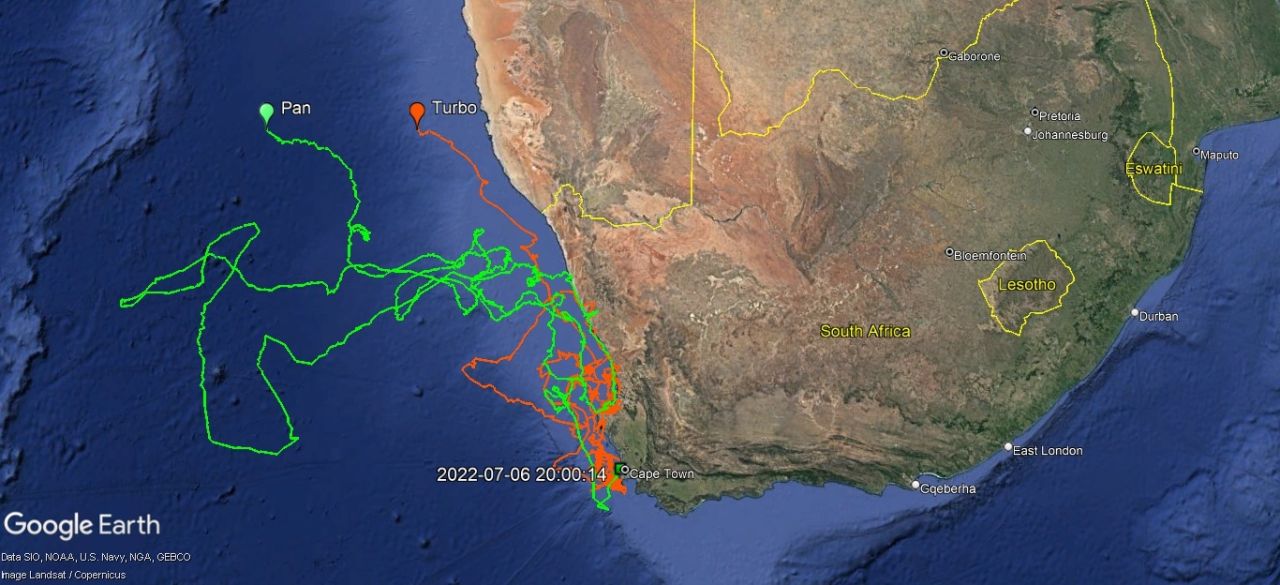 The turtles' journey so far:
Pan
I cannot quite believe we have been tracking our little loggerhead turtle, Pan, for 491 days!
On 16 July 2022, Pan was released almost 80km out of Hout Bay with a satellite tag. His journey at the Two Oceans Aquarium Foundation's Turtle Conservation Centre started in 2019 when he arrived weighing just 49 grams. That year, the Turtle Conservation Centre received 227 stranded turtle hatchlings!
Unfortunately, Pan developed a recurring ear and bone infection that did not clear despite multiple courses of antibiotics and surgeries to remove infected tissue. Then, during Pan's third ear surgery, our incredible veterinary team inserted antibiotic implants that finally did the trick and cleared him of his stubborn chronic infection. This was both incredibly successful and a first-of-its-kind treatment!

Pan's rehabilitation story was remarkable, as was his release! With fellow rehabilitation turtles Donny and Caddy, Pan's release was the first where our team could satellite track juvenile loggerheads that have come from our waters. Caddy and Donny's tags have stopped transmitting, while Pan champions on in the West Coast waters. This little turtle has travelled 11 468 km in the last year and a half! He is exploring water that is 4km deep and has sent us 2 896 satellite transmissions.
Currently, Pan is hanging out 550km off the Namibian coastline, about 800km north of the border. The ocean is calm there: surface currents are minimal, and the temperature is a toasty 20°C!
Sjoe Pan – you have blown our minds! Keep it up!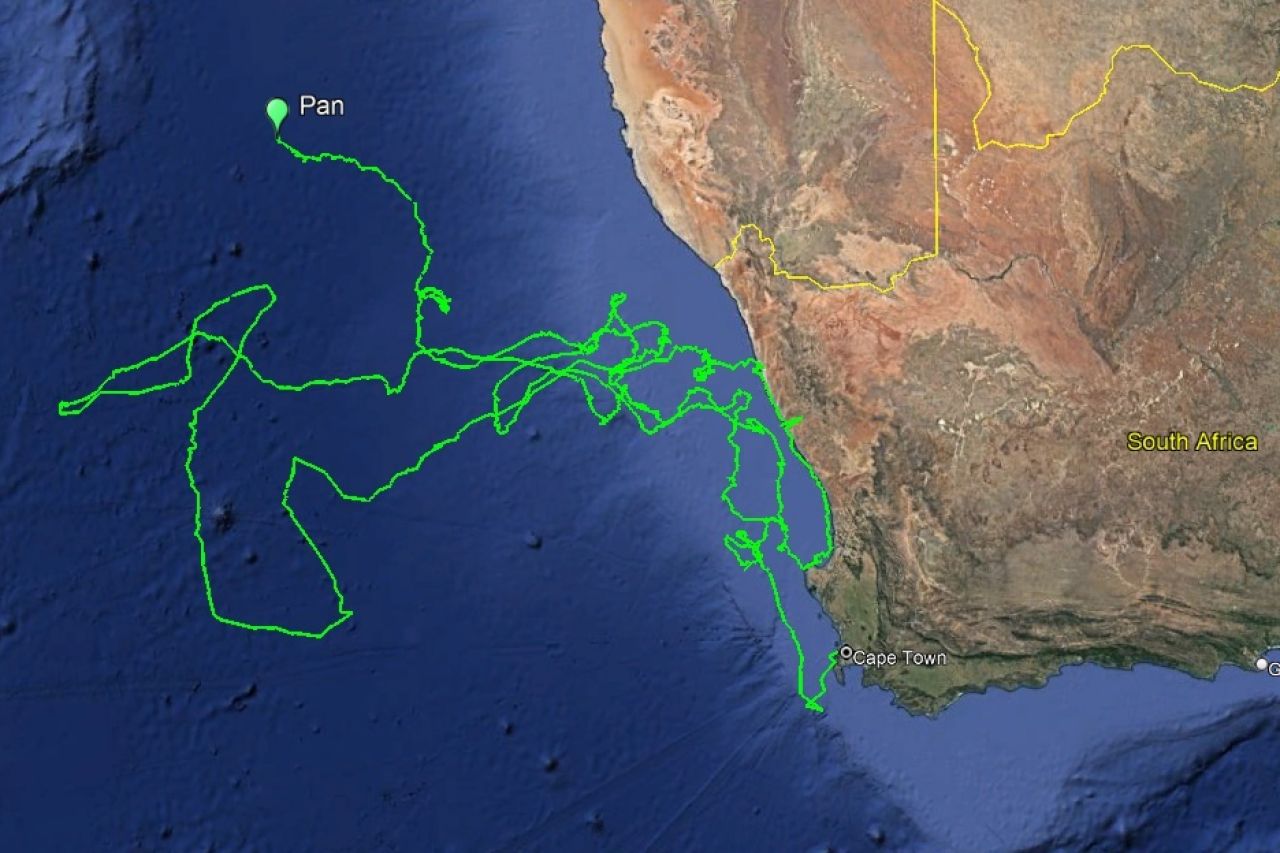 Turbo
Our little green turtle is living up to his speedy name!
Turbo was rescued on 22 September 2021 at De Hoop Nature Reserve, weighing 11.8kg. Turbo's rehabilitation journey included plastic ingestion, an issue that most of the turtles that pass through the TCC are affected by. Luckily, Turbo recovered quite quickly and was released off Cape Point in December 2022 with a cohort of loggerhead hatchlings!
In his 342 days back at sea, Turbo has travelled a wild 9 139 km!
There have been some proper West Coast Namaqua missions for Turbo over the last year. In the first few months after his release, Turbo spent a fair amount of time in the West Coast National Park, which includes several beautiful Marine Protected Areas (MPAs). Next, Turbo's tracker showed that he headed offshore where he looped around for a while before coming inland at Hondeklipbaai. Then, Turbo spent a few weeks slowly moving south, hugging the coastline and enjoying the diverse marine life.
Interestingly, he's started to follow a straighter path in a northerly direction over the last five weeks. Currently, Turbo is 170km off the coastline of Luderitz in southwestern Namibia and only 370km closer to shore than Pan. He is also enjoying the warmer, calmer waters of the West Coast.
We look forward to seeing what is next!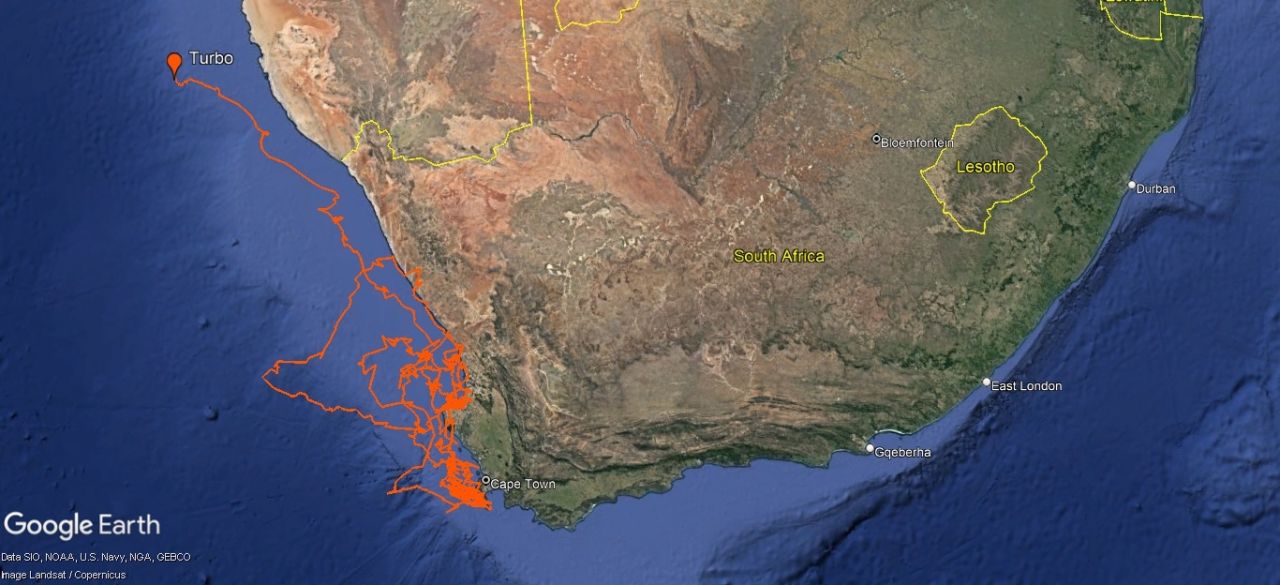 Catch up on turtle tales
At the Two Oceans Aquarium Foundation's Turtle Conservation Centre, we rescue, rehabilitate, and release turtles, each of which has a uniquely inspiring story.
If you missed out on any turtle tales, you can catch up here:
Go to:
Click here to join our turtle community!