SOLD OUT: Deep Blue Dinners remains Cape Town's most unique dining experience - enjoy a delicious three-course meal at the Aquarium.
There's no better setting for an enchanting dinner than the breathtaking Two Oceans Aquarium. Experience the magic of our underwater world in a new, delicious way as we open our doors to let you in on a truly spectacular experience…
The Two Oceans Aquarium is offering you the chance to enjoy a delectable three-course meal in style in front of the I&J Ocean Exhibit. Our fantastic menu options will be freshly-prepared in-house by our team of seasoned catering professionals, with table service to match (see menu below). Add the utterly unique backdrop of living blue and what you have is a night to remember at Cape Town's only "underwater restaurant".
And you don't need to be stressed about any crowding. In line with current government regulations, all physical distancing and hygiene protocols will be observed and limited seats will be made available, meaning you will be able to enjoy a dining experience with lots of space. When you book, let us know how many people will be dining in your group – tables will be set according to your needs, for dining parties of two people or more.
Date: 26 & 27 March 2021 (SOLD OUT)
Time: From 18h30 to 21h30
Cost: R500* per person**, includes dinner and a welcome drink.
*Bookings are made per table, not individually.
**Active members receive a 25% discount. Please contact us on members@aquarium.co.za for your unique promo code. Please provide your membership number (starting with an S or M) in order to access this discount.
The price includes a platter-style dinner, and a glass of wine or sparkling grape juice on arrival
A cash bar will be available
Corkage: R30 per bottle
Age limits: No under 13s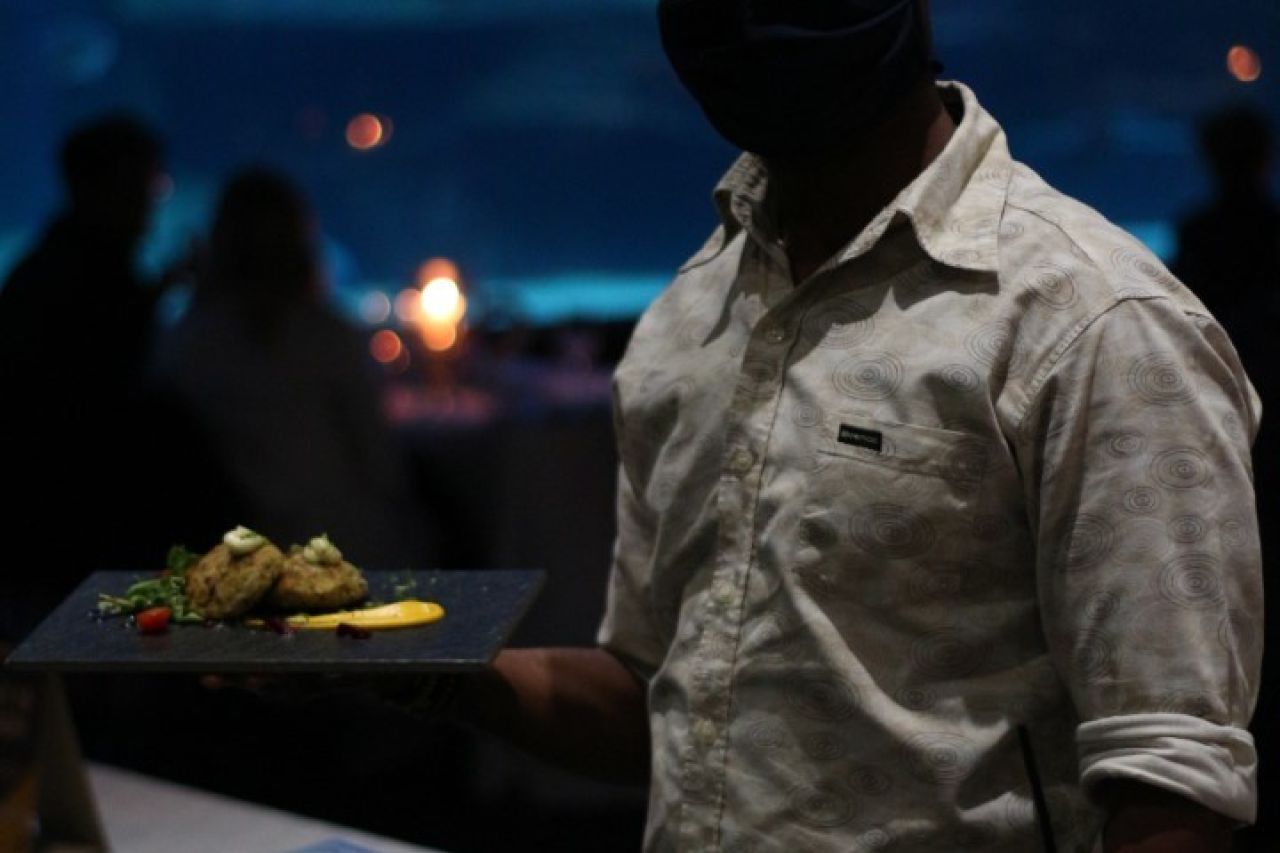 To please book on Quicket at the links below:
Friday 26 March 2021 - SOLD OUT
Saturday, 27 March 2021 - SOLD OUT
If you have any queries, email functions@aquarium.co.za or call 021 418 3823. Spots are limited and bookings will be confirmed upon payment.
Did you know? The Two Oceans Aquarium is a full-service conferencing and events space, with several flexible venues available for conferences, meetings, staff training, dinners, presentations, expos and more. Our Halaal-certified in-house catering is prepared fresh, on-site, by a team of seasoned professionals. Click here to learn more.
The evening's meal will be served à la carte-style, from the delicious and sustainable options below:
Starter
Grilled sweet potato topped with creamed feta, yoghurt, fig, balsamic glaze and fresh greens
or
Fried hake wonton with teriyaki sauce
or
Butternut, feta, coriander spring roll drizzled with a sweet glaze
Main course
Lightly pan-seared fresh hake, fried plum tomato, marrows, basil and garlic dressed with olive oil and a chunky salsa verde
or
Slow-roasted beef short rib, creamy mash, grilled garlic peppers, drenched in a rosemary jus topped with crispy onions
or
Creamy mushroom and thyme risotto
Dessert
Eton mess, chocolate mousse shortcake berries sprinkled with crushed meringue
or
Millefeuille, vanilla, white chocolate, cream, mango, strawberries topped with a dark chocolate cream