Meet Bheni, the green turtle!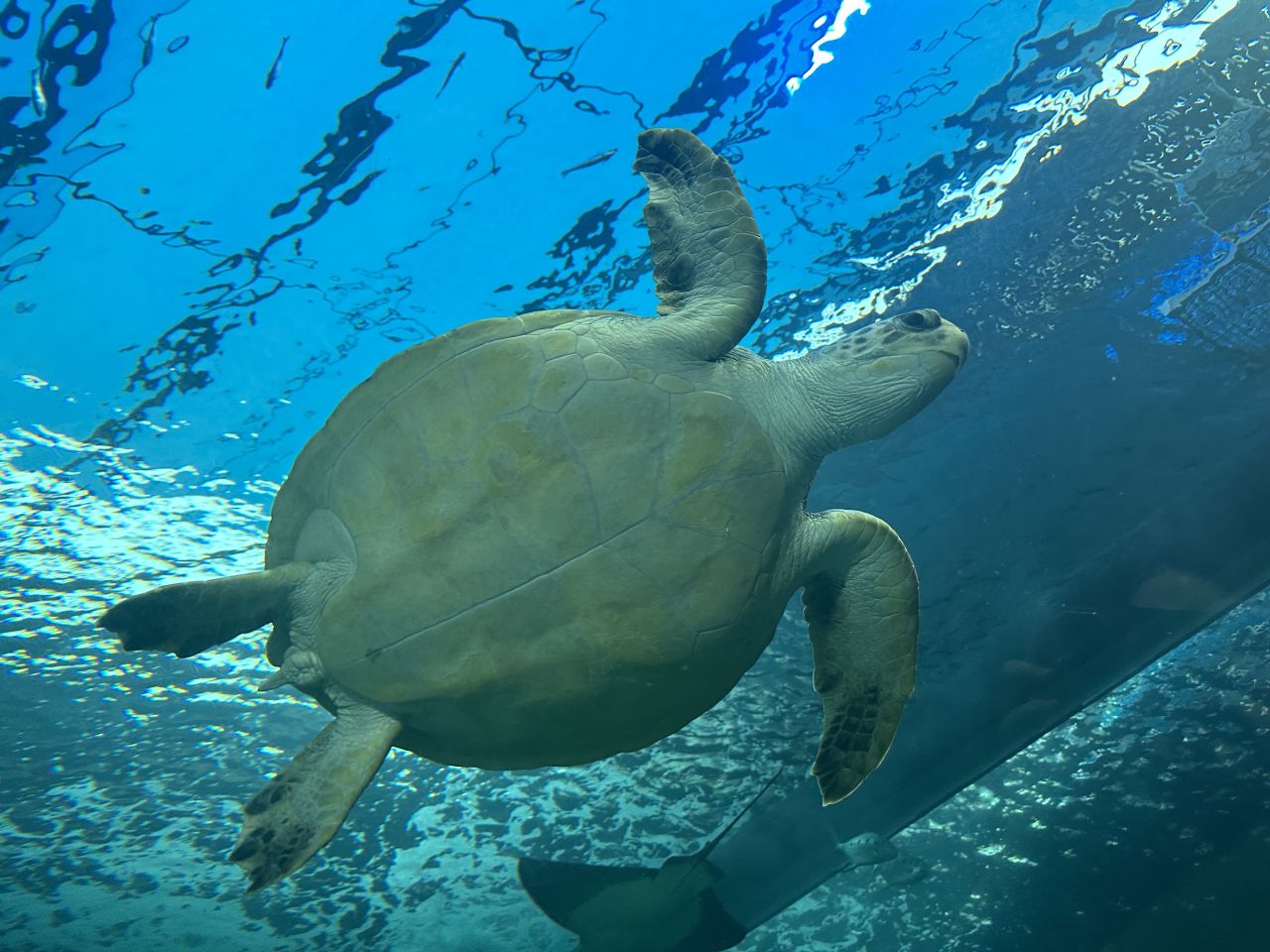 Visitors to the Two Oceans Aquarium may not realise that the I&J Ocean Exhibit plays a central role in the work of our Foundation's Turtle Conservation Centre! At any given time, at least one turtle is temporarily housed in the exhibit.
Most of the sub-adult turtles in the care of the Turtle Conservation Centre spend some time in the I&J Ocean Exhibit towards the end of their rehabilitation. This period acts as a "soft release", allowing them time to gain strength, engage in natural turtle behaviours, and receive enrichment activities and observation. This is a crucial part of their rehabilitation journey, during which our turtle team ensures that each turtle is as prepared as possible for release into the ocean.
Bheni, a green turtle (Chelonia mydas), is one of the most recent introductions to the I&J Ocean Exhibit. He is distinguished from his Exhibit-mates, Nobomvu and Kai, as the only green turtle in the space! Green turtles are so named because the fat layer underneath the carapace (shell) is green. They are the most widely distributed turtle species, nesting in 80 countries. While Nobomvu and Kai (loggerhead turtles) are beige-yellow, Bheni is grey-green with a smaller, smoother head.
Bheni's rehabilitation story is an interesting one. In December 2022, Bheni was rescued from stranding in Saldanha Bay by one of the organisations in our incredible Turtle Rescue Network.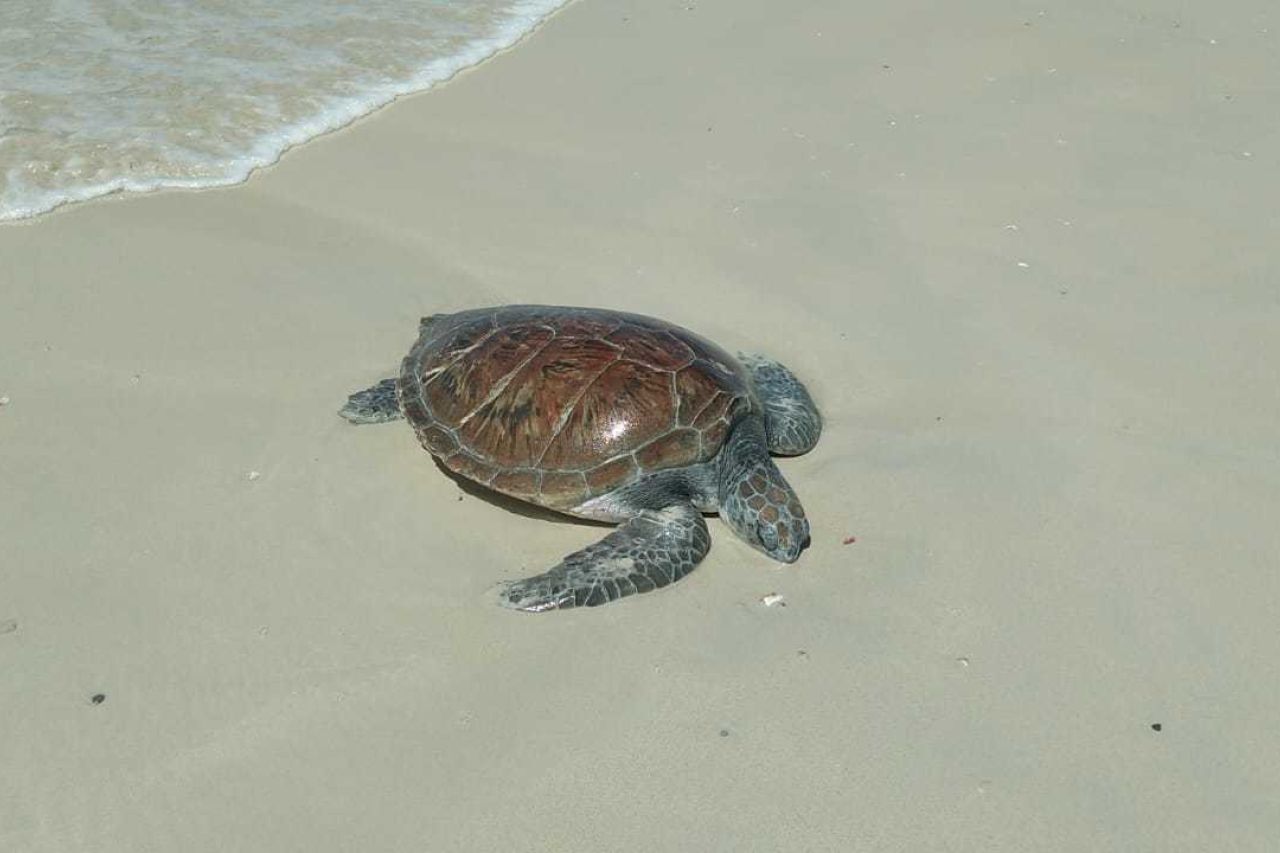 Bheni initially appeared to be in good health, with a good body condition and a strong appetite. However, after some time and observation, our team at the Turtle Conservation Centre started to notice concerning behaviour. Bheni struggled to finish his food and spent most of the day sleeping.
Our veterinary team decided to investigate and discovered that Bheni had an active infection on the right side of his carapace (top shell) under his scutes (shell plates). Turtle shells hold numerous nerve endings and blood vessels, so a 'simple' infection can develop into something more serious. Thanks to the expert care of our veterinary team, the infected scutes were removed, and the wound was treated with regular applications of F10 (a veterinary disinfectant) and honey. This was done by dry docking – keeping Bheni's lower body resting in the water while his shell was exposed to fresh air.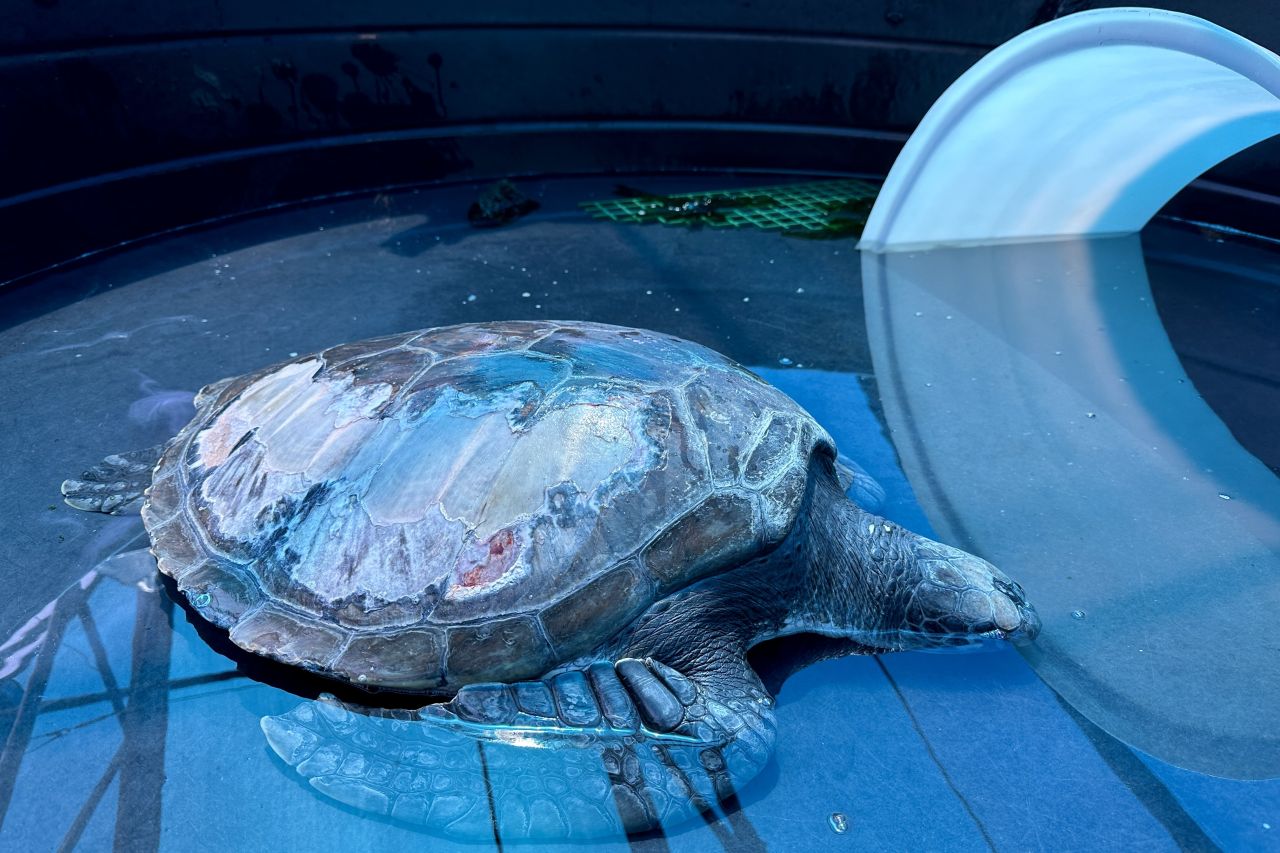 Thankfully, the treatment worked well, and Bheni's carapace is looking significantly better. The scarring will take some time to heal (turtle scutes grow back, like our fingernails), but the infection is no longer active. Thanks to a delicious diet of fishy protein, he went from weighing 26.9kg on arrival to a solid 38.6kg.
Bheni's move into the I&J Ocean Exhibit has been a positive step for his recovery, as it is allowing him time and space to get stronger and more confident before his release one day. Be sure to say hello to Bheni the next time you visit the Two Oceans Aquarium!