Take a dive into exciting ocean courses from Grades 7-12 this school holiday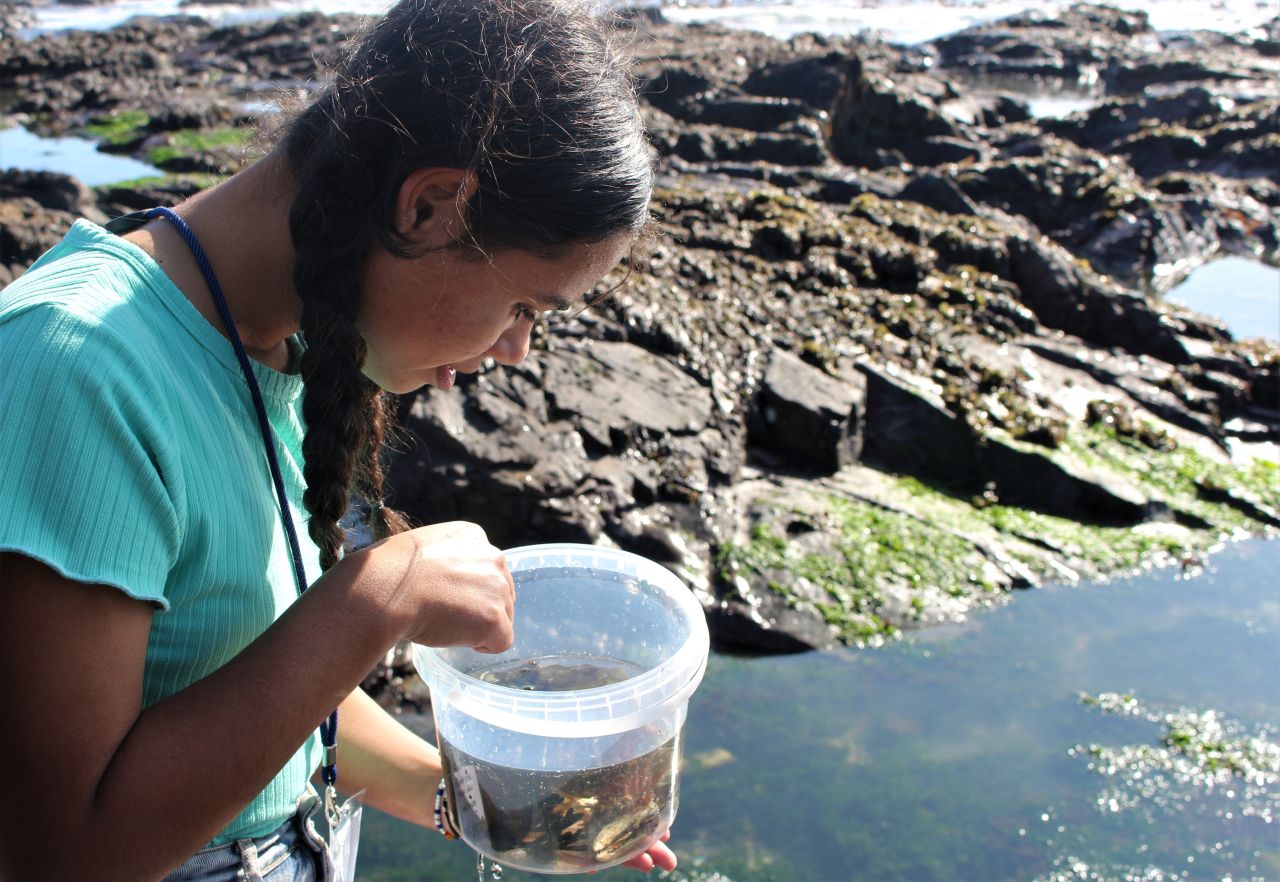 Winter school holidays are quickly approaching! Are you looking for an exciting holiday programme for your child to dive into? Is your child curious about the ocean or interested in an ocean-related future career? If your answer is YES, look no further than the Two Oceans Aquarium situated at the V&A Waterfront for their specialised course offerings.
The Two Oceans Aquarium is offering three exciting courses over this coming holiday period aimed at various age groups and interests. Whether your child is in Grade 7 or Grade 11, has shown a recent interest in the ocean, or is looking to expand their ocean knowledge, we have something for everyone. Take this unique opportunity for your child to expand their knowledge of the ocean, science and sustainability.
For a limited time, these three courses are offered for two children for the price of one - the perfect opportunity for your youngster to take part with a friend!
What's more, the kids will have a chance to explore the Aquarium's many exhibits featuring the ragged tooth shark, the unique kelp forest and don't forget the stingrays in the I&J Ocean Exhibit tunnel swimming overhead.
Holiday Courses – what's on offer?
This winter school holiday season the Two Oceans Aquarium is offering the Grade 7 Smart Living (26 to 30 June), Grade 8 & 9 Introduction to Marine Science (10 to 14 July), and Grade 11 & 12 Marine BioBasics (26 to 30 June) courses. Each course offers a unique curriculum which is designed to suit specific age groups and areas of interest. Courses focus on marine science, oceanography, marine biology, sustainability, and, most importantly, love and fascination for ocean life – perfect for all intrepid ocean scientists and sea fans!
Smart Living Course
The Smart Living Course aims to create eco-conscious citizens. It is designed to engage with Grade 7 learners around making smart choices with a focus on the pillars of sustainability: biodiversity, energy, water, and waste. In this course, we look at the importance of preserving our environment, saving energy, minimising our waste and conserving our water resources for the future. It is perfect for the learner who wants to learn more about how our city works, and how to be more environmentally-minded. There are plenty of hands-on activities with excursions to our local 'Biodiversity Garden' and a tour of a nearby waste management facility.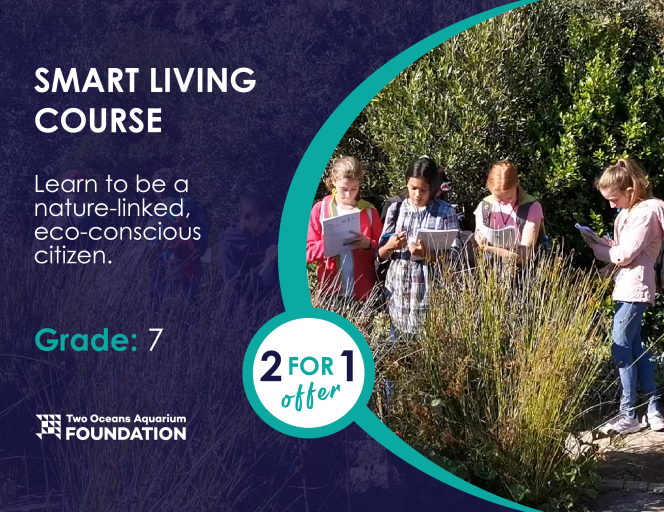 Introduction to Marine Science
Is your child showing interest in a possible ocean-related career? This Introduction to Marine Science course is the perfect place to spark that interest and help your child make informed decisions about their future subject choices and possibly a career in marine sciences.
This course is designed for Grade 8 and 9 learners wanting to learn more about marine biology, oceanography and ecology in a fun way. It aims to introduce students to the subject of 'Marine Sciences', through a combination of classroom-based classes, various practical activities and an excursion to a nearby marine ecosystem.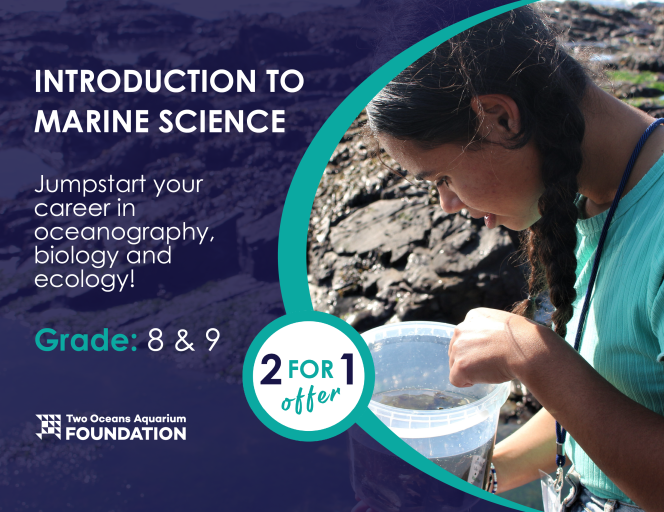 Marine BioBasics
Take an introductory dive into marine biology courtesy of the Marine BioBasics Course! This innovative course is for Grade 11 or 12 learners who are interested in studying marine biology at a tertiary level.
How do air-breathing reptiles, birds, and mammals swim, eat and dive to depths in the ocean without getting the 'bends' (Diving Physiology)? How are nudibranchs and cephalopods able to survive without a shell? This course introduces you to all the animal groups, from sponges (Porifera) to the more complex marine vertebrates (Chordata) looking at how they execute different life processes, such as respiration, excretion, movement, and reproduction.
The course is Aquarium-based with lots of hands-on activities, including dissections, live invertebrates and a tour of our Turtle Conservation Centre and Seal Platform.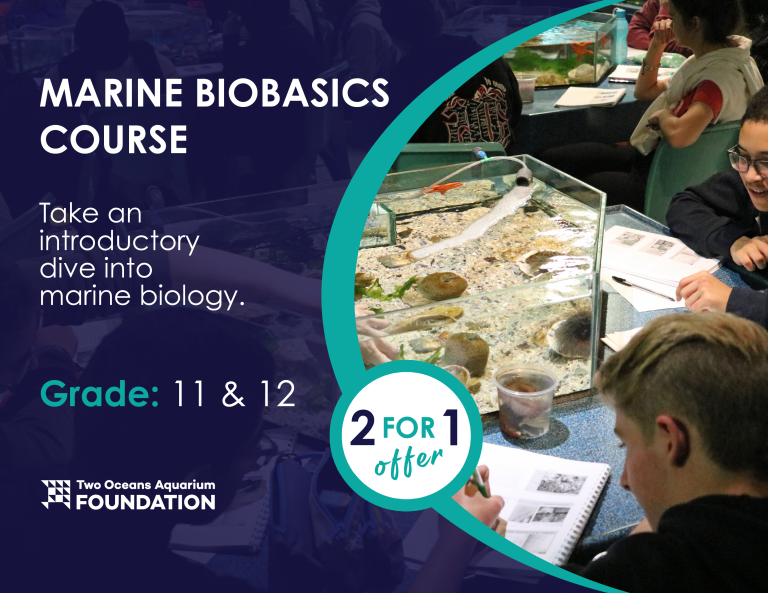 As a leader in ocean education, the Two Oceans Aquarium is the perfect place for your child to get immersed in all things ocean. Help the Aquarium to harness the enthusiasm of South Africa's youth and provide the skills for an ocean- inspired future.