With lockdown restrictions slowly being lifted and people having more freedom to leave their homes and travel, Yoshi the loggerhead sea turtle seems to have found her home range along the Eighty Mile Beach in Western Australia and is certainly choosing to travel less. Over the past two months, she has covered an average of 12km a day, much less than the 42-48 km/day she was cruising at before her arrival at Eighty Mile Beach. All this leads us to the belief that Yoshi is now comfortably in familiar waters and awaiting the Western Australian loggerhead mating season - definitely worth the 40 011km journey!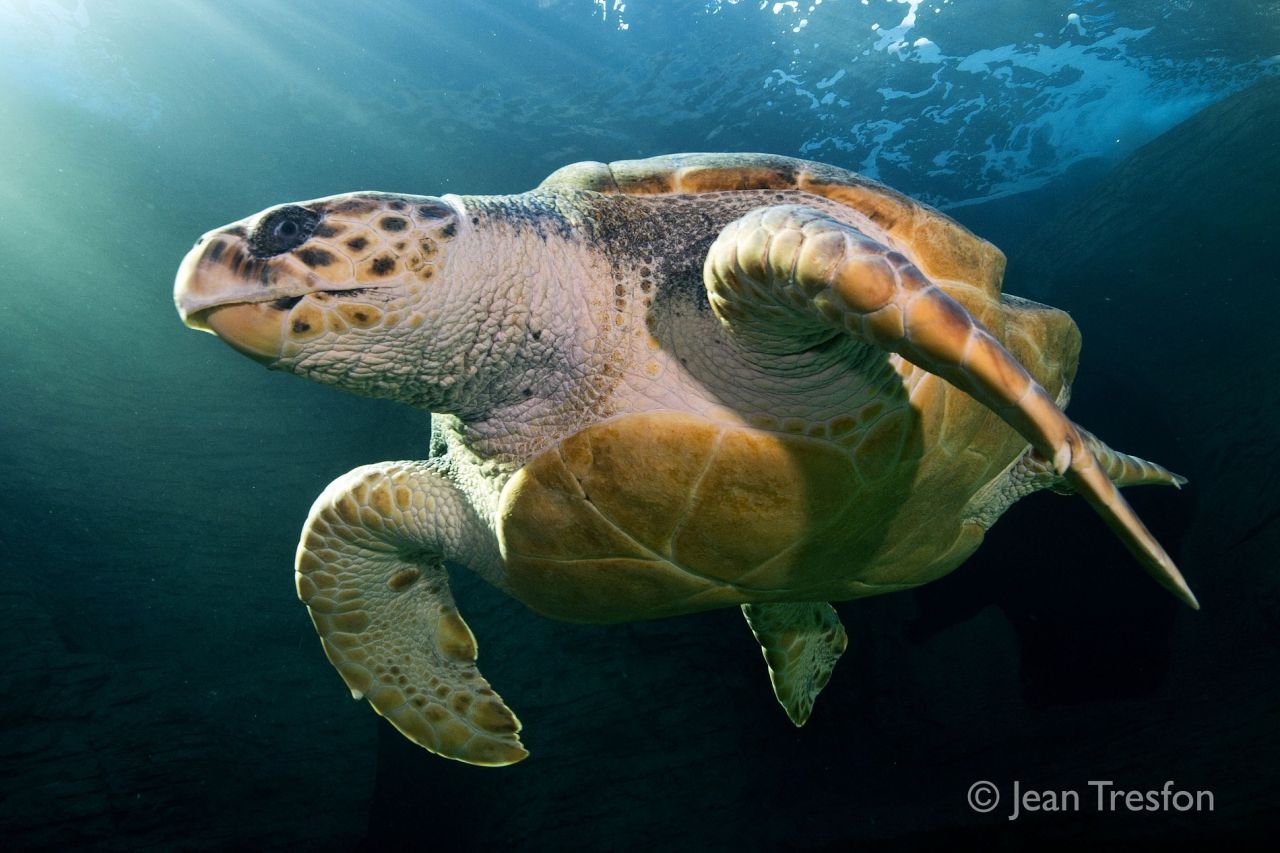 It was initially speculated that Yoshi originated from the Northwest or Southwest Indian Ocean loggerhead populations, Oman or KwaZulu-Natal respectively, but it now seems that it is more likely that she is from the Southeast Indian Ocean population from Western Australia. Her tracks, once she reached the Indian Ocean, showed a very similar route to that of post-hatchling loggerhead turtles from Western Australia, but just in reverse. As a juvenile, she might have followed the currents from Shark Bay or Ningaloo rookeries in Western Australia towards Madagascar, and might have been found during her "lost years" journey in this area and brought to South Africa abroad the fishing vessel.
Western Australia's major loggerhead turtle nesting sites are at Ningaloo, the Muiron Islands, Dirk Hartog Island and other smaller islands in Shark Bay - all of these sites are well within Yoshi's ability to reach before the loggerhead breeding season which begins in November-December in the region. Loggerheads and their nesting sites are well protected under Australians and Western Australian state law, so we know she is in excellent hands!
She certainly had a wonderful and safe stay in Cape Town, voted as the best city in the world for 7 years running by the Telegraph Travel Awards. Yoshi definitely made a good choice for her 20-year long holiday!
"It has been such a privilege to be part of this remarkable adventure, part of it with Yoshi, and part of it cheering her along from Cape Town. I am thrilled that she has found a safe area to call home (for now). The Aussies have been superb hosts to Yoshi, and now I believe they are family. I am hoping her tag will last for a few more months so we can finally see whether she is going to contribute to the loggerhead population at the nesting sites about 1 300 km west of her. She has proven to be a superior athlete, so this is a distance that she can cover well before summer," said Maryke Musson of the Two Oceans Aquarium Foundation, who has been tracking Yoshi since her release.
Yoshi's 40 011km swim is the longest recorded sea turtle journey ever tracked, in both distance and in time. It is also the longest distance tracked for any marine animal. Only one bird, the little arctic tern, with its up to 77 000km migration, can give Yoshi a run for her money, and holds the record of longest animal migration tracked.
Yoshi was fitted with a Wildlife Computers Spot tag and ARGOS satellite telemetry is used for data analysis through Collecte Localisation Satellites (CLS). The South African Department of Environment, Forestry and Fisheries supplied the tag and telemetry platform and scientists from the Department of Biodiversity, Conservation and Attractions in Western Australia, as well as the rangers from the Biyandanga community are now Yoshi's custodians and local family. Professor Ronel Nel and Dr George Hughes shared their turtle expertise and excitement during the entire journey.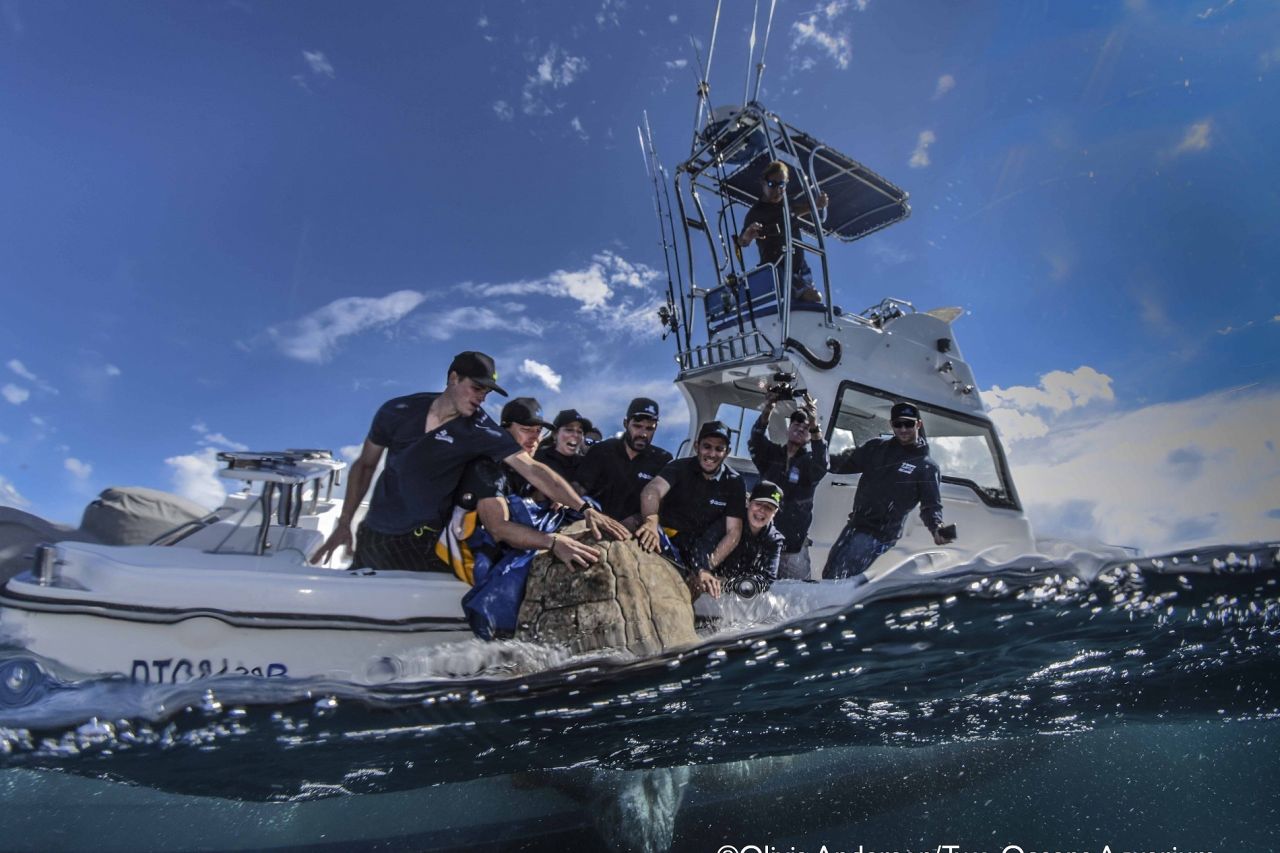 Yoshi's legacy
When Yoshi was released from the Two Oceans Aquarium in 2017, Conservation Coordinator Talitha Noble commented that "she has left a Yoshi-sized hole in the Ocean Exhibit." We'll we're pleased to say that although Yoshi has left a very large hole, we've been able to fill it with a very large way to honour her...
Inspired by the successful rehabilitation and release of Yoshi the loggerhead, we have redoubled turtle rescue, rehabilitation and release efforts. This has culminated in a fully-fledged Turtle Rescue Programme within the Two Oceans Aquarium Foundation, the non-profit, public benefit partner of the Two Oceans Aquarium. This programme successfully rehabilitates and releases hundreds of endangered sea turtles each year, and works closely with communities and through integrated educational programmes to instil a sense of pride and protection of the ocean in tens of thousands of children yearly.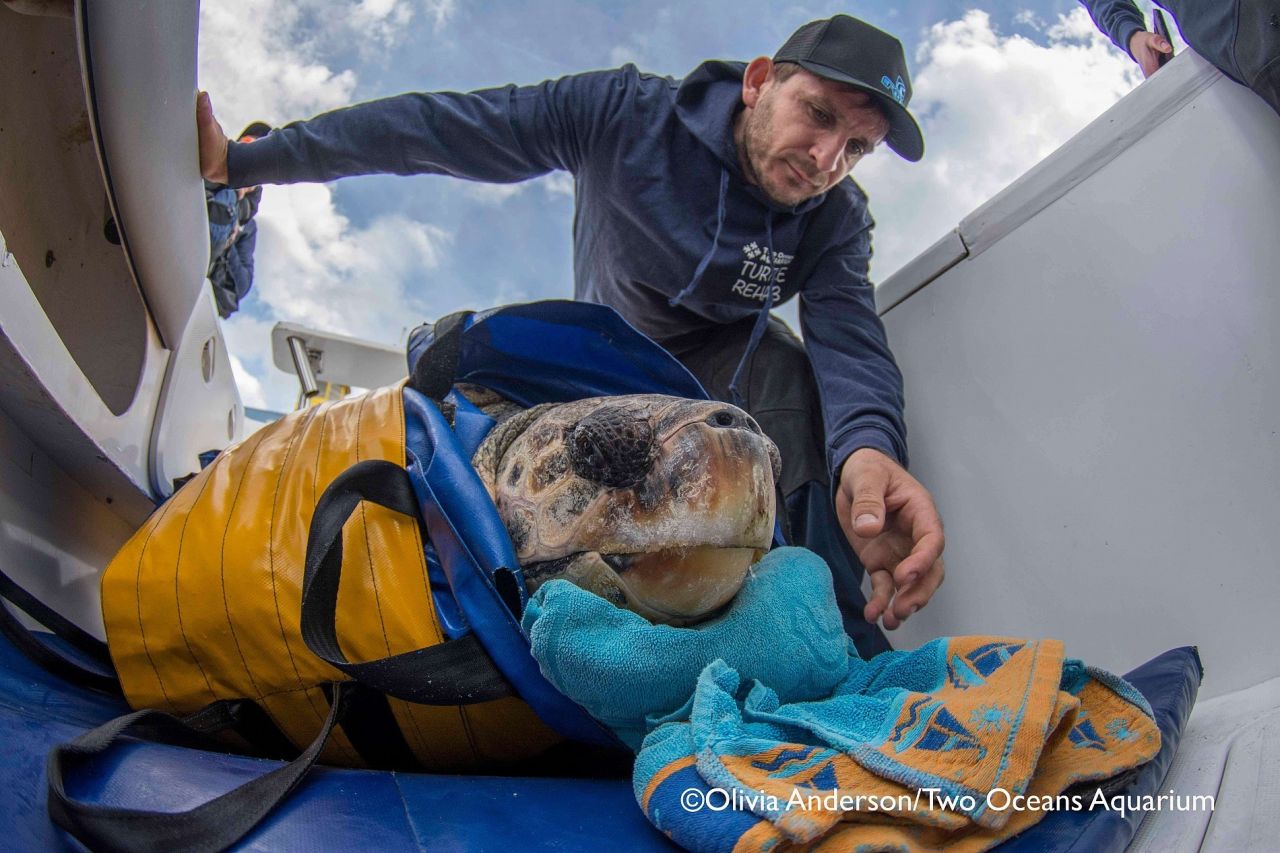 Yoshi the loggerhead turtle arrived in Cape Town in July 1997 on a Japanese fishing vessel as a small 2-kilogram juvenile with a very distinctive injury on the side of her shell. The captain of the fishing vessel named her Yoshitaro, after the cook onboard who was rather small in stature himself. He contacted the Two Oceans Aquarium and asked for help. The Aquarium took the turtle in and pretty soon, staff and visitors to the Aquarium alike, had fallen in love with this feisty little turtle.
Through working with Yoshi, over the years Aquarium staff gained confidence in handling sea turtles and general turtle husbandry and started caring for stranded turtle hatchlings as well as occasional larger stranded and injured turtles.
Over her 20 years at the Aquarium, Yoshi grew to a formidable 180 kilograms and was very aptly known as the "Queen of the Exhibit". At approximately 25 years of age, Aquarium staff knew she was maturing and her breeding instincts started kicking in. After much research and discussion, it was decided that it would be in her best interest to be released. The next 18 months were spent preparing her for life back in the ocean, which included daily exercise to increase her fitness levels.
On 16 December 2017, the Two Oceans Aquarium released Yoshi back into the ocean. Weighing 183kg, Yoshi was released 27 nautical miles south-west of Hout Bay in 20.6°C water. Her journey took her along the west coast of Africa to Namibia and Angola, where she spent some time. She then turned around and headed east past Cape Town, and is now officially in Australian waters where she appears to be settling into familiar territory - a strong indication that this is "home".