Tracking Bob: Continental shelf edition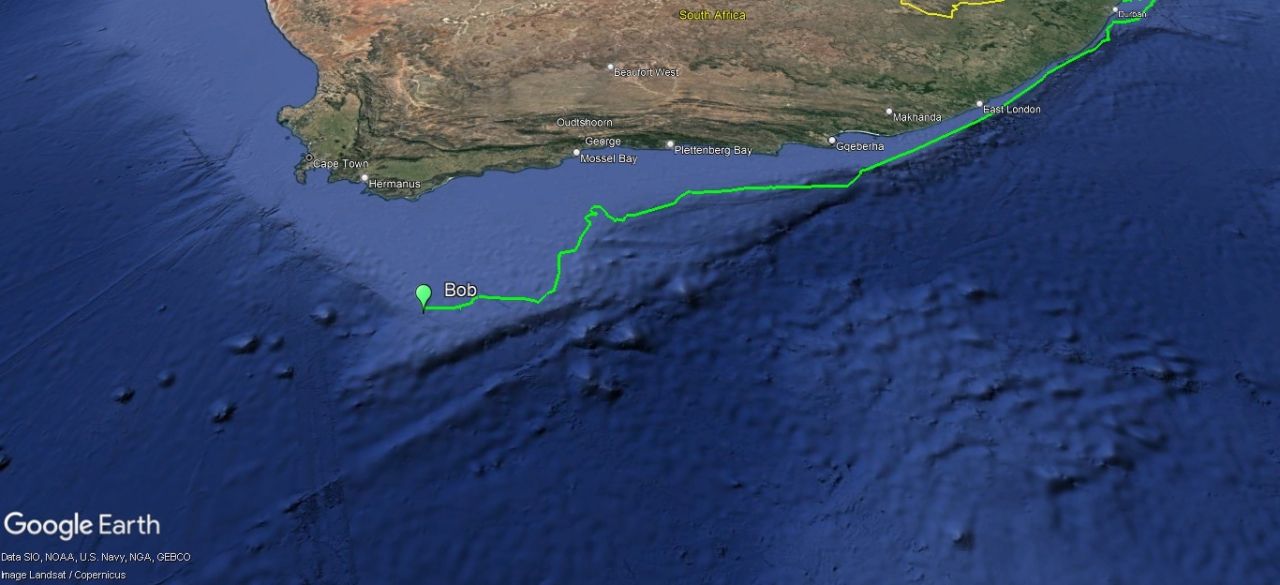 Bob's journey so far:
Update #6: 2 March 2023, by Talitha Noble
After his release, Bob spent his first week at sea getting his bearings, heading north, and staying quite close to shore. He then entered the Agulhas current, starting his ride down the east coast of Africa. Over the following nine days, he travelled about 100km per day! Bob slowed down as he reached Plettenberg bay (about 65km offshore), meandering on the outer edge of the current for 10 days before heading in a southerly direction. All this time, Bob has been going with the flow of the current, minimizing the amount of active swimming required.
When we last caught up with Bob, he was drifting around near Mossel Bay.

Now, in the last three days, Bob has been moving westward. He has followed the edge of the continental shelf, in waters 600m deep. He is currently 200km south of Cape Agulhas, the southernmost tip of Africa.

If Bob decides to head off the continental shelf, the depths beneath him would quickly plummet to kilometres!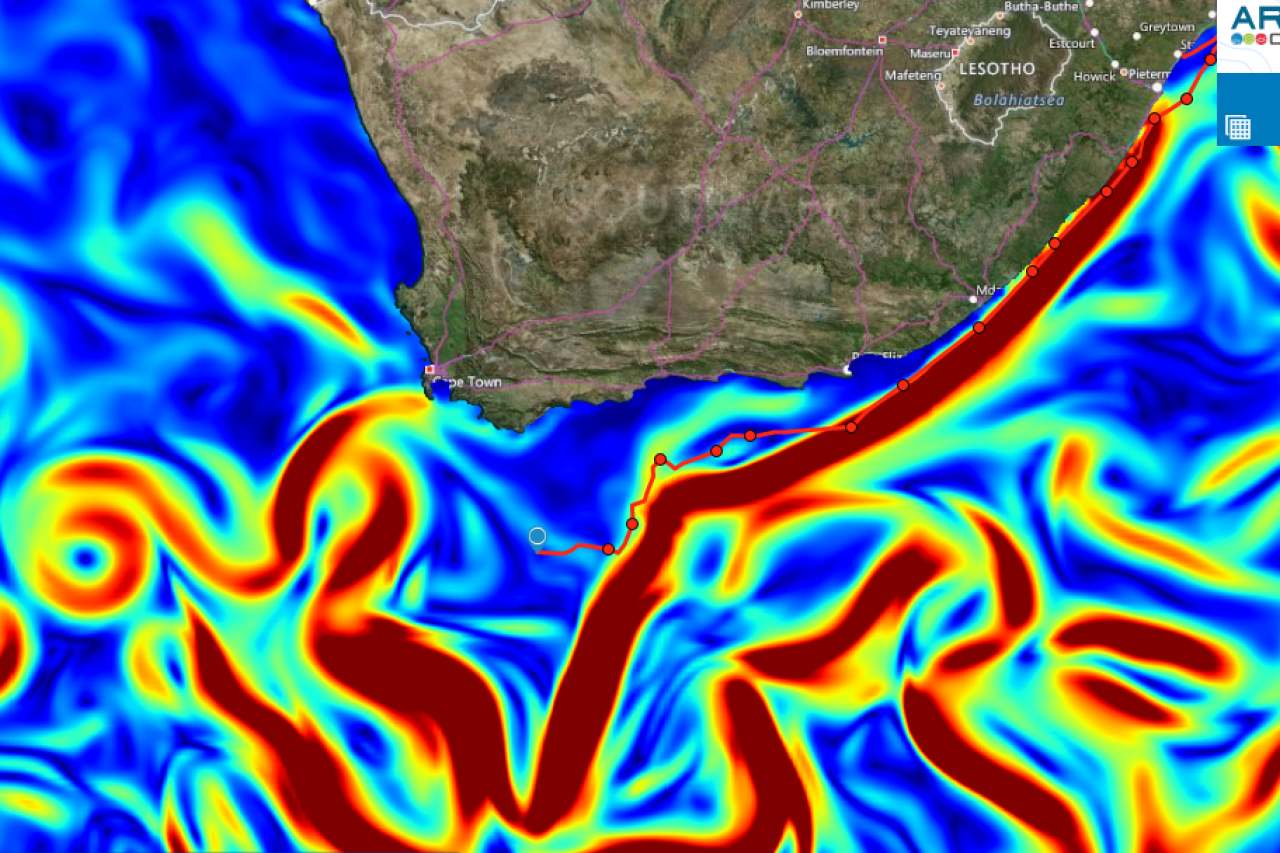 Not far from Bob are two spectacular marine protected areas:

100km to the west are the Southeast Atlantic Seamounts. Formed by volcanic activity, these underwater mountains can be 1.8km tall, extending from 2 500m to 700m deep. The steep slopes of these mounts allow nutrients to be pushed to the surface, making them biological hotspots that attract wonderful arrays of marine animals. Seamounts such as these are considered important areas for turtles and sea birds at certain points in their life histories.

About 20 - 30km northwest of Bob is the Browns Bank Corals. The rugged bottom of this area is full of bottlebrush soft corals and stony corals, including species that are new to science. Due to the sensitivity of the seafloor in these areas, trawlers are not allowed to fish. So, Bob can have free reign if he wants to head up the western edge of the Agulhas bank.
I wonder what Bob's next moves will be. Spending time at the Southeast Atlantic Seamounts? Perhaps he wants to follow Caddy's footsteps and swim warm eddies into the South Atlantic?

We will have to wait and see!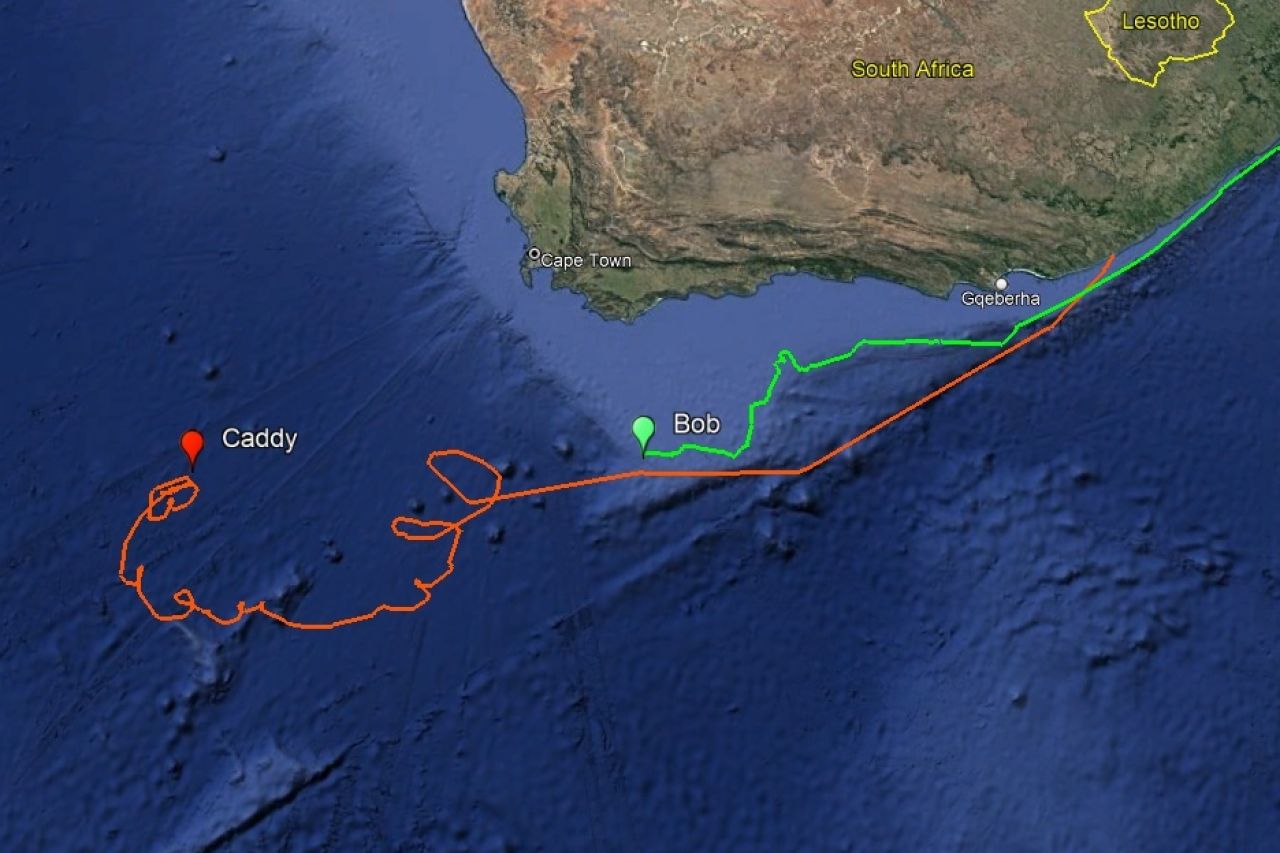 Catch up on Bob's story
During his eight years at the Two Oceans Aquarium, Bob inspired hundreds of thousands of people to love the ocean and its abundant life just that little bit more. Now that Bob has returned to the ocean, he'll continue to be an incredible turtle storyteller as he sends back data about his adventures. Meanwhile, we'll do what we can to protect his ocean home.
If you missed out on any part of Bob's story, you can catch up here:
Go to external page:
Click here to sign up for updates about Bob and other turtle news