Strides towards the future: Work Integrated Learning programme at the Two Oceans Aquarium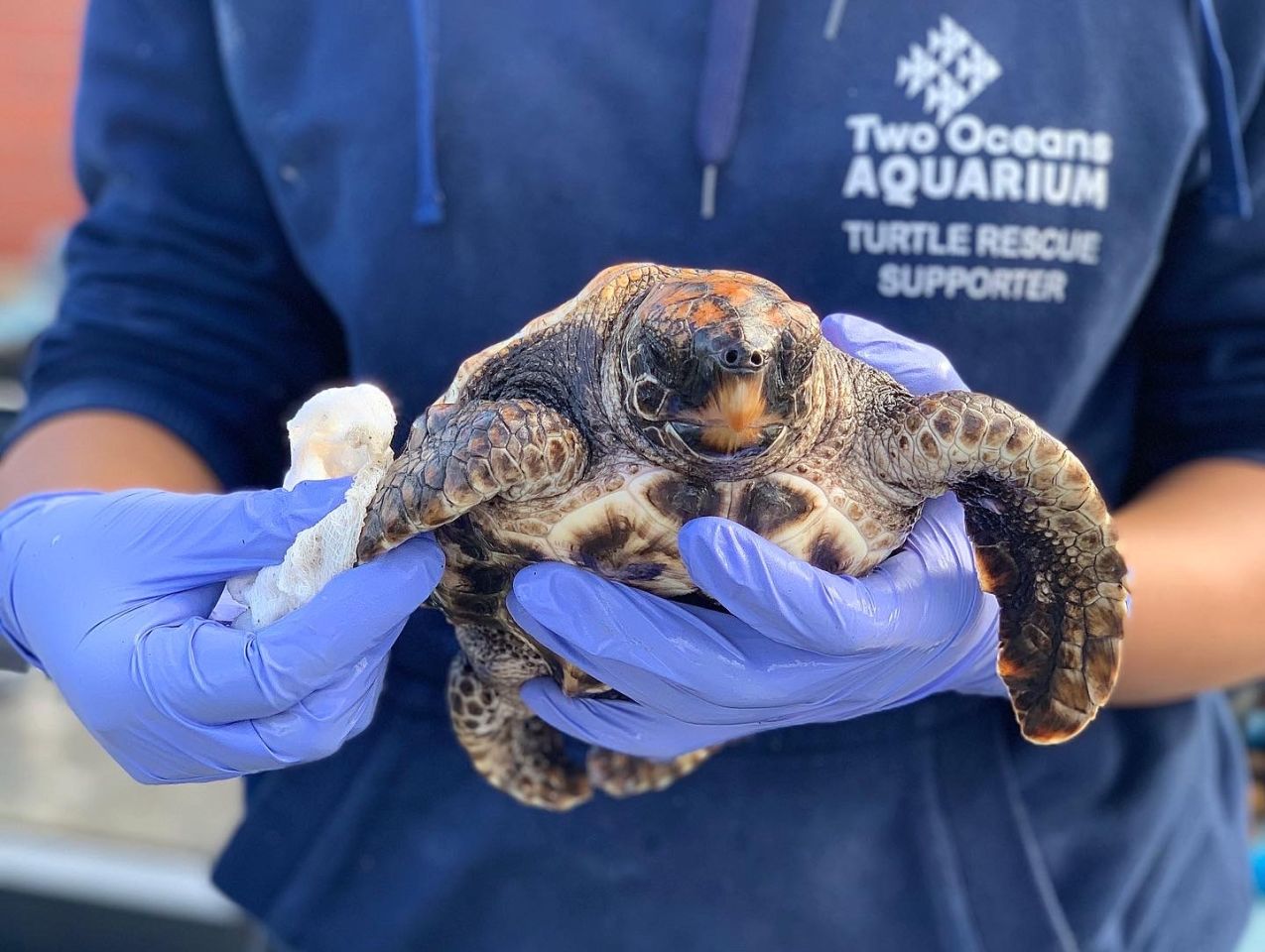 The Two Oceans Aquarium in Cape Town has been involved in marine research throughout its 27-year existence. We work with higher education institutes, researchers and scientists from formal conservation bodies and research institutes, government research departments, and other aquariums. In 2018 the Two Oceans Aquarium signed a memorandum of understanding with the Cape Peninsula University of Technology (CPUT) to collaborate on research projects in the fields of marine science and conservation research and technology development, training, and capacity building.
WIL student using a 1 x 1m quadrant to determine the abundance of microplastics in beach sand.
During the third year of their Diploma in Marine Sciences Work Integrated Learning (WIL), CPUT students gain valuable on-the-job training in the fields of aquariology and animal welfare and develop technical skills required for scientific research, all enabled by the Two Oceans Aquarium Foundation. Let's take a look at the programme as a whole, as well as the experiences of some of the students who've been a part of it.
WIL students out at sea.
To date, 18 WIL students have participated in research projects important to furthering our mandate to participate in building the next generation of marine scientists. WIL students spend approximately five months at the Aquarium and, during that time, complete four reports for a final assessment before being awarded their diploma. These reports include marine sciences-related community engagement activities, innovation, technical marine science projects and research projects. Technical projects usually include the use of water quality equipment and microplastic surveys, while research projects focus on:
WIL student prepping food for animal feeds.
Marine microplastic plastic pollution in various exhibits and organisms
Jellyfish lifecycles
Captive shark movement and behaviour studies
Loggerhead sea turtle strandings and epibionts
Penguin diet, moulting and reproductive behaviours
Seabirds and marine pollution in Cape Town harbour
Our WIL students have moved on in their careers fulfilling roles at aquaculture farms, post-graduate studies at various universities and research agencies, conducting research observations on Marion Island in the Southern Oceans, etc.
WIL student sorting through plastic waste collected during a beach cleanup.
This collaboration with CPUT has allowed Aquarium staff to become Research Associates and lecturers for their third year Marine Biology modules and afforded them the opportunity to co-author peer-reviewed publications.
WIL student cleaning one of the Aquarium exhibits as part of animal husbandry practices.
What do the students have to say?
1. Describe your WIL experience.
The WIL programme has allowed me to experience not only the biological/ theoretical aspects of what I have studied, but as well applying it to my work. While being at the Two Oceans Aquarium, I made amazing connections with the staff front of house and behind the scenes, which will be forever, and I enjoyed every single moment of it. - Bradley Swanepoel
The Work Integrated Learning has introduced me to a wide variety of modules in the field of Marine Sciences and has put into perspective the importance and relevance of Marine Ecosystems as a whole and their interactions with our daily lives and the applications of its fundamentals to the problems faced by the world, e.g. Climate change. - Tlhonolofatso Tebele
I completed my Work Experience in 2021 at the Two Oceans Aquarium. It was an eye-opening experience, as I had never worked in an aquarium before. Nevertheless, I gained invaluable skills and techniques that I will be able to take with me into the working world. - Savannah Meyer
Doing my in-service training at Two Ocean Aquarium helped me learn a lot more about my career and especially about conservation - Aviwe Matshoba
WIL student sorting plastics used as nesting material in an abandoned Cape cormorant nest.
2. ​How has the programme impacted your career?
Working at Two Oceans Aquarium has sharpened my animal husbandry skills; I got to understand the importance of minimising/preventing the spread of diseases and the importance of treating all fish species for possible parasites/diseases before moving them to the display tanks. My WIL research project on Cape fur seals has elevated my interest in Cape fur seal research hence the reason why I am currently focusing on Cape fur seal research for my Masters' project. - Rodashia Basson
The position as an Aquarist intern provided me with a strong footing in this field and has enhanced my career to be where I am today as Scientific Fisheries Observer. - Tlhonolofatso Tebele
I will now work as an intern at the Department of Forestry Fisheries and Environment and they did mention that part of my work will be on animal rehabilitation which is what I have done at the Aquarium. - Nkosazana Vanto
It has positively impacted my career choice as I am now aware of the numerous job positions a career in marine science has to offer. - Savannah Meyer
WIL students assisting with diatoms in sediment sample collection.