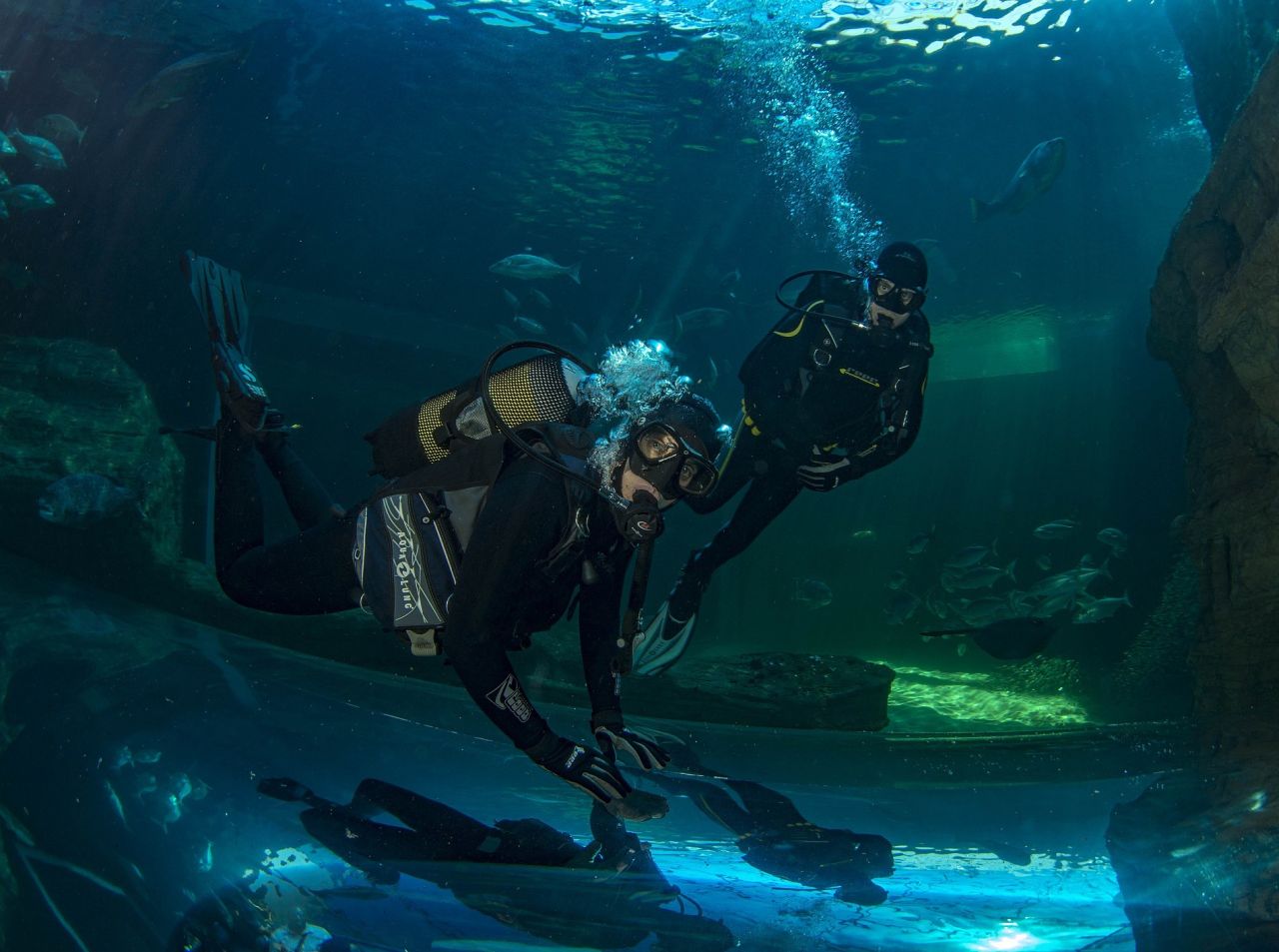 The Two Oceans Aquarium Dive School offers three different, unique, all-weather scuba diving experiences for qualified scuba divers (Open Water-equivalent or higher). If you have not dived in 6 months, a PADI Refresher course is required, which is offered right here at the Aquarium.
Choose from:
Save Our Seas Foundation Shark Exhibit: Dive with ragged-tooth sharks, no cage required.
I&J Ocean Exhibit: Dive with stingrays and more in our temperate open ocean exhibit.
Kelp Forest Exhibit: Dive among the fronds of giant sea bamboo, discovering ocean wonders in this pristine environment.
Go to:
Click here to book now!
Never dived before? Not a problem!
If you want to try scuba diving but aren't quite ready to take the plunge into a full certification course, PADI Discover Scuba Diving at the Two Oceans Aquarium Dive School is for you.
The PADI Discover Scuba Diving Course has been designed to provide scuba diving novices with an enjoyable and closely supervised experience. Although this is not a scuba certification course, you'll learn what it takes to be a PADI-certified diver. As with any PADI course or programme, diver safety is the first priority when planning and conducting Discover Scuba Diving.
Upon successful completion of a half-day PADI Discover Scuba Diving Course, you will be able to do a single dive in the Aquarium's I&J Ocean Exhibit on the same day. Should you wish to progress onto a PADI Open Water certification at the Two Oceans Aquarium Dive School, your completed Discover Scuba Diving course will count towards that qualification and relevant savings will apply.

Go to:
Click here to book now!