If you've never dived before, but want to see our I&J Ocean Exhibit from the inside, then the PADI Discover Scuba Diving Experience is for you. This short course takes you from having no underwater experience at all, to having the skills needed to safely dive with supervision, and is the perfect opportunity for any intrepid ocean explorer from ages 10 and up!
The Two Oceans Aquarium is a PADI Dive Resort. PADI is the most widely recognised and respected recreational scuba diving agency - which means that you're in good hands with our team of PADI-certified instructors! The Two Oceans Aquarium is also an ideal environment for all-weather training, with warm water and perfect visibility in our I&J Ocean Exhibit, which is perfect for those who are nervous about their first dive and would like the comfort and confidence that comes with a controlled environment.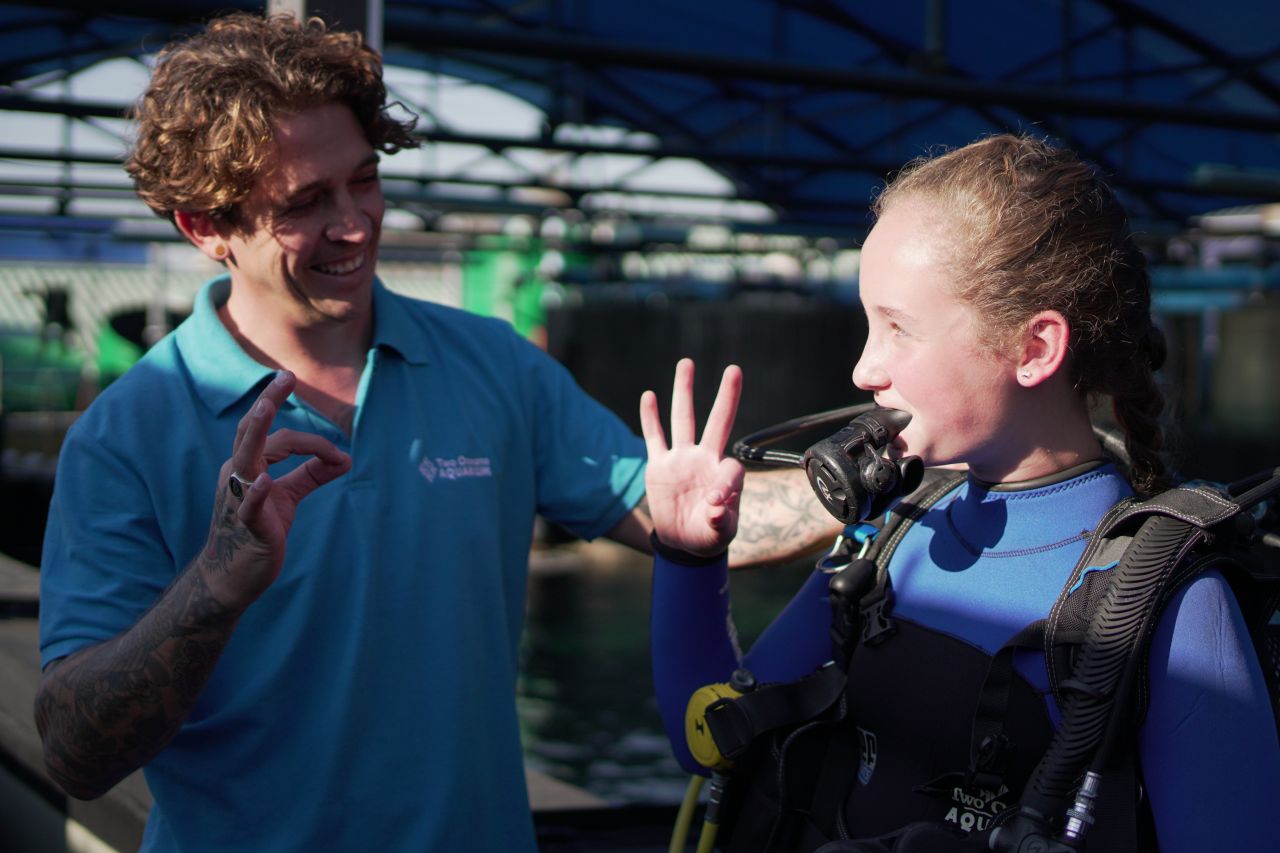 What do you do during a PADI Discover Scuba Diving Experience at the Aquarium?
Upon arrival at the Two Oceans Aquarium, you'll be escorted to our rooftop Dive School, where you'll meet your instructor and begin your approximately three-hour experience. The first part of your PADI Discover Scuba Diving Experience is simply a short lesson, which will cover the basic safety steps you'll need to take as a diver, as well as explain some of the core scuba diving concepts. These concepts are then applied to the various items of scuba diving equipment that you'll be using, and you'll have the opportunity to use this equipment, ask questions and become comfortable. It may seem complicated at first, but scuba diving is all about a few simple systems working together - you've got this!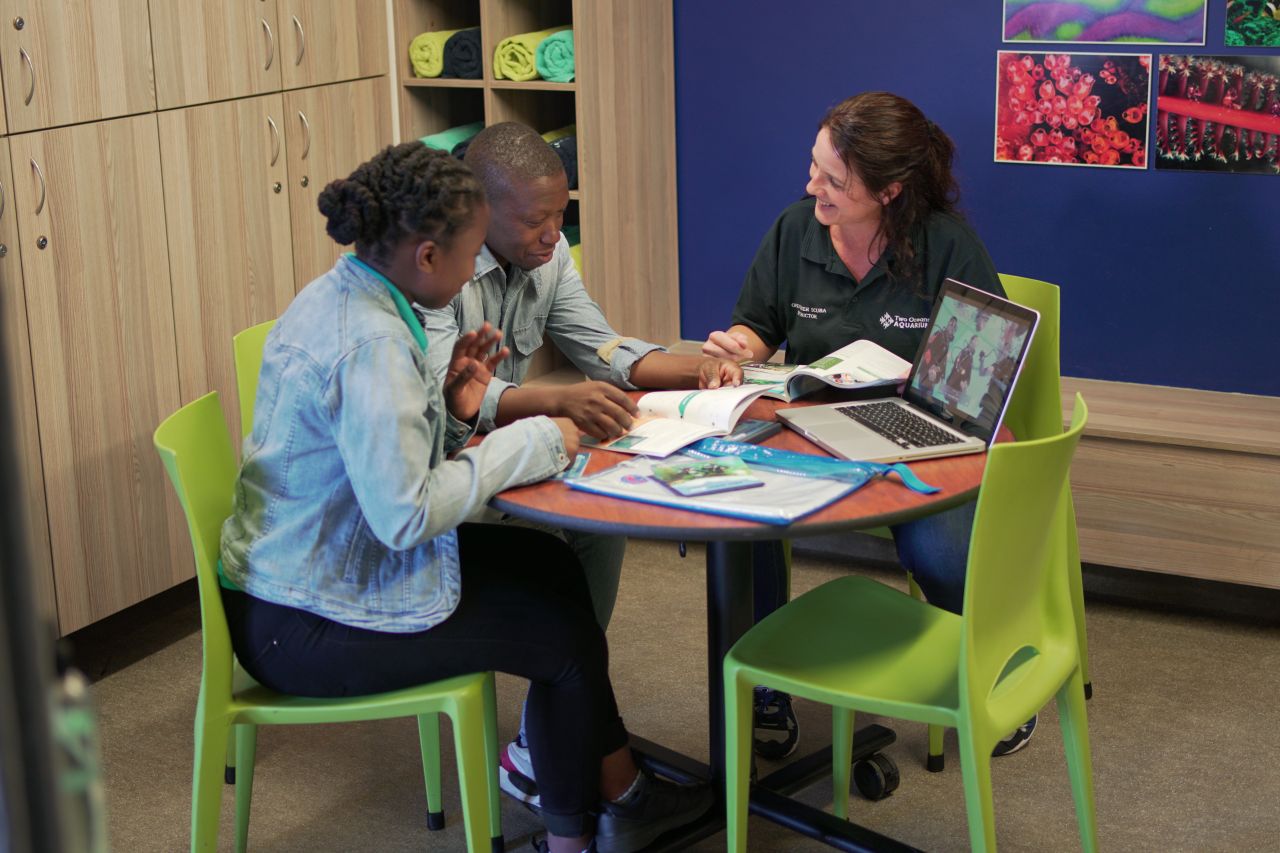 Then it's time to put on a provided wetsuit, set up your scuba diving gear and hop into the Aquarium's training pool! Before diving in the big I&J Ocean Exhibit, you'll need to practice some of the skills you just learned about - this shallow rooftop pool is the perfect place to do that. Under the care of your instructor, you'll carry out a few activities in this pool to help you feel comfortable and safe.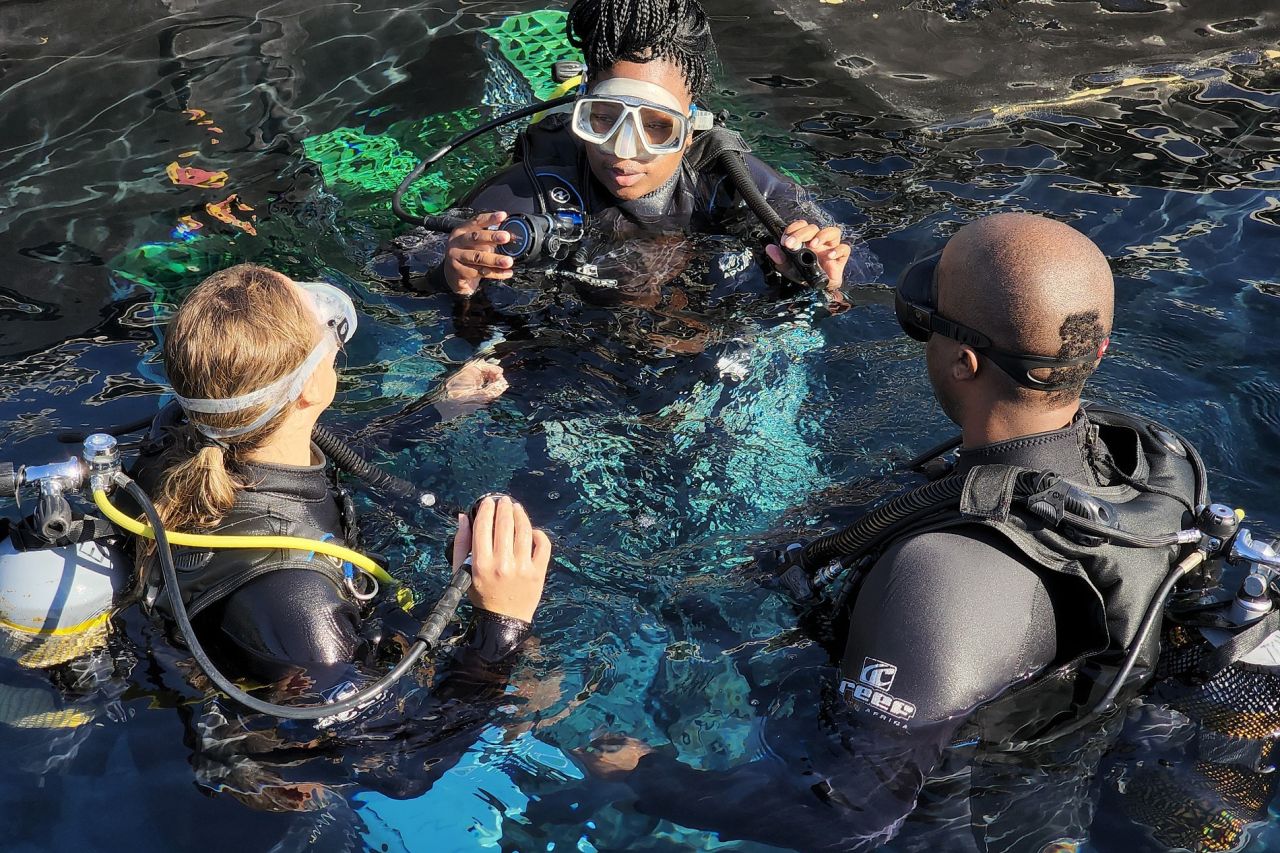 In the pool, you'll have the chance to get comfortable with the basics, like what it feels like to breathe underwater. You'll also learn some basic safety techniques, such as how to recover your mouthpiece if it accidentally falls out of your mouth, or how to get water out of your mask if it fills up while you're submerged. This pool is also where you'll learn the fun stuff - how to move about underwater - and these skills include using a buoyancy compensating device (BCD) to help you float or submerge, and how to swim about in your full gear.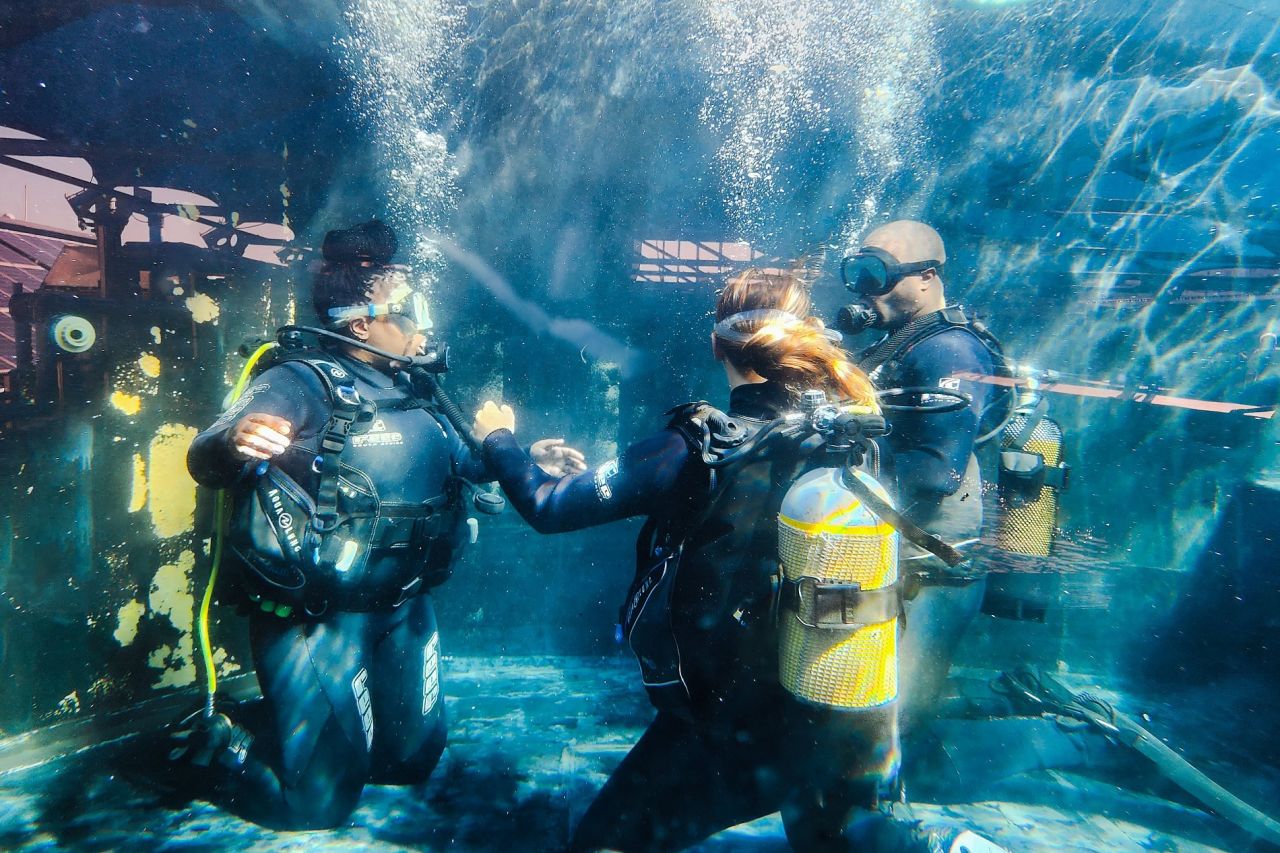 When all that is done, it's time for the main event! After a short break, your air cylinder will be swapped with a full one and your instructor will guide you to the entry point on top of the I&J Ocean Exhibit. You'll be reminded of a few of our safety and ethical rules (like not touching the turtles) and then the instructor will guide you in a fun underwater exploration of this fascinating 1.6 million litre exhibit! Friends and family who also visit the Aquarium will be able to see you in action - the perfect opportunity for your first scuba diving profile picture!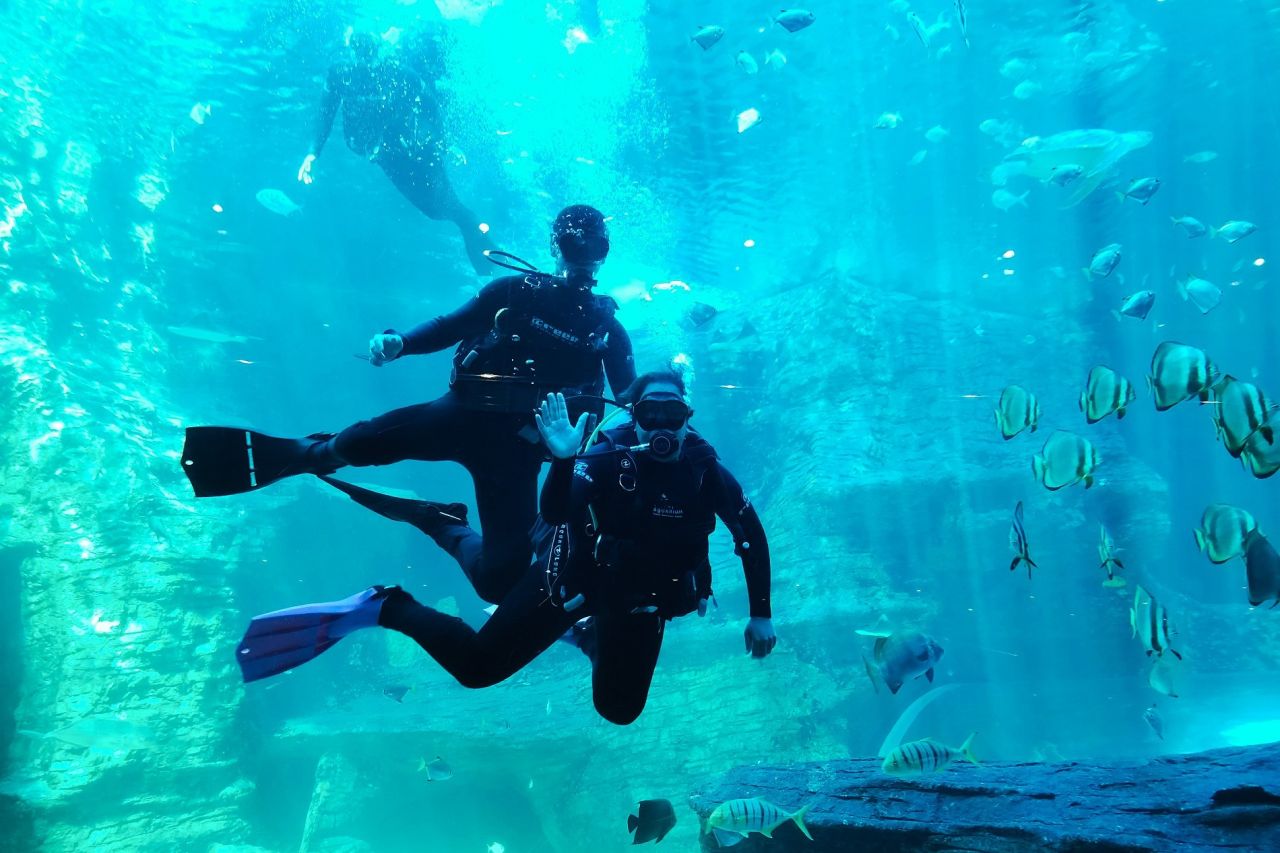 After that, it's time for a warm shower at the Aquarium - and to share your stories!
Are the skills I learn transferrable?
Absolutely! The PADI Discover Scuba Diving Experience itself is not a certification, but it is a gateway to the PADI Open Water Diver Course, which is!
Open Water Diver is the main recreational course diving that most people who say that they "scuba dive for fun" have. It will qualify you to dive recreationally to depths of 18m almost anywhere in the world, and it is the qualification that dive shops and resorts will check for before allowing you to join in on exciting boat dives or hire diving gear. Basically, it's a lifelong skill!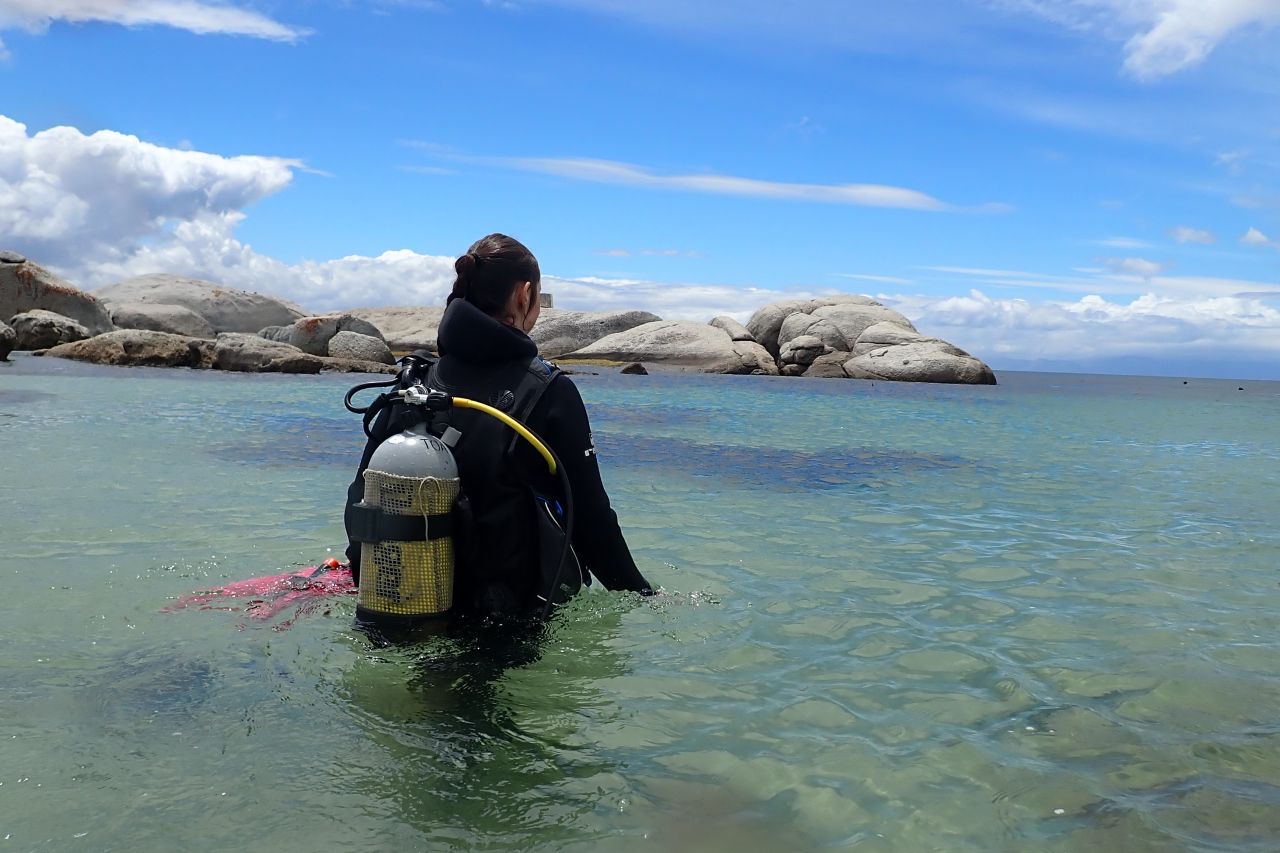 When you've done the PADI Discover Scuba Diving Experience, you will have already completed some of the skills and diving experience required to complete the PADI Open Water Diver Course. For this reason, you'll have the option of "upgrading" your Discover Scuba Diving Experience into the full course if you so choose - meaning you'll only pay for the portions of the Open Water Diver Course you still need to complete, not the full price. This is perfect if you decide that your one-day adventure should become a life-long hobby!
What do I need to be able to do this?
Scuba diving, particularly at the beginner level of the PADI Discover Scuba Diving Experience. is a surprisingly accessible activity, with only a few requirements:
You need to be aged 10 or older.
You need to be reasonably healthy (you can take a look at the 2022 medical checklist here).
You need to be comfortable in water and around animals.
And that's it - once booked, you can simply arrive at the Aquarium on the day of your Discover Scuba Diving Experience with a swimming costume, and we'll provide everything else you need - wetsuit, scuba gear, training materials, towels, etc.
You can book your PADI Discover Scuba Diving Experience here, or read further if you'd like to learn more - and you're welcome to email us at dive@aquarium.co.za if you have any questions about this or other diving experiences at the Two Oceans Aquarium.