Tracking Bob: the deepest update yet!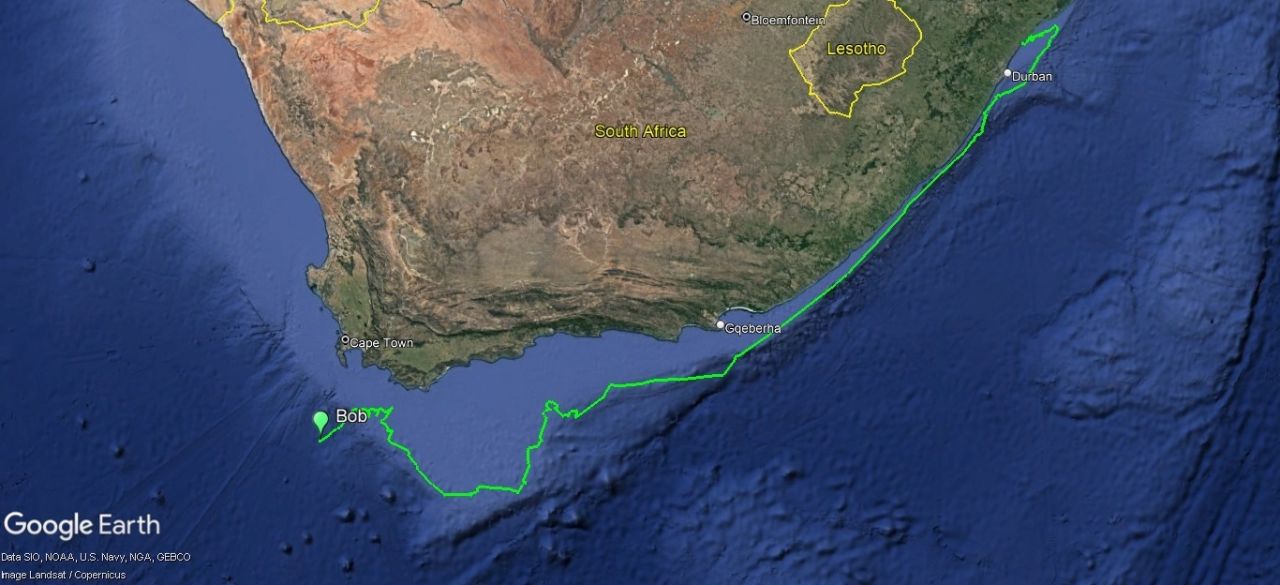 Bob's journey so far:
Update #8: 17 March 2023, by Talitha Noble
Bob, our beloved green turtle, has officially entered the deep blue! After his release in late January 2023, Bob has covered 2500km in 48 days of travelling along the continental shelf, Bob is entering really deep waters for the first time!
Over the past 48 days, our team has watched in amazement as Bob meticulously stuck to the edge of the Agulhas Bank. The Agulhas Bank is the spectacular, shallow part of the southern African continental shelf where the Atlantic, Indian, and Southern Oceans converge. The waters here are very turbulent, but with the constant upwelling of seawater, they are also very nutrient-rich and attract lots of fish!
We think Bob has been enjoying life along the continental shelf. When we last checked in with him, he was peeking over the edge of the shelf near Hermanus, where our turtle team was based on their road trip. It is encouraging to see Bob following the continental shelf – he is swimming savvily by staying at the gentle, warm surface of these nutrient-rich waters where he can stock up on food and conserve energy.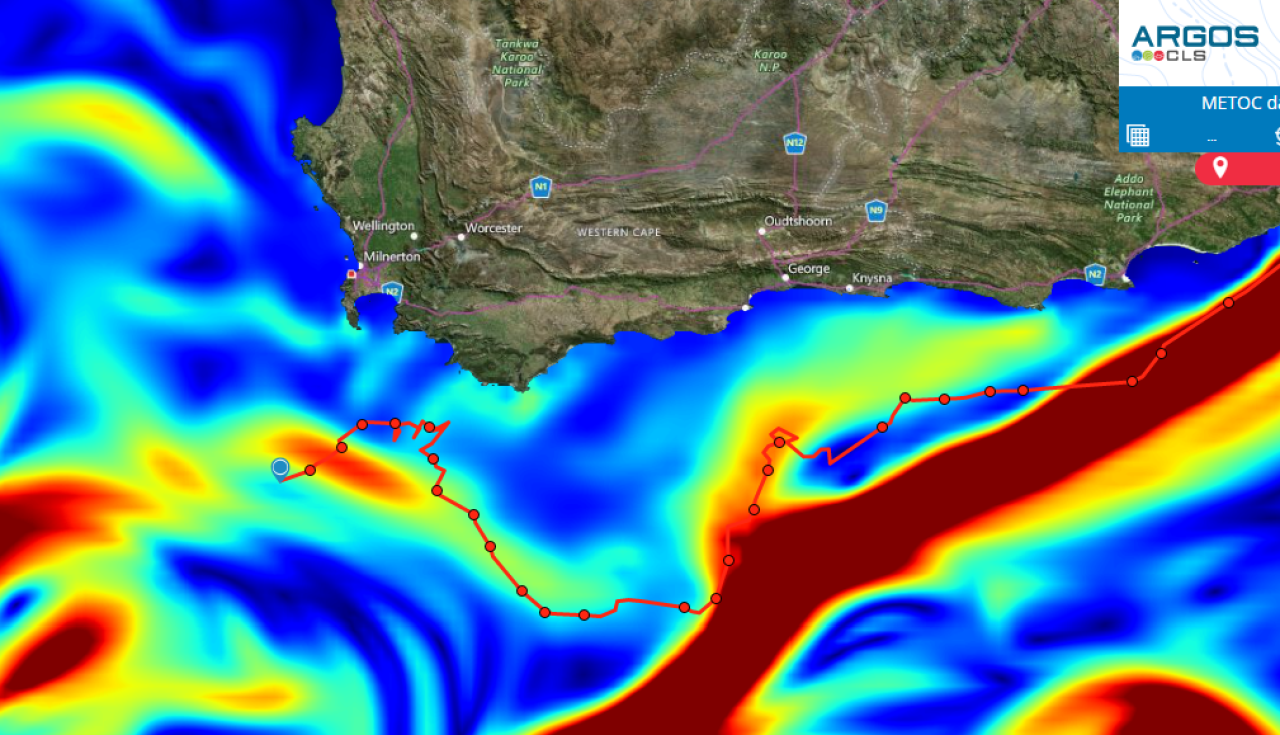 However, it seems as though Bob is ready for a deeper adventure! Over the past two days, Bob has transitioned from a water depth of 600 metres to over 3000 metres!
He certainly had us on the edge of our seats last week… We wondered if he would continue around the Cape of Good Hope, but he decided to head in a more westerly direction and explore even further offshore! He is now 140km from shore. These deeper waters represent a big, brave step for our Bob, and we are excited to see him explore the deep blue!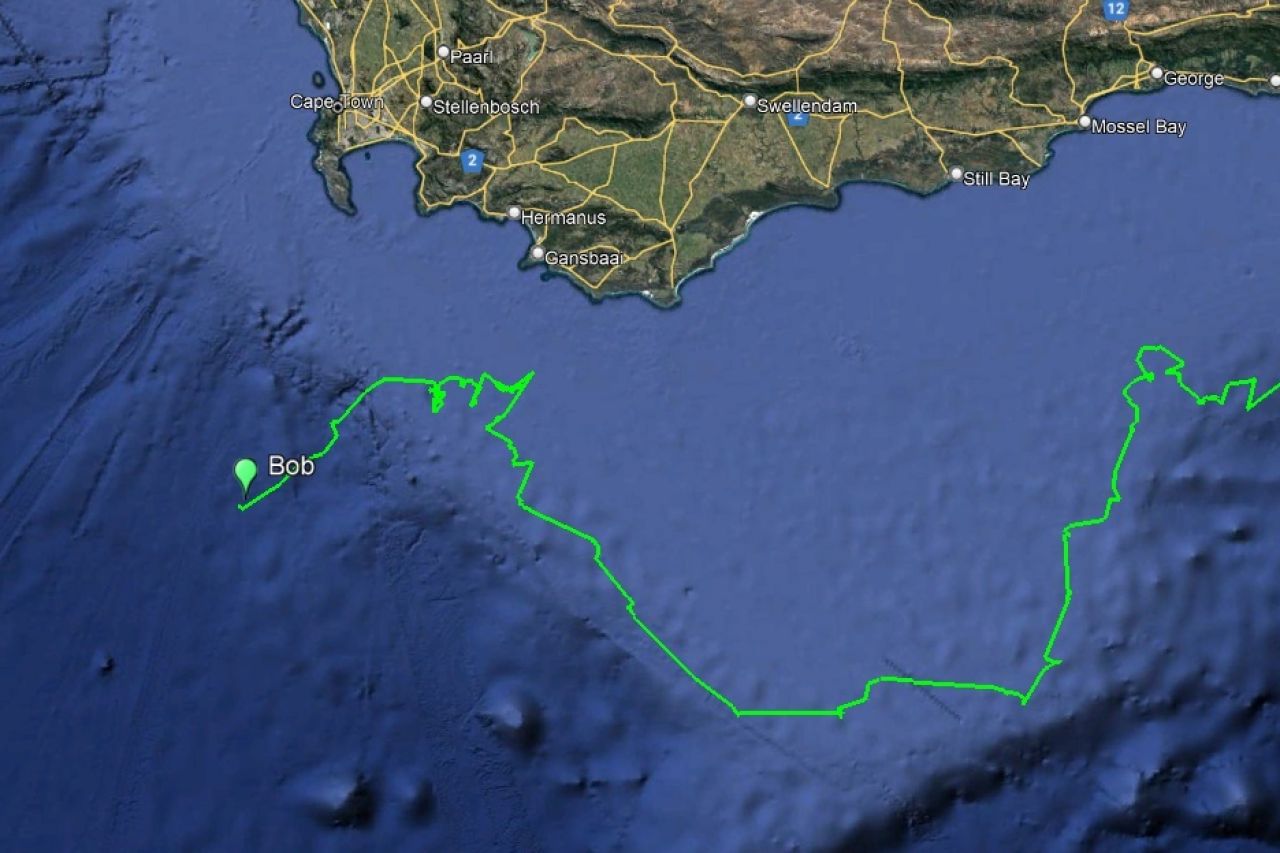 Bob is choosing the best spots even in deeper water, enjoying 22-degree temperatures and following the surface currents at about 1.11 m/s.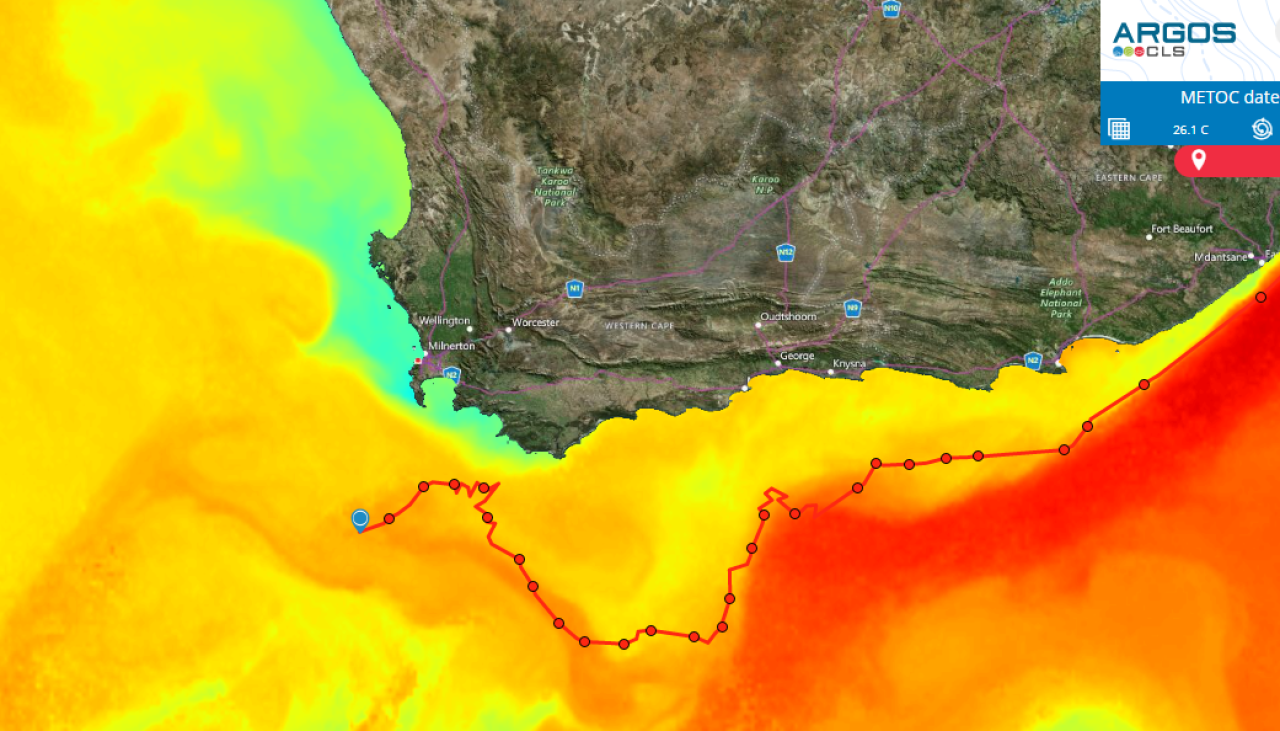 Something to keep in mind as we track Bob is that satellite tags have a limited lifespan. While we hope that Bob's will last up to two years, there is a real chance that the tag might fall off before then.
For this reason, we equipped Bob with an acoustic tag, too. You can read up about acoustic tagging and how it works here, but the main thing that we love about this method is that the battery life is up to 10 years!
The acoustic tag on Bob was donated to us by the South African Institute for Aquatic Biodiversity's (SAIAB) Acoustic Tracking Array Platform (ATAP) programme. This programme has special acoustic tag receivers all along the coastline from Cape Point to Ponta do Ouro in Mozambique. We are very grateful for their support and are confident that, if Bob remains coastal, we will be able to follow his movements for a very long time!
There are over 200 acoustic receivers along the South African coastline: Bob has swum closely past over 20 of these receivers in KwaZulu Natal, capturing his transmissions as he cruised by.
Where might Bob go next? Will he continue to head deeper into the ocean, or will he zoom up the coastline?

Bob stats:
Days since release: 48
Distance travelled: 2 500km
Distance from shore: 140km
Nearest town: Simon's Town
Water Depth: 3 000m
Catch up on Bob's story
During his eight years at the Two Oceans Aquarium, Bob inspired hundreds of thousands of people to love the ocean and its abundant life just that little bit more. Now that Bob has returned to the ocean, he'll continue to be an incredible turtle storyteller as he sends back data about his adventures. Meanwhile, we'll do what we can to protect his ocean home.
If you missed out on any part of Bob's story, you can catch up here:
Go to:
Click here to sign up for updates about Bob and other turtle news