Tracking Bob: Catching currents with the turtle crew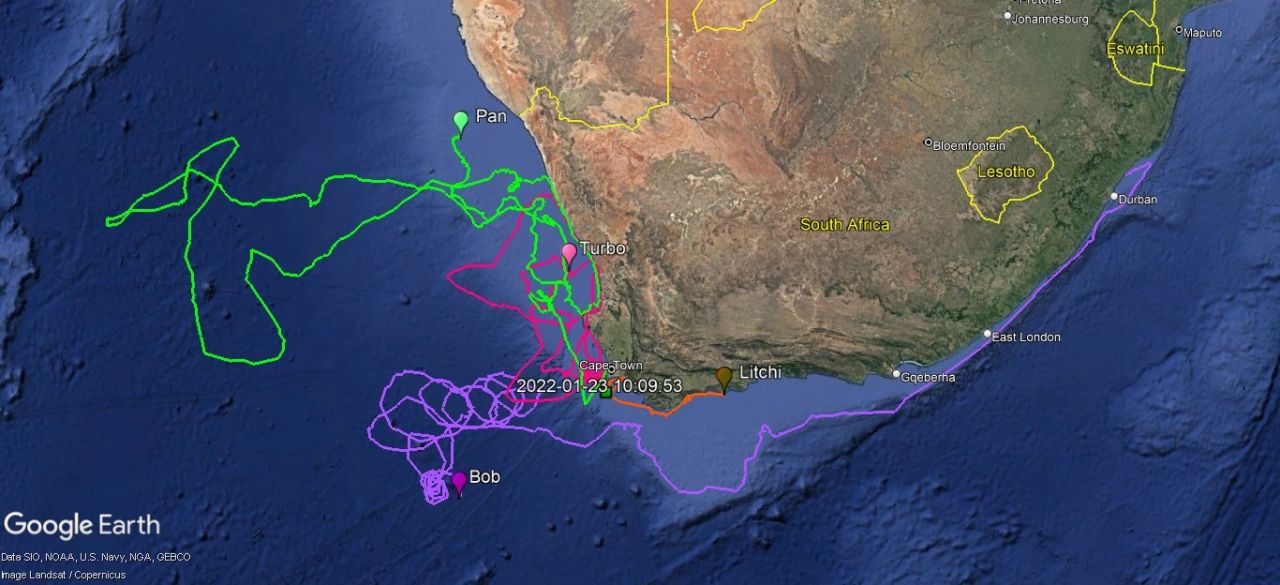 A turtle-y exciting month has passed! Not only did we release five turtles, but we've also had exciting updates from Litchi, Pan, Turbo, and Bob! These four travelling turtles are exploring diverse areas of the South African coastline, making amazing progress and showing off as we follow their satellite tags. Let's hear more about Bob, Pan, Litchi, and Turbo from Talitha Noble, Conservation Manager at the Two Oceans Aquarium Foundation.
Go to:
Want us to email you the next Bob update? Click here
Bob's journey so far:
Update #13: 21 June 2023, by Talitha Noble
Bob:

Let's start with our biggest celebrity... Our special Bob! When we last caught up with Bob, we'd discovered that she is a girl and that circles are her favourite shape… Bob is doing what she does best, cruising in the surface currents of the southern Atlantic Ocean. In the 144 days since her release, Bob has travelled 6 915km!
The ocean is 5 000m deep where Bob is currently swimming and the water temperature is cool at 16.5°C. It has been three months since Bob's journey down the Agulhas Current turned into loops in the Atlantic's surface currents. What we know for sure is that Bob is smart about conserving her energy. Keep it up, Bob!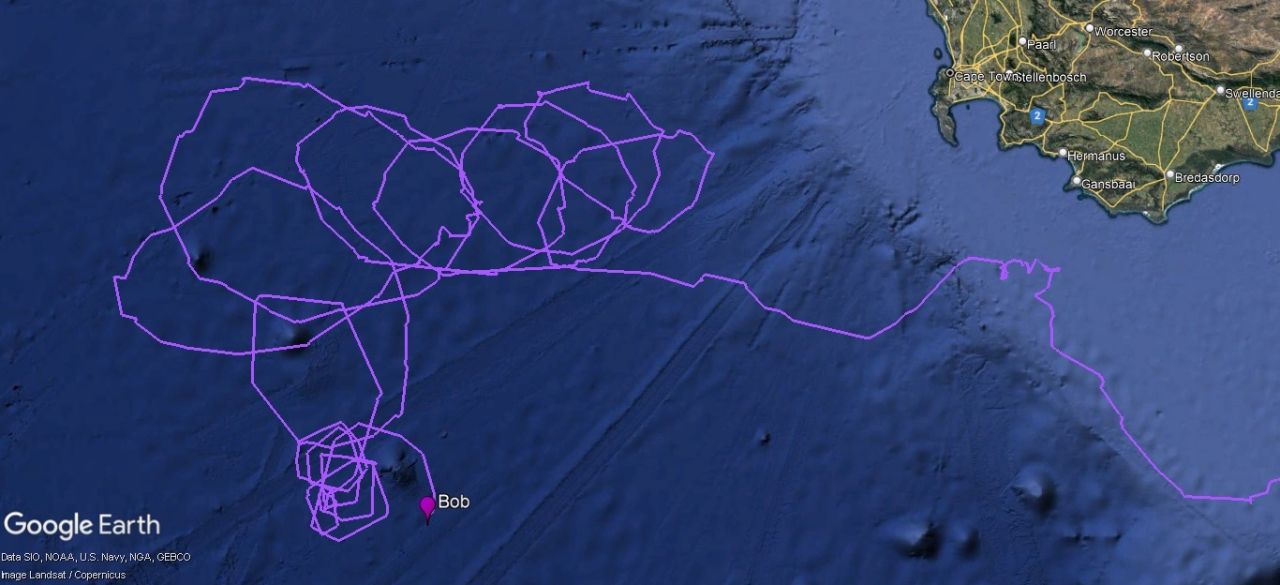 Litchi:
After 476 days of exploring De Hoop MPA, Litchi the green turtle has decided to explore further afield! Litchi was released on 27 January 2022 and spent a month hanging around the Cape Peninsula before heading up to her point of rescue, De Hoop Nature Reserve. Our team at the Turtle Conservation Centre has been blown away by how Litchi has remained in the same place, travelling over 2 000km, but all within the 6km around Skipskop. Clearly, she agrees with us that De Hoop MPA is a magical spot for turtles.
Lately, though, Litchi has decided to be a little more adventurous. In the six days since 14 June, Litchi has travelled past Witsand and towards Jongensfontein (a distance of 75km). She is moving at quite a pace, perhaps following the migrating humpback whales up the coastline towards warmer water. Now, Litchi is swimming in waters of about 17°C. How exciting that we are going to be able to see where she goes next!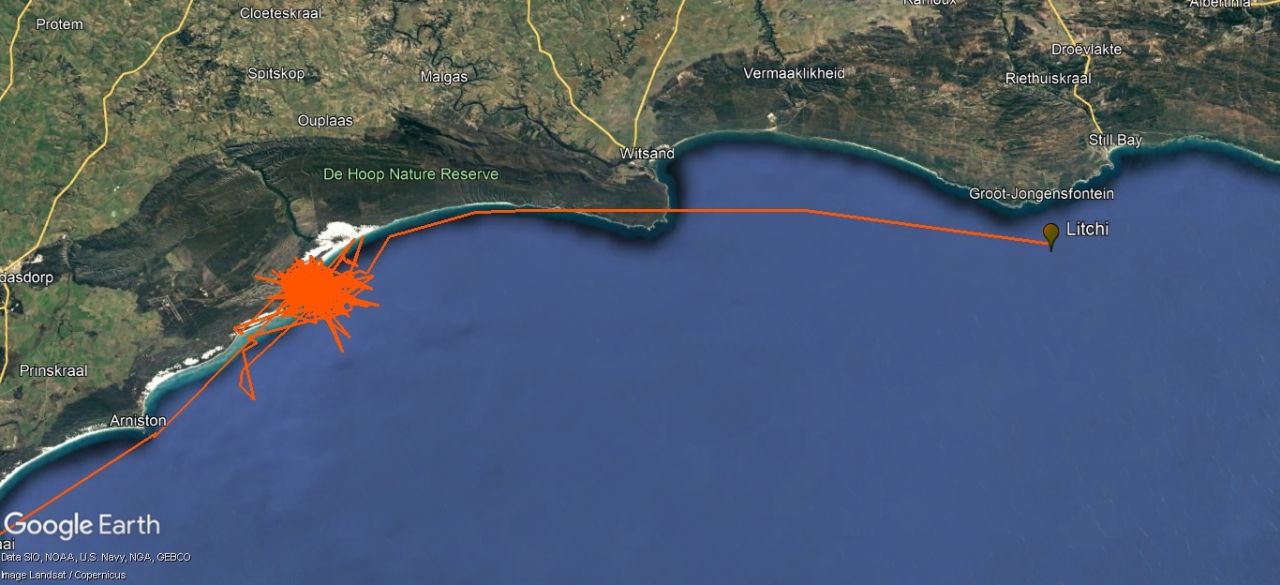 Pan:
Pan, our little loggerhead turtle, has certainly had some great Atlantic missions in the past 11 months. In the last few weeks, he has been heading north consistently. Remaining about 200km offshore, Pan is nearing the Namibian border in Alexander Bay! Our little loggerhead has travelled a whopping 6 954km, an impressive distance for a juvenile turtle.
The temperature has warmed up for Pan (about 18°C) and the surface currents are moving in the same direction as him. I hope Pan has his passport ready for his Namibian border crossing…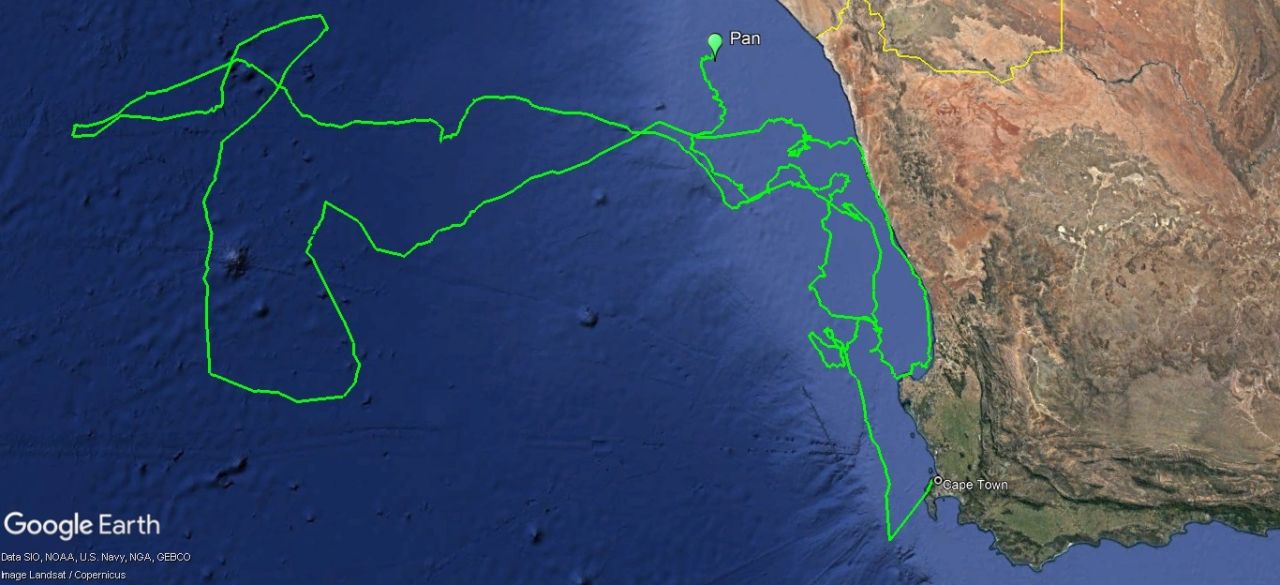 Turbo:
Turbo, our speedy green turtle, has also been heading in a northerly direction since we last touched base. He is currently about 100km offshore from Lamberts Bay. Since his release almost six months ago, Turbo has travelled 3 500km! Currently, Turbo is exploring in water slightly cooler than Pan, swimming at 17°C. How amazing that the West Coast is such a special spot for turtles!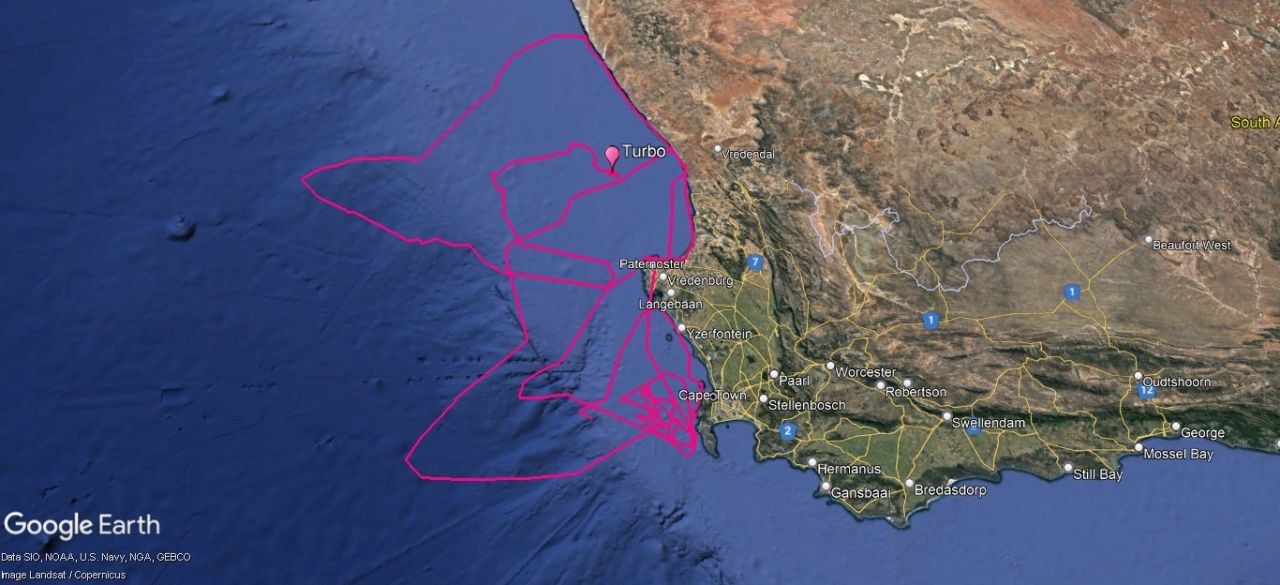 Our team at the Turtle Conservation Centre is amazed at the progress that Bob, Litchi, Pan, and Turbo have made. Each turtle's movements add to our understanding of turtle behaviour and lifestyles - all four turtles are contributing to the global scientific database.
Will Bob continue looping the surface currents? Where will Litchi head next? And what about Turbo and Pan?
Keep an eye out for more turtle updates, and remember to subscribe to our turtle update mailer...

Bob stats:
Days since release: 145
Distance travelled: 6 915km

Nearest town: Hermanus
Water depth: 5 000m
Water temperature: 16.5°C
Catch up on Bob's story
During his eight years at the Two Oceans Aquarium, Bob inspired hundreds of thousands of people to love the ocean and its abundant life just that little bit more. Now that Bob has returned to the ocean, he'll continue to be an incredible turtle storyteller as he sends back data about his adventures. Meanwhile, we'll do what we can to protect his ocean home.
If you missed out on any part of Bob's story, you can catch up here:
Go to:
Click here to sign up for updates about Bob and other turtle news