Presenting: After Dark 2023 winter concerts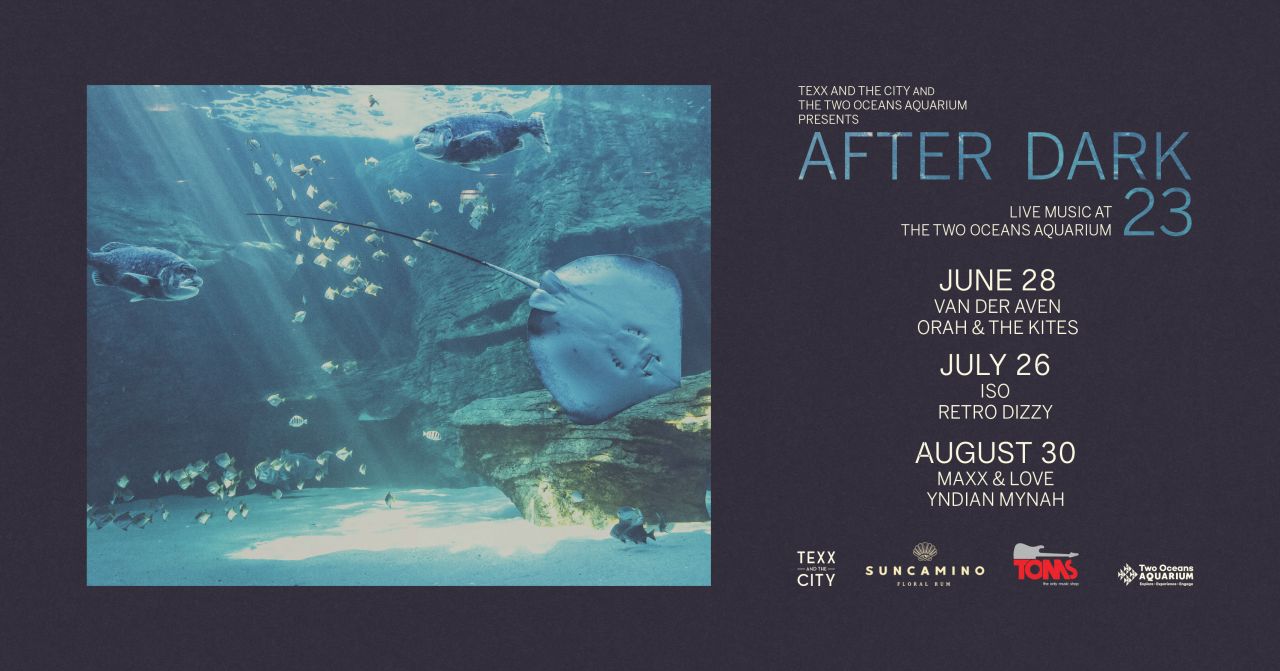 The Two Oceans Aquarium & Texx and the City present: After Dark 2023
Following two sold out runs, After Dark returns to one of South Africa's premier tourist attractions. ISO, Yndian Mynah, Van Der Aven, Retro Dizzy, MaxX & Love and Orah & The Kites are the artists lined up to perform this year.
The Two Oceans Aquarium, together with entertainment website Texx and the City, are joining forces once again to host their second stripped down series of events this winter featuring some of the Mother City's finest bands.
Over three nights in June, July and August 2023, the viewing area in front of the I&J Ocean Exhibit will be transformed into a cozy, living room-style setting where you'll be able to enjoy two bands on each evening. There really is no better or more beautiful backdrop for any event.
"We're thrilled to bring After Dark back to the Two Oceans Aquarium! Experiencing incredible South African talent in front of our window into the ocean is certainly going to be Cape Town's most unique music experience, and it's incredibly exciting to be working with Texx And The City again to bring back this exciting concert series. Sea you there!" exclaimed Two Oceans Aquarium Marketing Manager Devon Bowen.
About the resurgence of After Dark, Texx and the City's Founder & Editor Tecla Ciolfi says, "The Two Oceans Aquarium is one of my favourites places in the world, so to have the honour to return to do this event series post-Covid is incredibly exciting for me. This year we've put together the most phenomenal line-up and I can't wait to share it with everyone!"
Doors open at 18h30 sharp, so come early before the music starts at 20h00 and explore the Two Ocean Aquarium when the lights are low!

Go to external page:
Get your tickets here
Check out all the event details and performing artists below:
28 June 2023 - Van Der Aven and Orah & The Kites
After Dark kicks off two exciting up-and-coming Cape Town bands - the indie folk-acoustic tunes (with South African flair) of Van Der Aven, and the ever-evolving indie-alternative vibes of Orah & The Kites.
Tickets: R350 (get your tickets here)
Van Der Aven
Van Der Aven is a captivating folk-acoustic trio from Cape Town. Consisting of brothers Theunis and Roelof van der Merwe, along with their friend turned brother, Paul Avenant, they blend raw acoustic sound with South African flavor, drawing influence from folk pioneers like Mumford & Sons and Bon Iver. With their multi-instrumental talents and heartfelt harmonies, Van Der Aven creates an enchanting musical blend of folk and fun, captivating audiences with their performances. They have shared stages with notable artists and their sensitive approach to music makes them a cherished choice for folk-loving listeners.
Tickets
Orah & The Kites
Orah & The Kites is melancholic alternative/indie band from Cape Town.. Formed in 2016 by Ntokozo Mzimela, Teagyn Gracey, and Jaimie De Klerk, the band's soundscapes are rooted in vocal harmony and meditative melodies. With the additions of Tristan De Beer, Kieron Brown, and Giovanni Serci, their music has expanded and evolved. They have graced local venues and festivals, drawing influences from artists like Bon Iver, Ry X, Florence & The Machine, and Moses Sumney. Orah & The Kites take listeners on an introspective journey, exploring the vast range of human emotions with their haunting and evocative compositions.
Tickets
26 July 2023 - ISO and Retro Dizzy
July's After Dark promises to be a treat, with the eclectic sounds of South African progressive rock pioneers ISO, and the psychedelic rock of local Retro Dizzy.
Tickets: R350 (get your tickets here)
ISO
ISO, formerly known as Isochronous, is a Progressive rock band hailing from Pretoria. Established in November 2006 by Richard Brokensha, Marko Benini, Franco Schoeman, and Alex Parker, ISO has experienced an astounding evolution, both locally and internationally. Their distinctive music and awe-inspiring live performances have garnered them immense respect and recognition in the industry, solidifying their position as a highly esteemed group with an enviable reputation. With a remarkable stage presence enhanced by cutting-edge sound and lighting technologies, ISO has been hailed as a world-class act by critics and the press, captivating audiences worldwide.
Tickets
Retro Dizzy
Retro Dizzy is a Cape Town-based psychedelic "surf rock" band/. Originally formed in Hermanus, they have become an integral part of our city's thriving psych, garage, and surf scene. Retro Dizzy's impressive journey includes sharing stages with acclaimed acts like Allah-Las and Black Lips. Their debut album, 'Youth Is Like A Loaded Gun,' received underground acclaim, while their second release, 'Creatures of the Black Desert,' was hailed as one of South Africa's best psychedelic albums. Retro Dizzy's dynamic sound and energetic performances continue to make an impact, leaving an indelible mark on the local music scene.
Tickets
30 August 2023 - MaxX & Love and Yndian Mynah
The final set of the 2023 After Dark series, rounds off these unique performances with the jazzy blues of MaxX & Love, followed by the dreamy post-rock notes of Yndian Mynah.
Tickets: R350 (get your tickets here)
MaxX & Love
The duo MaxX & Love born from Blues, finding profound influence in their life journeys, which they skillfully convey through their unique form of musical storytelling. Anchored by the philosophy that "the blues is a feeling," MaxX & Love wholeheartedly honor this sentiment in every aspect of their musical expression, leaving a lasting impression with each captivating performance. The blues guitar licks of Love (Sechaba Ramphele) and confidence vocals of MaxX Monticoe combine for more than just music - this due puts on a show!
Tickets
Yndian Mynah
Yndian Mynah is a Cape Town-based instrumental band known for their boundary-pushing blend of post-rock, dreamy psychedelia, post-punk, and prog rock. Their debut album 'Velvet Youth,' released in 2019 under their independent label Mount Wave Studio, showcases their dynamic compositions. With high-energy live shows, Yndian Mynah creates a visual and instrumental journey, defying conventions and delivering captivating guitar-driven songs marked by spontaneous changes, heavy breakdowns, and moments of euphoria.
Tickets
Tickets are limited to 180 pax per event. Doors open at 18h30 with the first act on stage at 20h00 and the second act on at 21h00. A cash bar will be available and food can be purchased before the event and during the interval.
Go to external page:
Get tickets here