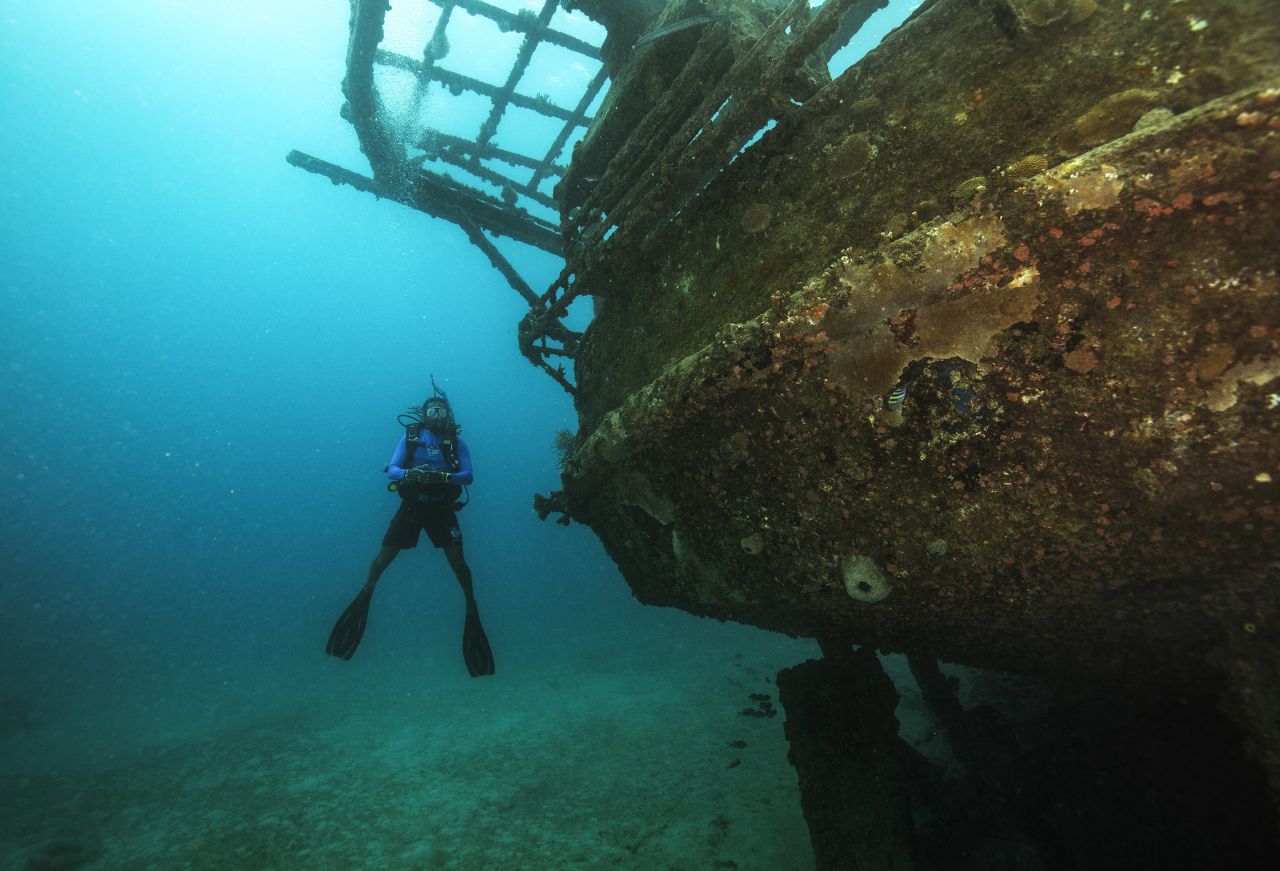 What is the PADI Wreck Diver course?
Imagine diving deep into the past and discovering fascinating windows into history. Wrecks offer just that, whether they're purpose-sunk as artificial reefs for scuba divers or lost due to accidents. Each wreck dive presents a chance to unlock a mystery or catch a glimpse of something others have missed.
At the Two Oceans Aquarium Dive School, you can explore the world of wreck diving through the popular PADI Wreck Diver Specialty course. By observing responsible wreck diving practices, you'll not only enjoy rewarding adventures but also learn how to protect these precious sites. So why not immerse yourself in the past and experience the excitement of wreck diving?
Who is this course for?
The PADI Wreck Diver course is for scuba divers with a PADI Advanced Open Water certification rating or higher who wants to explore wrecks safely at even greater depths. This course is suitable for those aged 15 and older.
How to take part
The PADI Wreck Diver course at the Two Oceans Aquarium Dive School costs R6 000 per person. This includes everything you need for the course – digital theory packs, boat dives, gear rental, dive permits, final qualification certification, etc.
Go to:
Book your course today!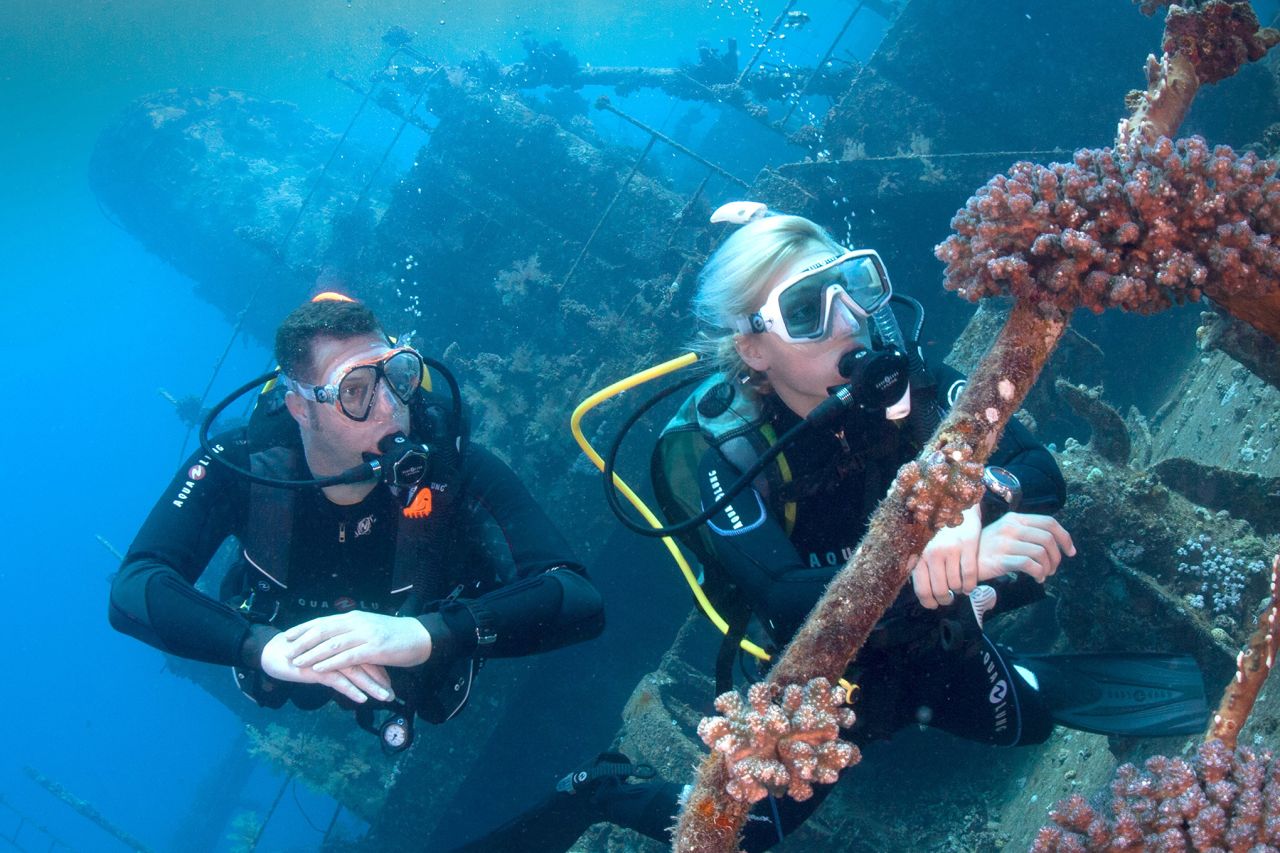 Participant information
Age restrictions
Participants must be aged 15 years or older to enroll in the PADI Wreck Diver course.
Important medical information
You need to be reasonably healthy. You will need to complete a medical questionnaire before being allowed to dive - download it here. Have a look through the questions on Page 2. If you were to answer "Yes" to any of the questions, you would need a letter from a doctor clearing you for diving. If you answer "No" to all questions, no doctor's letter is required. Should there be an answer that concerns us, we reserve the right to ask for a referral to a diving physician. When answering these questions, honesty is paramount to your safety and ours.

Flying after diving
Please be advised that you may not do this course and dive if you are planning to fly within 24 hours after the dive.
Course information
Course duration
The course takes two days to complete. The days do not need to be consecutive, but we strongly recommend that you complete these days in close succession so that everything is fresh in your mind.
Days typically start at 08h00 and finish around 16h00, but this is weather dependent and will be discussed between you and the Dive School team ahead of time.
Frequently asked questions
The PADI Wreck Diver course consists of three phases:

E-Learning: Knowledge development about wreck diving techniques and equipment. You will study independently using the PADI Wreck Diver speciality eLearning (or your instructor may conduct class sessions if not available in your language).

Wreck Dives: The course consists of 4 x Boat dives where we will explore our local wrecks in False Bay

What do you need to bring?

All you need to bring along is a swimsuit and a reusable water bottle.

We provide everything you will need on the day, including all gear, study materials, and hot showers.


Transport to the dive sites is not included.


Please arrive at the Two Oceans Aquarium 15 minutes before your scheduled diving slot. You may report to our Visitor Centre just inside the main entrance and the Dive School team will meet you.


About the Two Oceans Aquarium Dive School

The Two Oceans Aquarium Dive School is a certified PADI Five-Star Dive Centre and your one-stop shop for all things scuba diving in Cape Town.

PADI is the world's leading scuba diver training organisation. As a certified PADI Dive Centre, the Two Oceans Aquarium Dive School meets all the stringent health, safety, and quality requirements set out by PADI.


Please read our terms and conditions and make sure you are eligible to dive before making your dive booking:

In line with recognised diving practice, dives may not occur if divers are to FLY less than 12 hours after the dive time (or 24 hours for the PADI Open Water Diver and PADI Advanced Open Water courses). Please do not book if you are not sure about the exact time of your flight, especially if it is within 24 hours after your dive. This will result in forfeiting the entire dive fee.

Failing to produce your official dive qualification (e.g. dive card) on the day of the dive, your dive will be cancelled, and you will be liable for the full amount. We can only check your dive qualification online if you are PADI or SSI certified.

Do not book if you are unsure about your dive qualification, as this will result in forfeiting the entire dive fee. If unsure, please contact us at diveschool@aquarium.co.za to ensure you book the right experience for your qualification level.

If you have a valid dive qualification but have not dived for over 6 months you will be required to complete a refresher course on the day of your dive. This will be done at the Aquarium.

For safety reasons, divers must be at least 10 years old to dive in our exhibits.

Divers under 18 must have their indemnity form signed by their legal guardian. If the legal guardian will not be present on the day of the dive, they must request a copy of the indemnity form at the time of booking the dive so that it is signed in advance of the dive.

The Aquarium entrance fee is included in the rate for the diver/s on the day/s of their dive/s.

Cancellation policy

Should you cancel your dive 24 hours before the dive time, 90% of the fee will be refunded. Please be advised that the refund process may take 5 to 10 working days.

If you cancel your dive on the dive day, you will forfeit the entire dive fee. No refund will be given unless it's due to medical reasons and you can provide proof, e.g. a medical certificate.

Should you wish to postpone your dive for another day, please do so at least 24 hours in advance. If you postpone on the day of the dive, you will be charged a penalty fee of 50% of the dive fee. If the reason to postpone is medical and happened on the day of the dive, there will be no penalty fee provided you have proof, e.g. medical certificate or letter from the doctor.

Should you wish to cancel the dive upon successful completion of the Discover Scuba Dive course, a penalty fee of 50% will be charged.