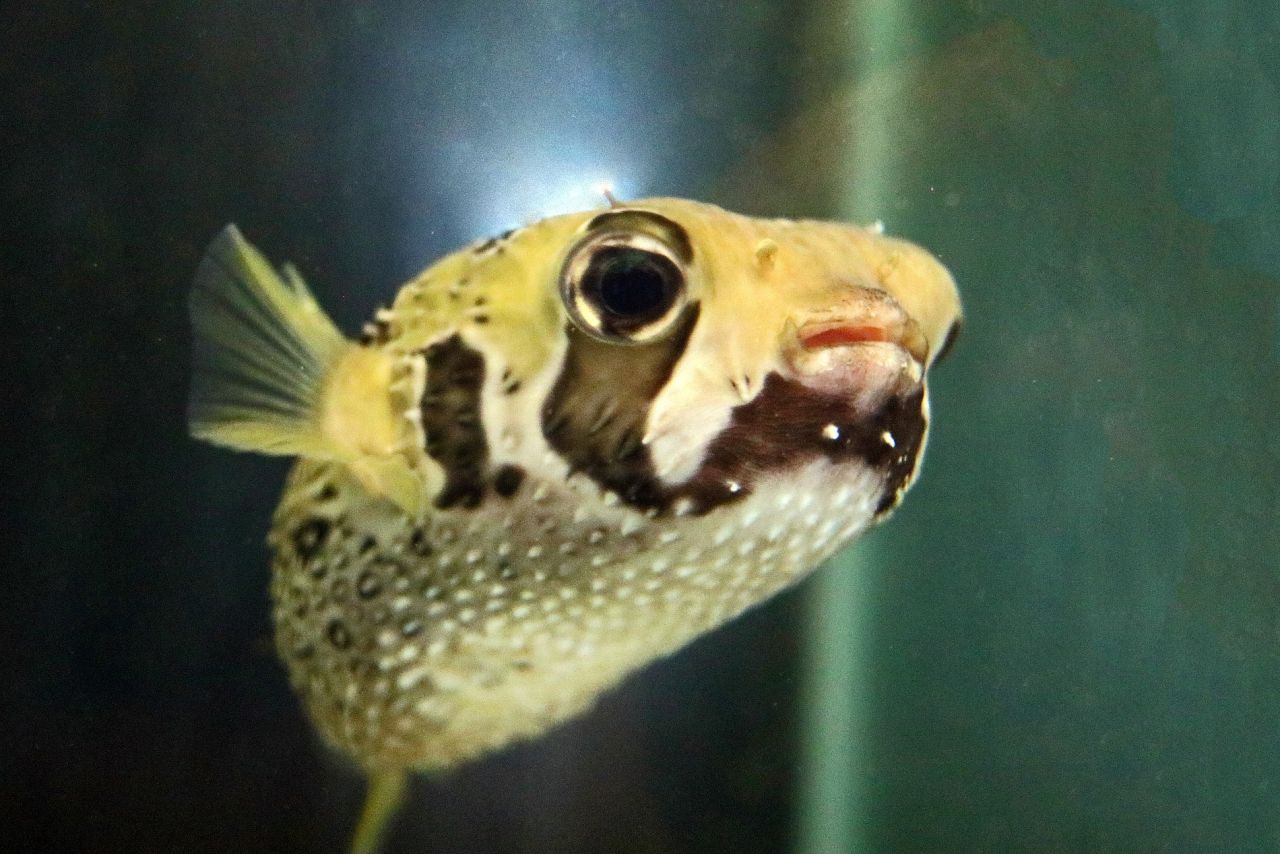 Shortspined porcupinefish resemble a stereotypical "puffer fish" that most people can visualise - they have compact, boxy bodies, covered in scales that have been modified into short spines that can stand erect when the porcupinefish inflate their bodies and point backward at other times. Their spines are noticeably shorter on their heads, and completely absent from their tail peduncle. Their colouration is characteristic of the species; they have white bellies and like yellow-brown bodies. Dark brown or black bands run from below their eyes and under their heads, as well as a second set of bars just in front of their pectoral fins.
Then threatened, shortspined porcupinefish can inflate their bodies to make themselves appear larger, and to help erect their spines as a further defence. They inflate their bodies by rapidly swallowing large amounts of water.
In addition to their spines and thick skin, the flesh of the shortspined porcupinefish is also poisonous. Their toxin is called tetrodotoxin which is produced by symbiotic bacteria that live inside the fish. Tetrodotoxin is a neurotoxin that is deadly to humans - in fact, it is estimated to be 25x more toxic than cyanide to mammals.Unlike most other fish, porcupinefish lack anal fins.
Their teeth are fused together into a beak-like mouth which they typically keep open to that they can react quickly if they are attacked and need to swell up by swallowing water. Their beaks help them to feed on hard-shelled prey, such as crustaceans and molluscs. Their genus name, Diodon, refers to their beaked mouth, literally meaning "two teeth" in Greek.
Shortspined porcupinefish inhabit tropical and subtropical waters throughout the Indian and Pacific Oceans and on the Atlantic coast of South Africa. They are common on coral reefs, rocky reefs and shallow lagoons, ranging to a maximum depth of about 90m. In these habitats, they typically hide in caves or the shade of corals during the day and come out at night to feed.
Also known as kortstekel-penvis, brown-backed porcupinefish, blotched porcupinefish or black-blotched porcupinefish.
Grows up to half a metre long.
Their flesh is potentially deadly poisonous to humans - do not eat them!