Turtle-y awesome road trip: the turtle team takes on Hermanus!
This year, the Two Oceans Aquarium Foundation embarked on the sixth annual Turtle Road Trip. From 5 to 11 March 2023, 10 dedicated staff members visited schools between Kleinmond and Gansbaai, spoke to key organisations along the coastline, and strengthened connections within the Turtle Rescue Network.
Impacting turtle-minded learners
Learners are a core focus of the Turtle Road Trip. Split into five teaching pairs, our team visited 21 schools over six days. Four of the five pairs taught Grades 4 – 8, while the fifth pair (two of our Early Childhood Development teachers) enchanted Grades R – 3 with the ever-popular "I Love Turtles" puppet show.
At each school, our teachers spoke to learners about "the story of stranding season". In a nutshell: loggerhead and leatherback turtles nest on northern KwaZulu-Natal beaches in summer, leading to thousands of turtle hatchlings entering the Agulhas Current between February to March. Learners are taught about the different oceans and currents surrounding southern Africa and how they affect turtles. Hatchlings are often swept up by the fast-flowing Agulhas current and spat out in the cold Western Cape waters, where they are stranded on our beaches. At this point, the teachers incorporated aspects of the Rocky Shore Ecology course, teaching learners about the animals that hatchlings may encounter along the coast, such as sea stars and Cape urchins. Then, the presentation focused on how learners can help stranded turtles: contacting the Turtle Rescue Network via the Hotline number (083 300 1663) is the first call. The teachers also highlighted the importance of avoiding single-use plastics, such as plastic shopping bags and straws, which are often mistaken for food and ingested by turtles.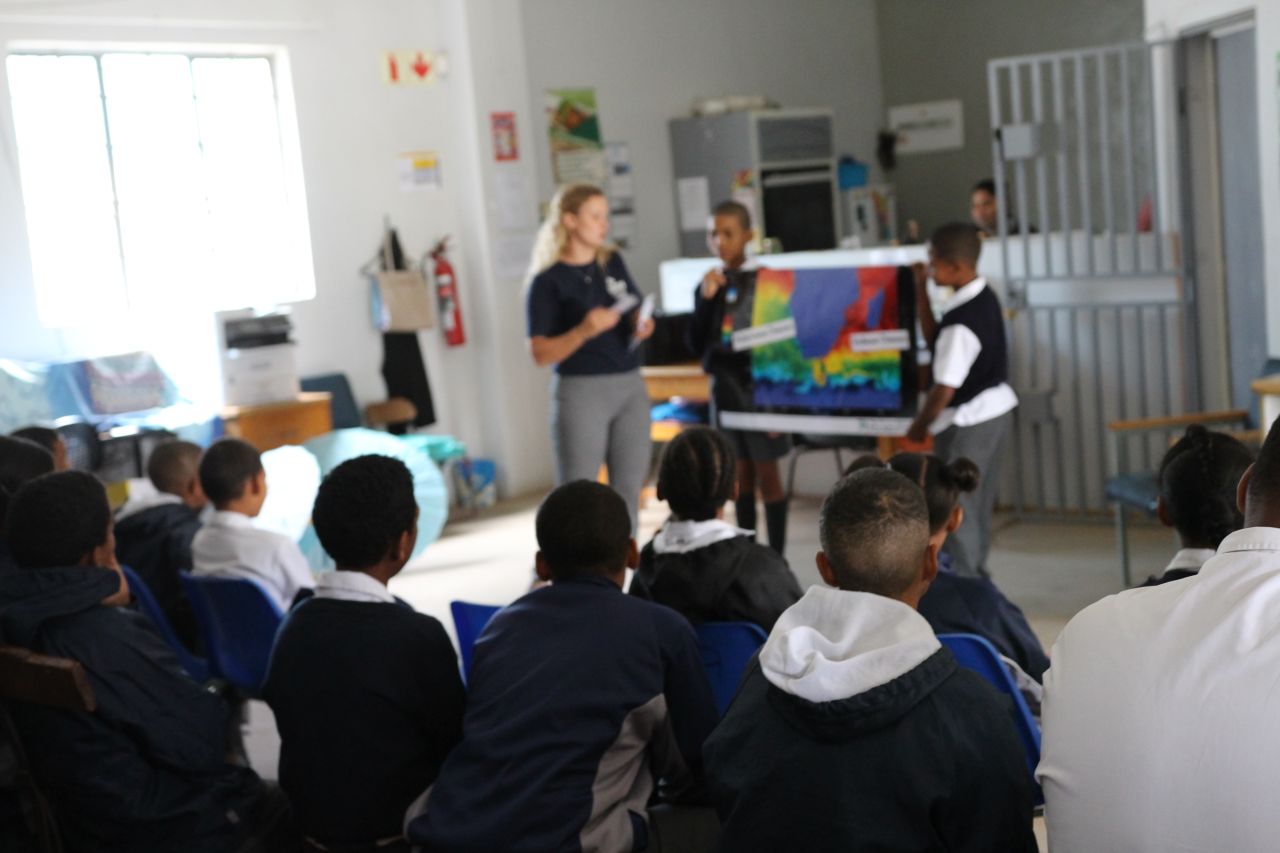 The puppet show was another firm favourite and especially fun for our team to watch in their spare moments. Our littlest learners shrieked as Lily the shyshark emerged from the puppet box and laughed as Hatch the turtle hatchling made his signature noise. They enthusiastically chanted, "I love turtles", and just as vehemently chorused, "No!" when asked if they would use plastic again.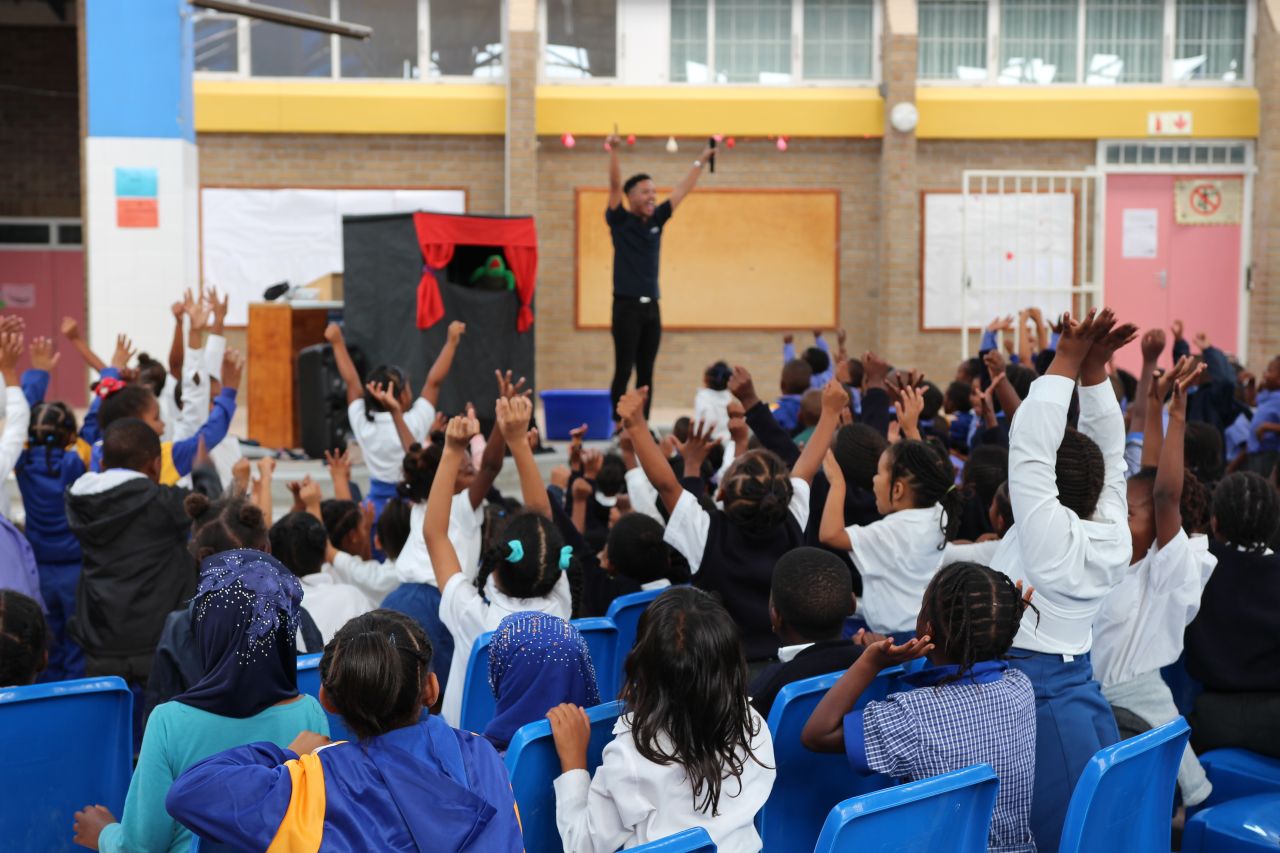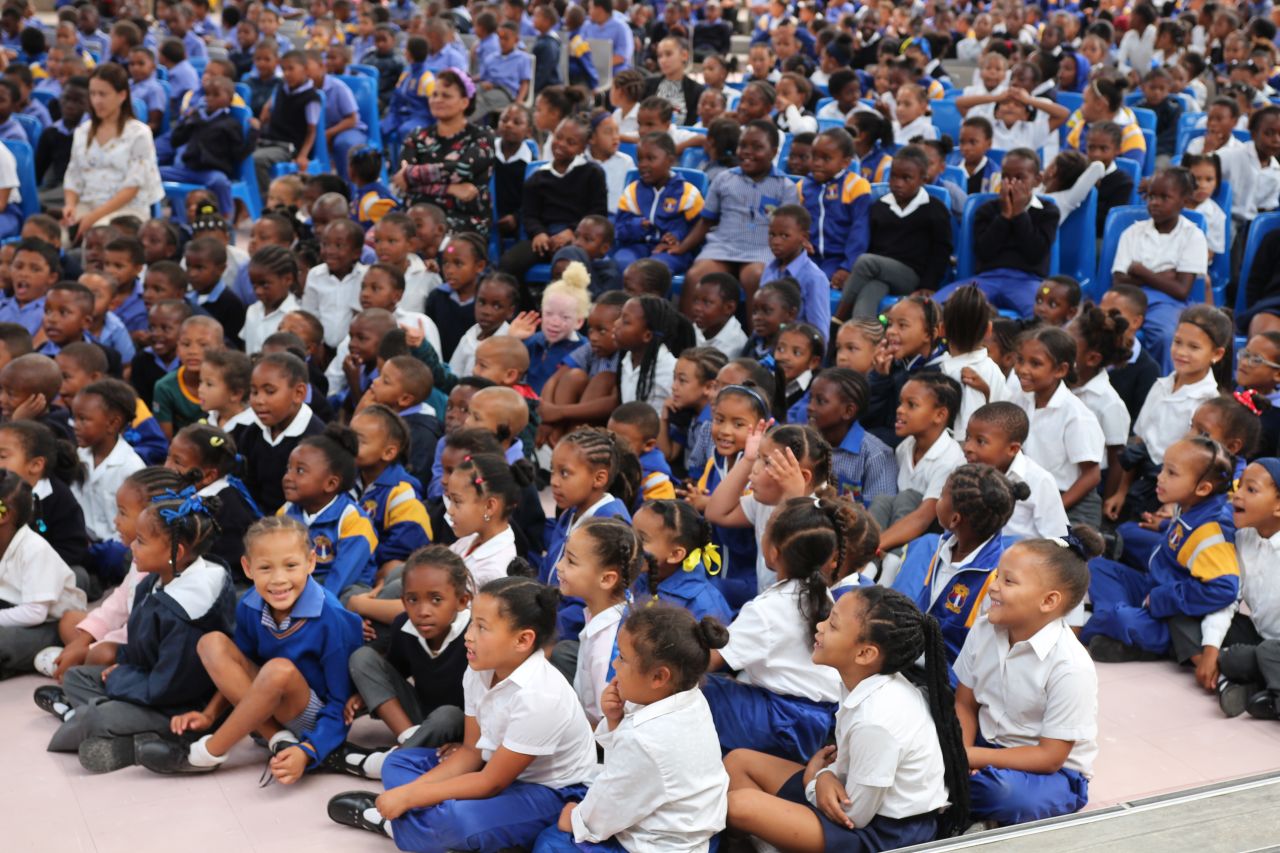 Our teachers' presentations enthralled even the biggest crowds of children. The turtle taxidermies (donated to the Education programme for learning purposes) were guaranteed to grasp the children's attention. Our team was encouraged by the insightful questions posed to them by learners. Here are just a few of them:
How many types of turtles are there?There are 7.
Do turtles not get stung by the jellyfish they eat? Their scaly skin protects them.
What number do I call if I find a turtle? The Turtle Rescue Hotline - 083 300 1663
How do you get the plastic out?We usually wait for the turtles to poop the plastic out, or we help them as gently as possible.
How long do turtles live? Some turtles, like the Leatherback, live for over 50 years!
How long can they stay out of the water? Turtles breathe air, so they can comfortably be out of the water for a few hours, but they do love being underwater as they are built for swimming.
How many turtles do you have at the Aquarium?We currently have 23 turtles in our care at the Turtle Conservation Centre - these include several loggerhead hatchlings and some sub-adult green, hawksbill, and loggerhead turtles.
One of the most impactful parts of our lessons was pointing out the size of turtle hatchlings. We asked learners to inspect the size of their palms – that's how small some hatchlings are when they're found on our beaches. The learners' wide-eyed wonder (as well as some concerned looks when they realised how vulnerable these hatchlings are) was very special to witness – today's youth certainly are the change-makers of tomorrow.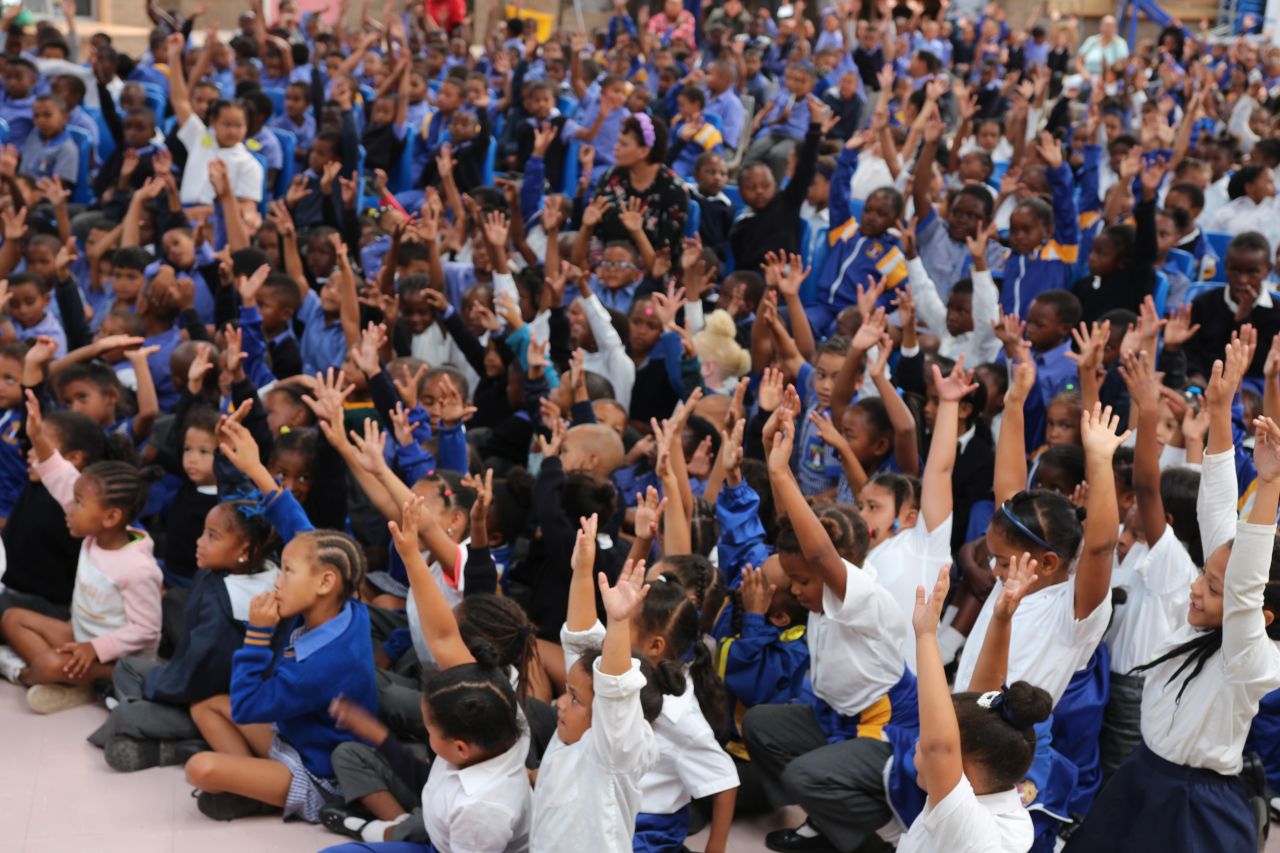 Nurturing and equipping the Turtle Rescue Network
While the education teams inspired young minds, the Two Oceans Aquarium Foundation's Turtle Conservation Centre Manager Talitha Noble and Turtle Rescue Network Coordinator Tracy Whitehead were on a different mission. The two had a jam-packed itinerary of meeting with the organisations and groups in the Overberg area that make up a vital part of our Turtle Rescue Network. On one such day, Talitha and Tracy met with members of WWF, CapeNature, Overstrand Municipality, SANCOBB, Overberg Wildfire Volunteers, and Kogelberg Wildlife Rescue.
These members of the Turtle Rescue Network are all permitted to rescue stranded turtles, getting them to the safety of their nearest Turtle Network Point and the Turtle Conservation Centre. These meetings are crucial in equipping members with the expertise to aid stranded turtles. Talitha and Tracy covered points such as stranding season, data collection, and weather patterns, as well as handed out rescue boxes and posters. Without the Turtle Rescue Network, our work at the Turtle Conservation Centre would be impossible – we are grateful to every member and concerned citizen.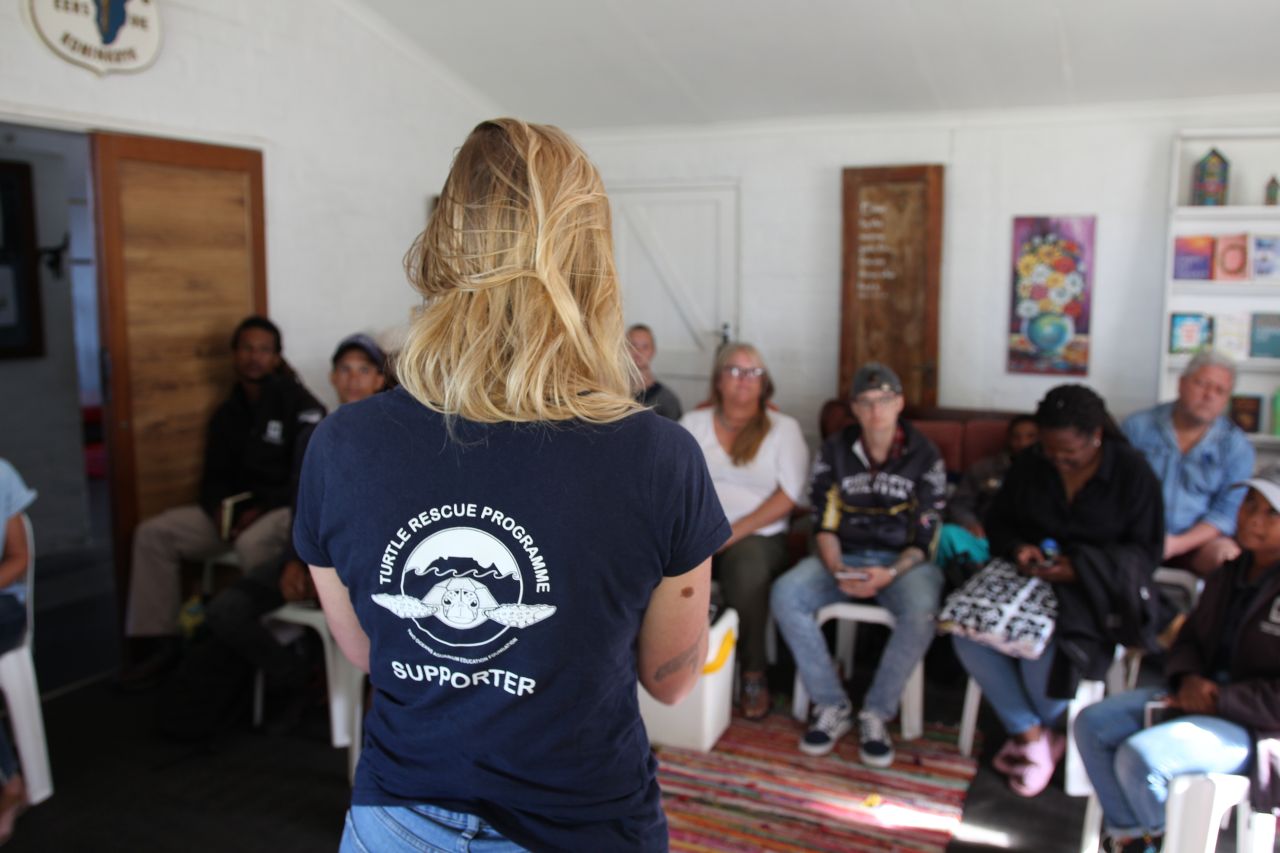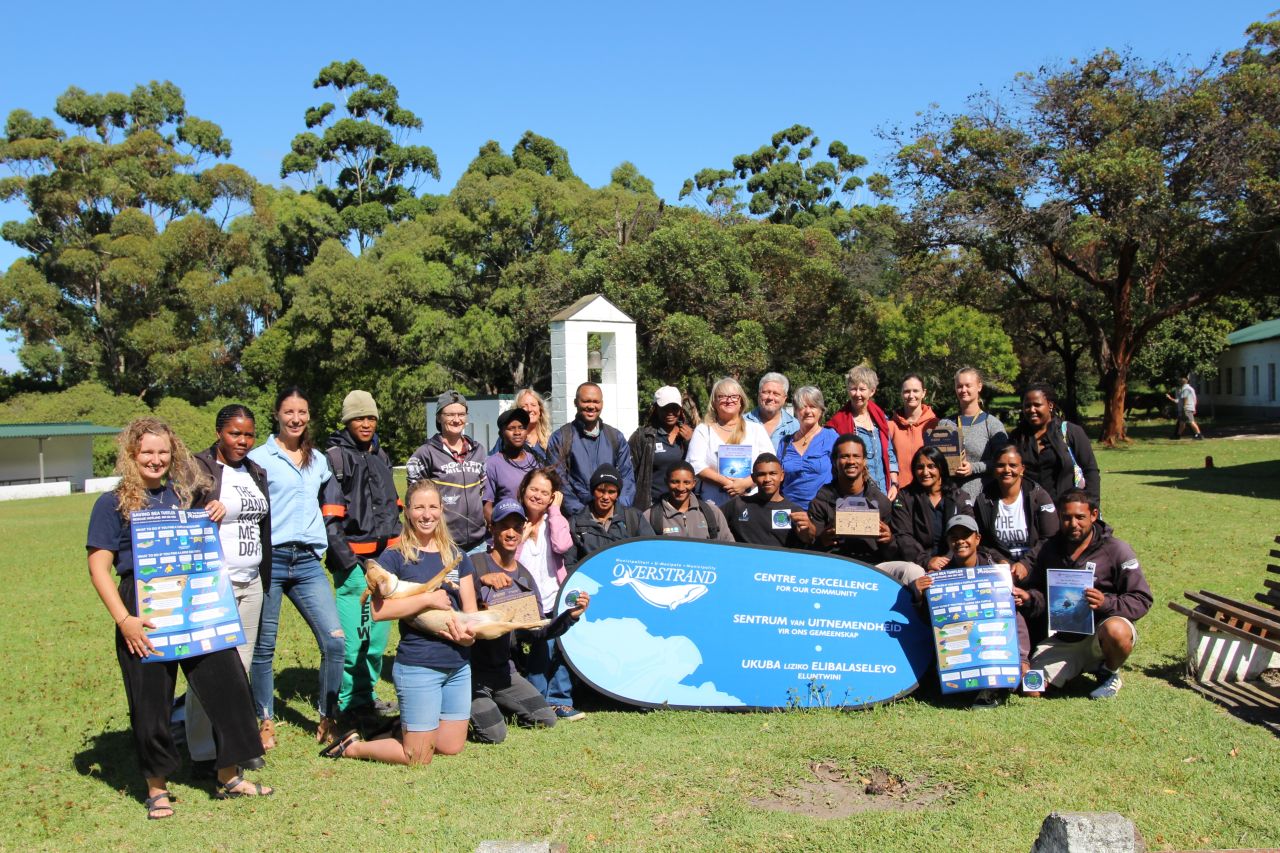 "Saving Sea Turtles" and saving sea turtles…
On 10 March, the Two Oceans Aquarium Foundation, with the support of Aktionsgemeinschaft Artenschutz (AGA), CapeNature, and Overstrand Municipality, unveiled a new "Saving Sea Turtles" sign at Grotto Beach in Hermanus. The beautifully illustrated sign depicts the seven species of turtles and their respective hatchlings, with information on each. The Turtle Rescue Network Hotline is highlighted, with instructions on what to do if a beachgoer comes across a stranded turtle. The sign is ideally located on a popular beach, where many can learn from it. After the unveiling, we did a beach clean-up as a team. While the beach was relatively clean, we still found handfuls of microplastics, which were almost impossible to see amongst the grains of sand except for their bright colours. Microplastics are one of the most significant threats to turtles, so we were happy to have made a dent in beach pollution.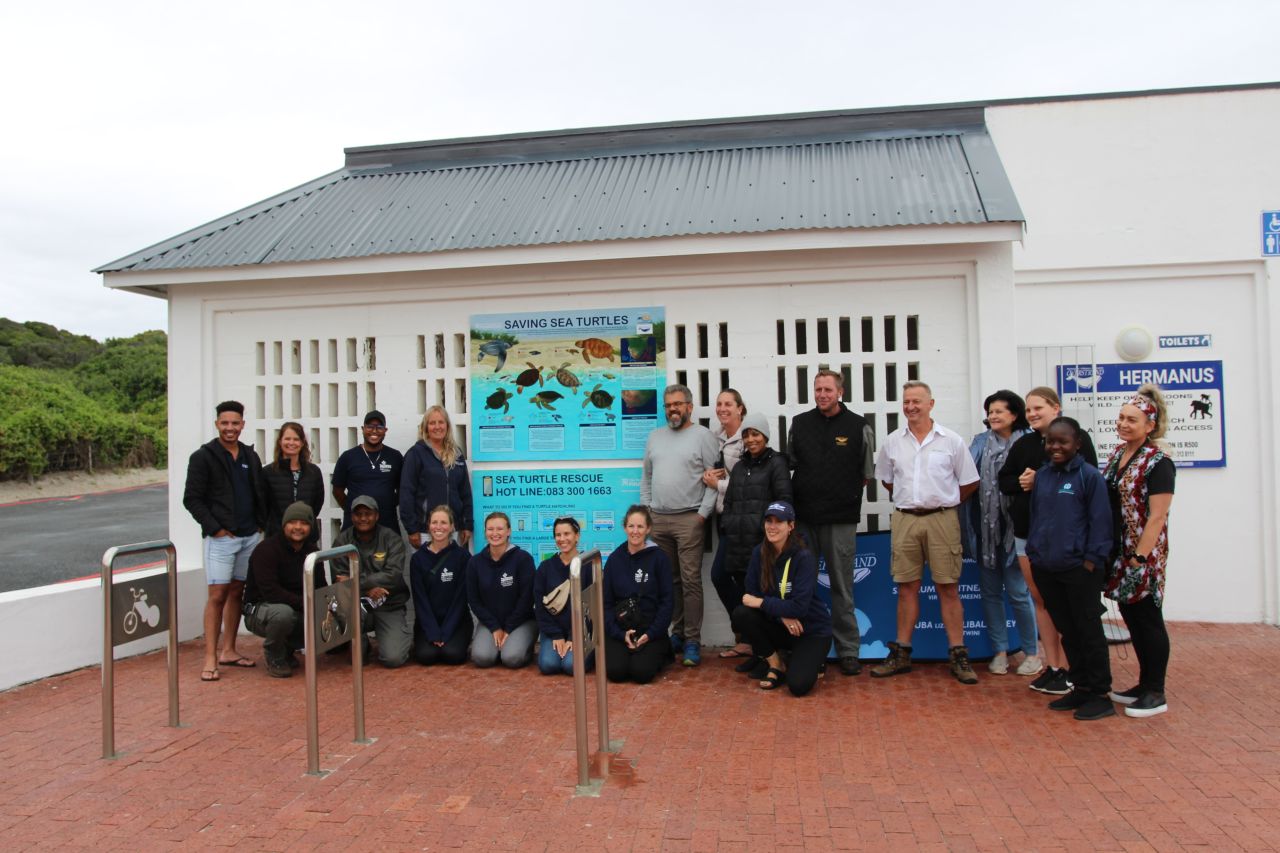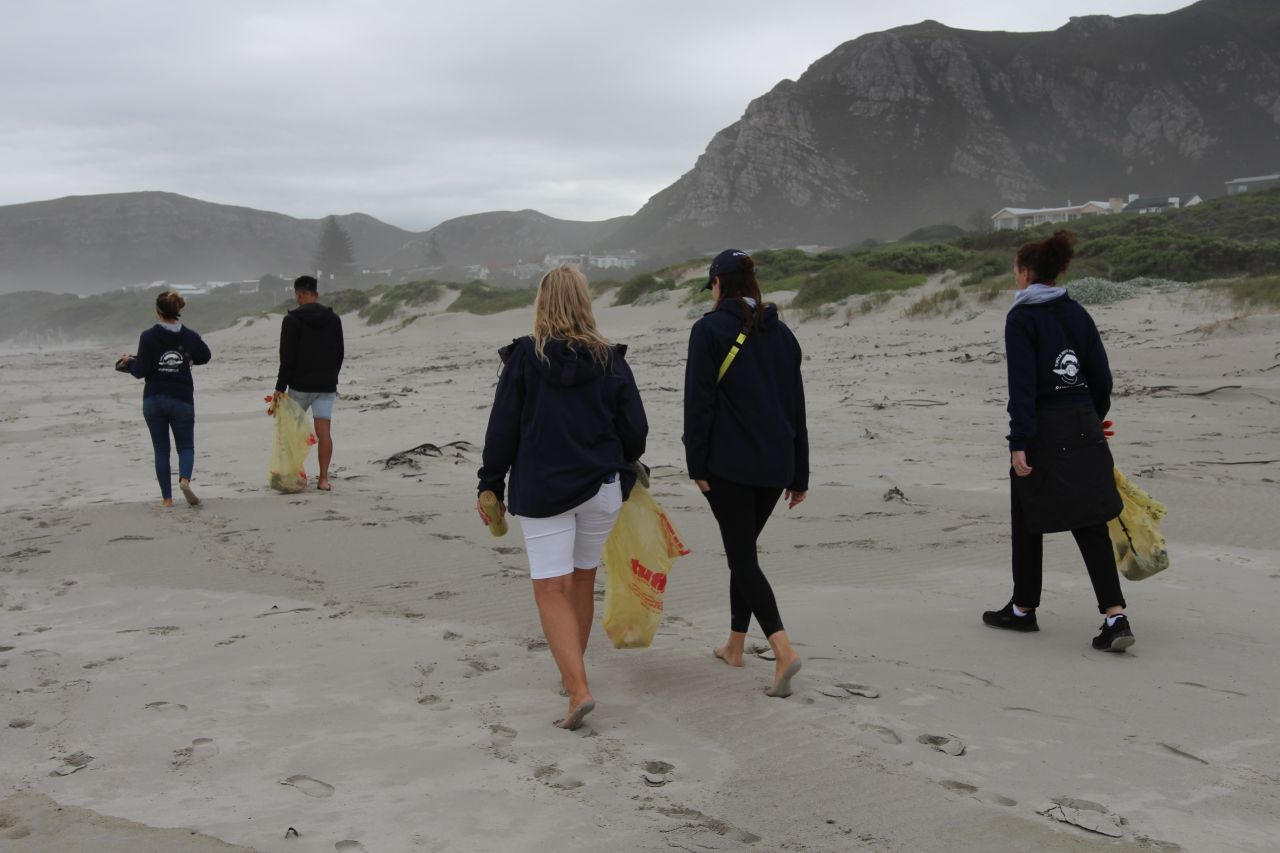 We ended 2023's Turtle Road Trip in style, with a stand at The Hermanus Country Market. There, we chatted with locals about turtles, stranding season, and our work at the Turtle Conservation Centre. We also painted glittery turtles onto children's faces and sold "I Love Turtles" books and other merchandise. The market was a fun way to end a long week of educating schools around the Overberg area.
Overall, Turtle Road Trip 2023 was a great success. The team impacted 2 854 Grade 4 – 8s and 1 534 ECD learners. In total, 4 388 children were inspired to protect turtles by saying no to plastic and keeping an eye out for stranded hatchlings on the beaches. We are thankful to each of our incredible supporters for helping us to achieve a brighter future for turtles.