Tracking Bob: 11 day check-in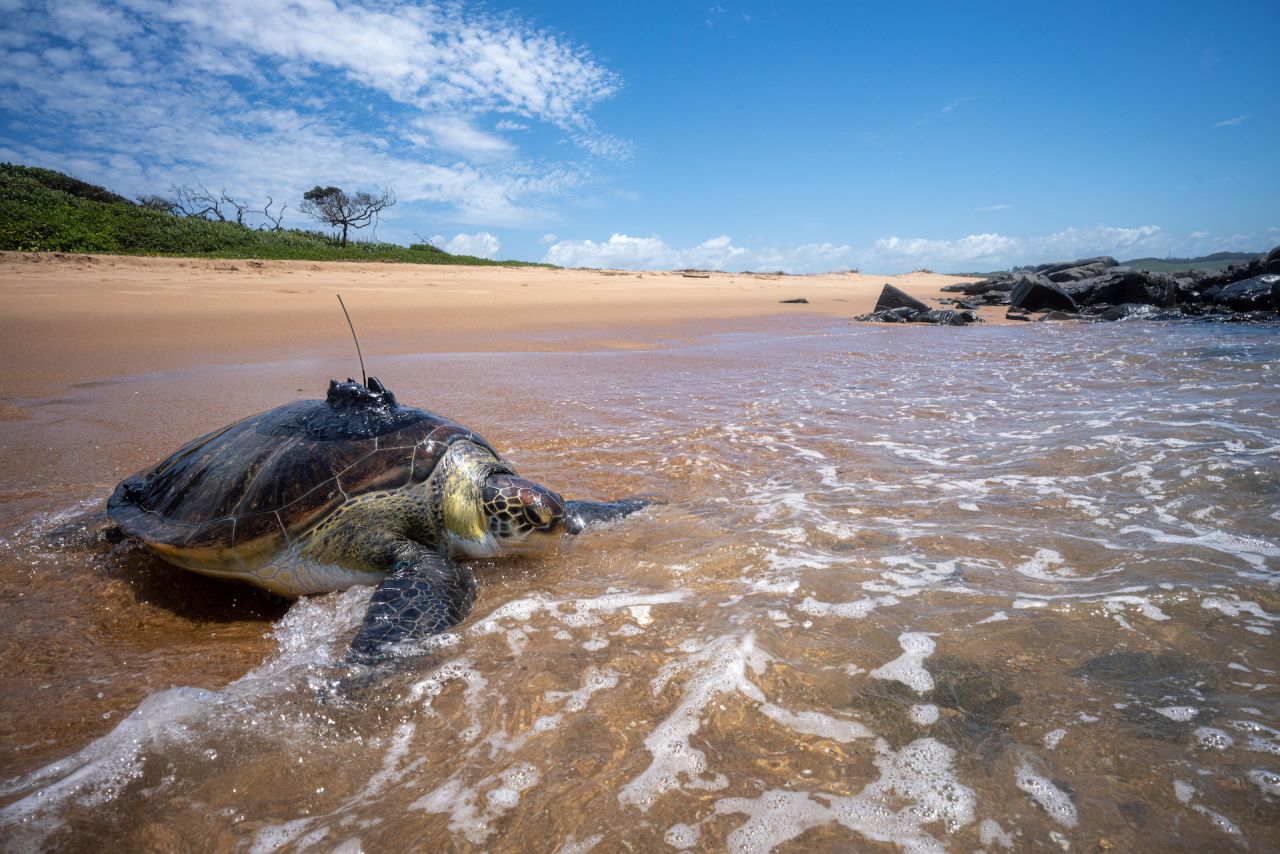 After eight years in rehabilitation, Bob the green turtle returned to the wild on 27 January 2023! Since his release, Bob has been exploring the uThukela Marine Protected Area, gradually covering longer distances and enjoying the delicious algae beds along the coast. Thanks to the support of Karoline Hanks, who ran the 13 Peaks (twice) to raise funds for Bob's satellite tag, we all get to follow along on his adventure!
Go to external page:
Want us to email you the next Bob update? Click here
Bob's journey so far:
Update #2: 8 February 2023, by Talitha Noble
It has been 11 days since we said Bob-voyage, and our remarkable boy embarked on his big ocean adventure.
As I am sure you remember, we released Bob on a sticky, humid Friday two weeks ago.
Bob took it easy the first day or two: slowly moving north, staying a comfortable distance from the shore, and getting stuck into the yummy algae that grow on the muddy coastal stretch between Blythedale and Prince's Grant. On day three, Bob continued this northward journey (but a little further offshore), crossing the mouth of the Thukela river and entering the most protected part of the uThukela Marine Protected Area (MPA).
For three days, he slowly meandered up current across the marine reserve, saying a friendly "hello" to the black musselcrackers and yellow belly rock cods that call this MPA home. How phenomenal to think that many metres beneath Bob, fields of sea pens and thistle corals were slowly swaying, anchored in the huge underwater dunes.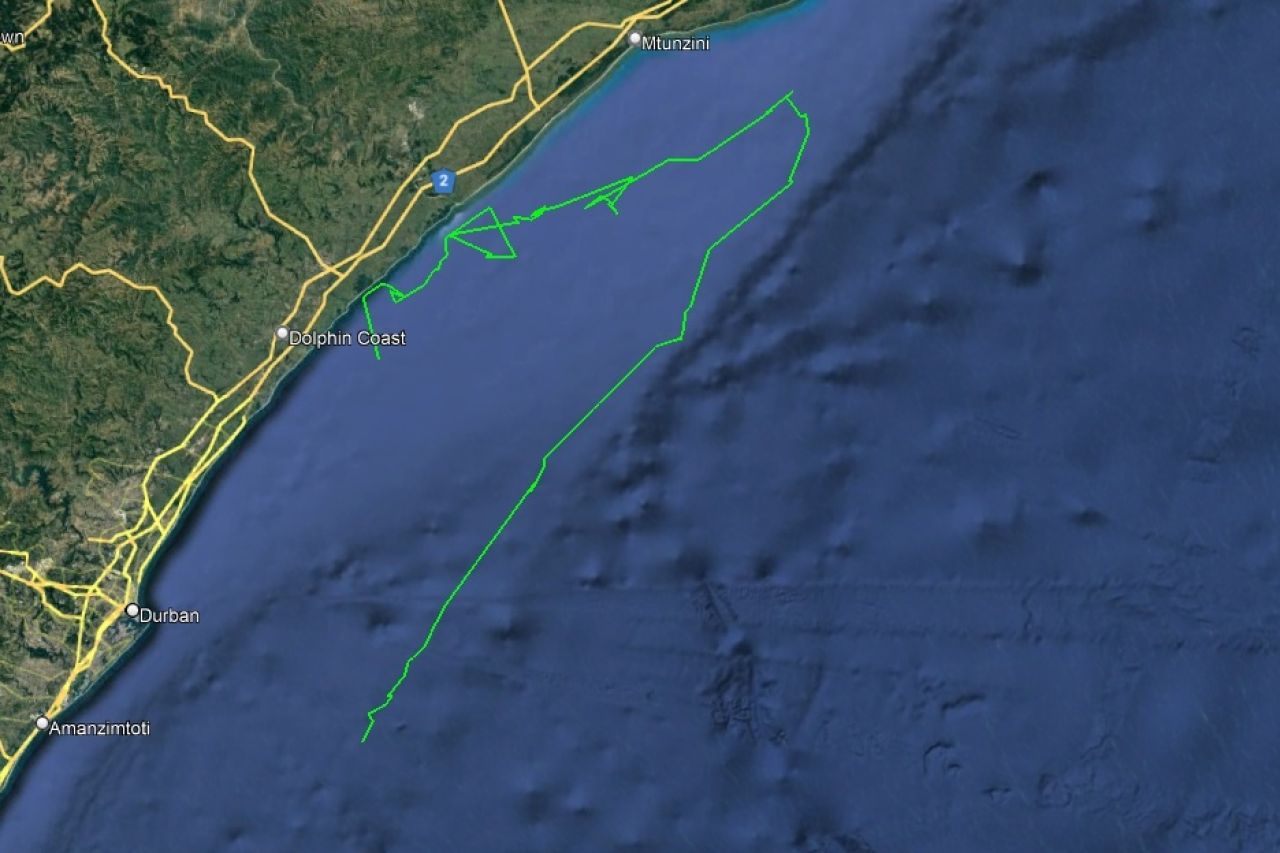 One week post-release, Bob got a little spring in his step (or flip in his flipper) and missioned a solid 22km in two days.
He applied all his energy as he swam against the current to reach his northernmost point thus far: 28km offshore from Umlalazi Nature Reserve, right on the edge of the almighty Agulhas current. Bob definitely deserved a bit of a reward after all that hard swimming, and a treat was awaiting!
Entering into the warm, fast-flowing Agulhas current, Bob could cruise easily as the current speed doubled from 0.3m/s to 1m/s! As he moved south, Bob continued to move away from the coast, about 20-40km offshore.
Bob sped back into the fully protected part of the reserve, along the uThukela Banks with its ancient tall black coral trees.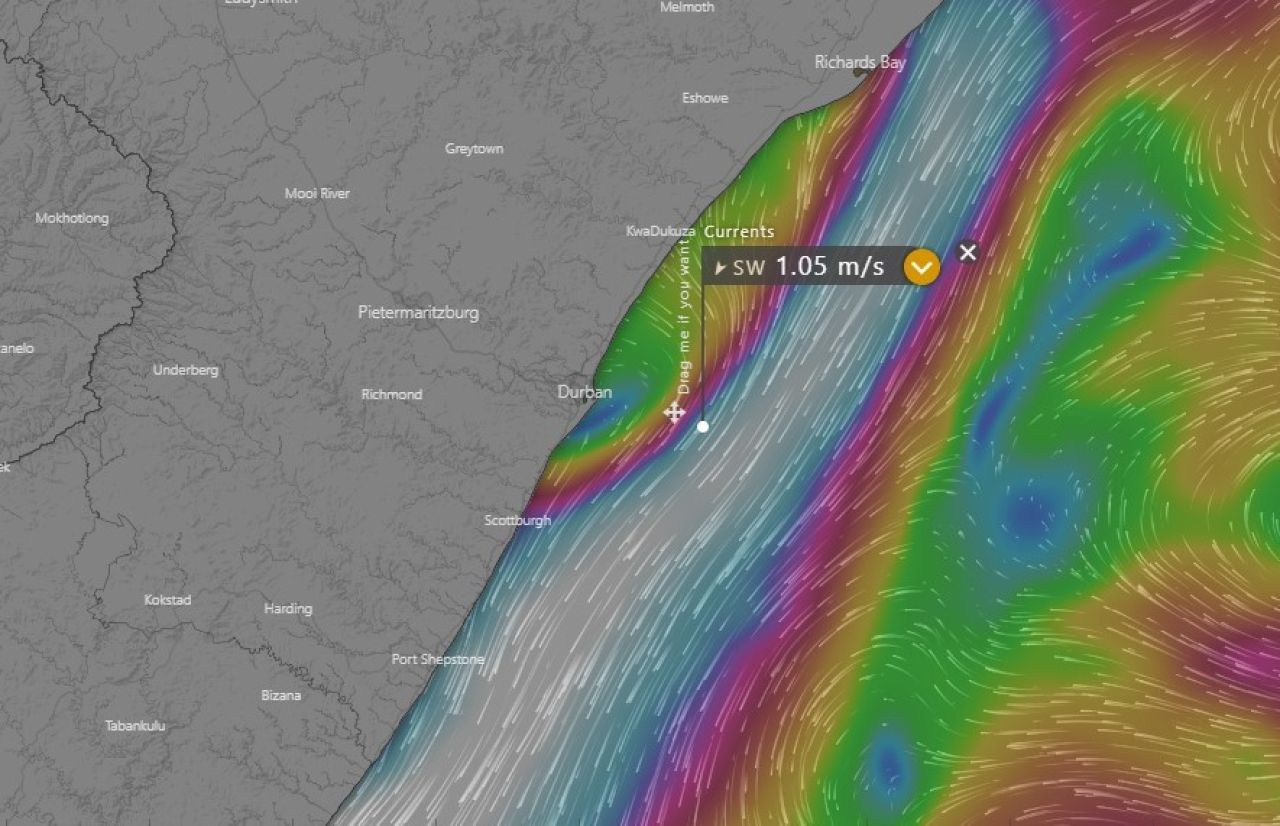 On day 10, Bob zoomed out on the southern side of the uThukela MPA, off the Dolphin Coast, and into the waters of northern Durban. In his last two days of travel, he has averaged about 50km per day!
Again, we have the privilege of comparing Bob's tracks with those of a recently released SAAMBR turtle. Just last week, a female loggerhead called Jina sped down the exact Agulhas water slide that Bob is enjoying. Her average speed was 78km/day, which is a touch more speedy than our boy, but Bob's chilled approach is one of the many things we love about him.
Both of these special turtles hugged the continental shelf and, while they were in fast-flowing water, neither entered the fastest part of the current.
It is remarkable to watch turtles follow their instincts smartly and gracefully.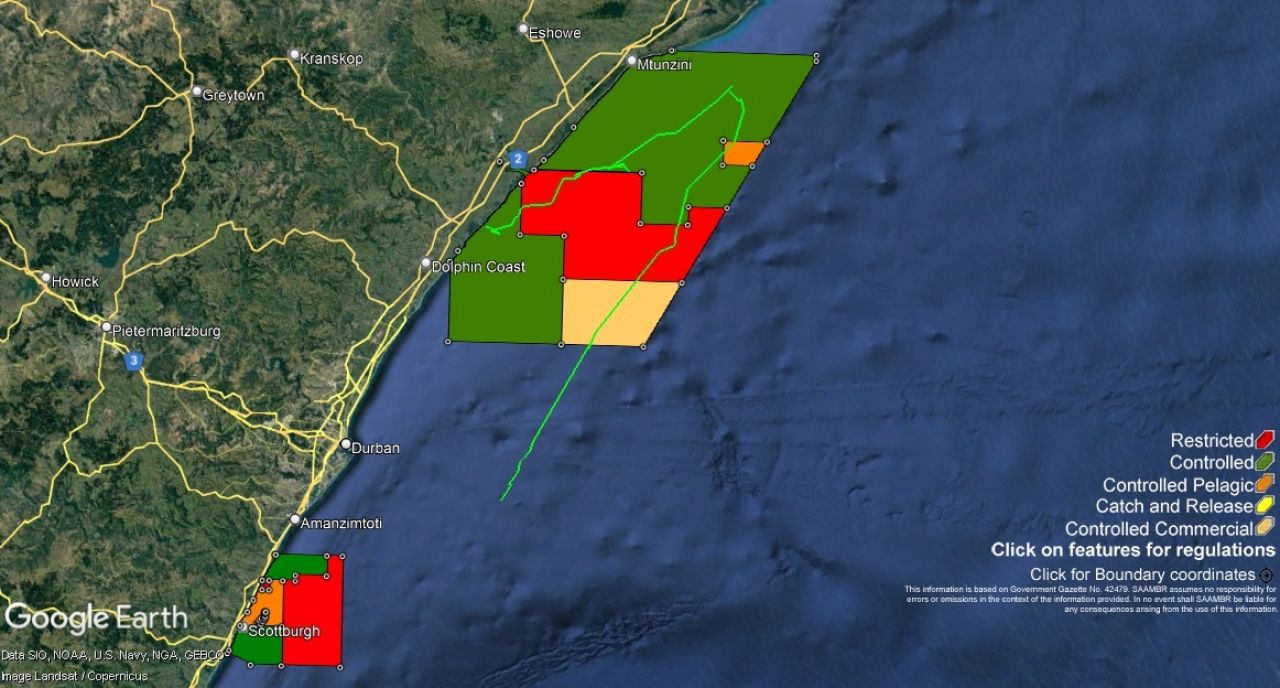 Bob stats:
Distance travelled: 307km
Distance from shore: 40km
Water Temperature: 27 degrees
Water Depth: 433m
Catch up on Bob's story
During his eight years at the Two Oceans Aquarium, Bob inspired hundreds of thousands of people to love the ocean and its abundant life just that little bit more. Now that Bob has returned to the ocean, he'll continue to be an incredible turtle storyteller as he sends back data about his adventures. Meanwhile, we'll do what we can to protect his ocean home.
If you missed out on any part of Bob's story, you can catch up here:
Go to external page:
Click here to sign up for updates about Bob and other turtle news