By Becca Miller (thank you for your time on our penguin team)
Ten years ago, I started my penguin journey with an internship in seabird care and conservation at SANCCOB. Since then, I completed my Master's degree on the effects of tourism on wild African penguins. This sparked an interest in gaining experience with penguins in an aquarium, so I started volunteering at the Two Oceans Aquarium. I was also excited to work with another penguin species - the northern rockhopper penguin.
A typical day with the penguins begins bright and early with the first feed of the day. Each day, we prepare pilchards, squid, and prawns - these are supplemented with a daily vitamin to provide the birds with a healthy and varied diet. Each penguin has a preferred feeding style. Some like to eat from your hand, some prefer to snatch the fish and eat away from the crowded bucket, and others wait on the beach's edge for you to throw fish in the water. I had to learn these preferences quickly to avoid wasting fish.

Once the penguins have eaten, the next task is cleaning the exhibit before opening time. Penguins make a lot of mess, so cleaning is a big part of the job!

A lot of this work is behind the scenes, but there are often chances to interact with visitors. There are penguin feeds and talks at 11:30 and 14:30 daily, as well as Penguin Encounters with the rockhoppers. It is a privilege to share and appreciate these amazing animals with visitors from around the world and talk about how we can help these endangered species.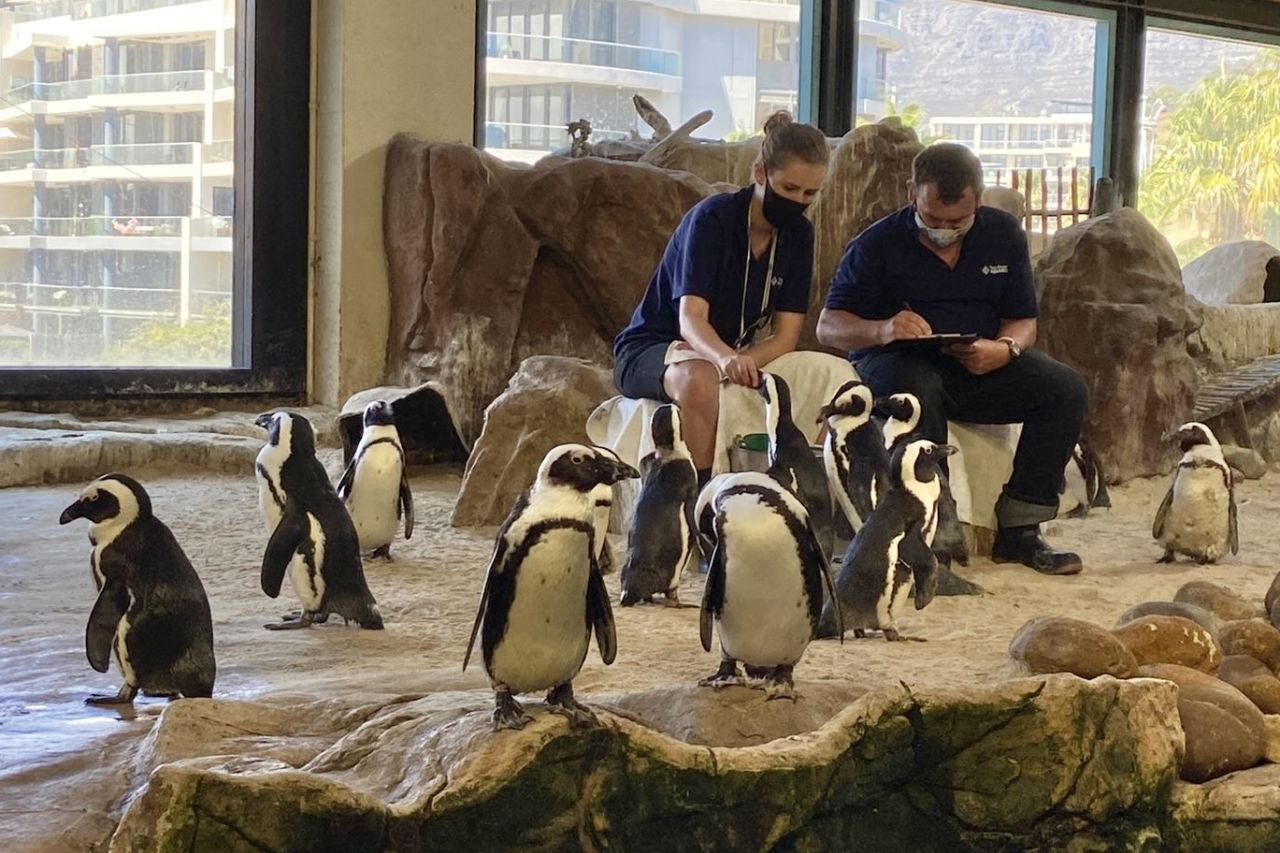 My biggest challenge was learning to identify each individual - at first glance, they all look pretty similar. Identifying the penguins is an essential part of the job, as you need to be able to track any changes in appetite or behaviour to ensure they're all healthy and eating enough. It took some time, but it was a great feeling to eventually recognise each individual by either the spot pattern on their chest, the freckles on their feet, or even their body shape.
A major highlight of my time at the aquarium was when Codi, a rockhopper chick, hatched on the 2nd of October 2021. It was so special to watch his parents, Roxy and Grommet, take such care in incubating the egg and raising him. He is such a big character in the colony, and I can't wait to see him once he moults into his adult plumage.
I am so grateful to have had this opportunity to work with these incredible birds. Getting to know each of them and their unique personalities and quirks has been such a joy. I often end each shift smelling of penguin poo and fish, with the occasional bite on my finger when someone gets over excited at the feeding bucket. Still, it is all worth it to spend time working with penguins - something I had dreamed of for a long time - providing them with the care they deserve.