Deep Dive: Women in science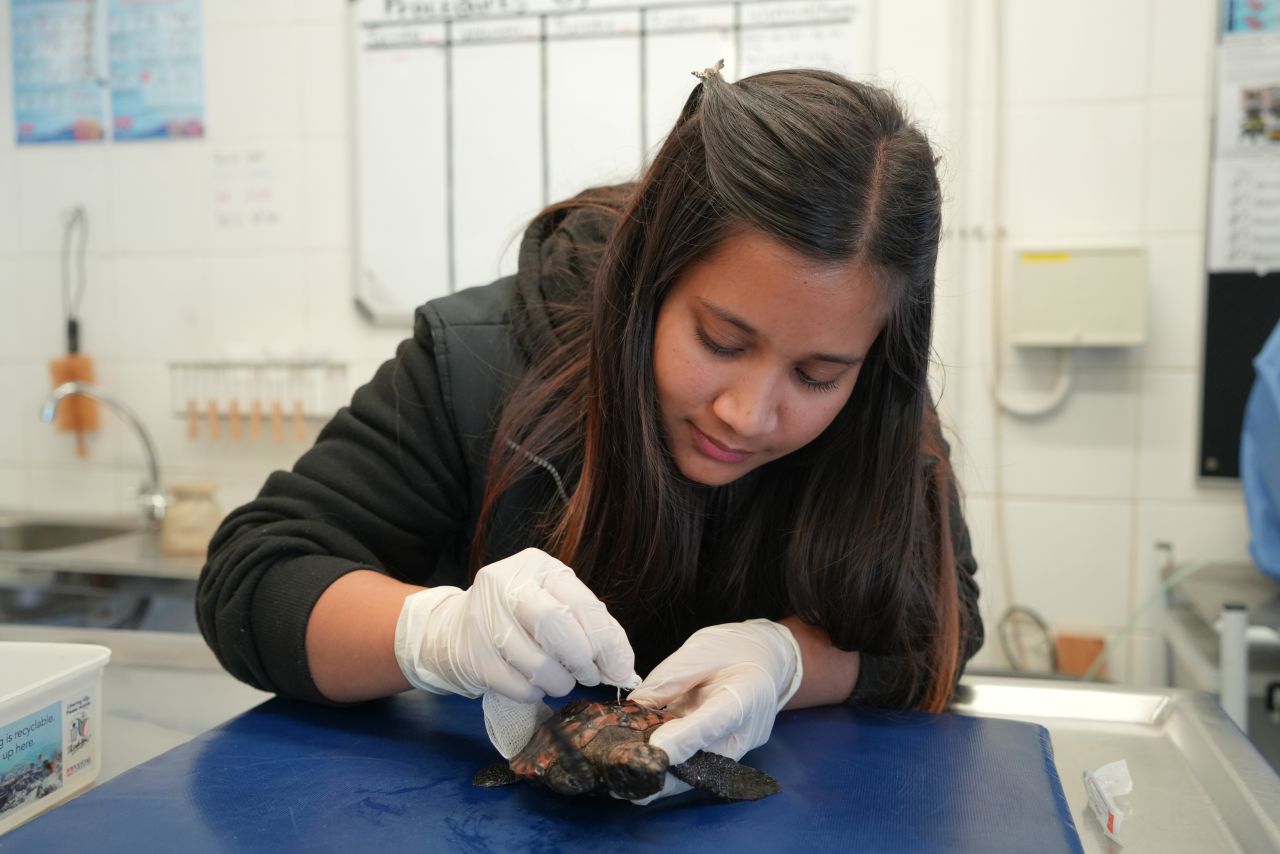 The month of August is one dedicated to the powerful women throughout South Africa, and all around the world. Women's month is about acknowledging the crucial role of women in our society, celebrating their invaluable nature, and striving for equality in every sense of the word. As we bring this month to a close, let's take a look at some of the amazing women whose work contributes to the success of the Aquarium:
Calley Chateau-Cyster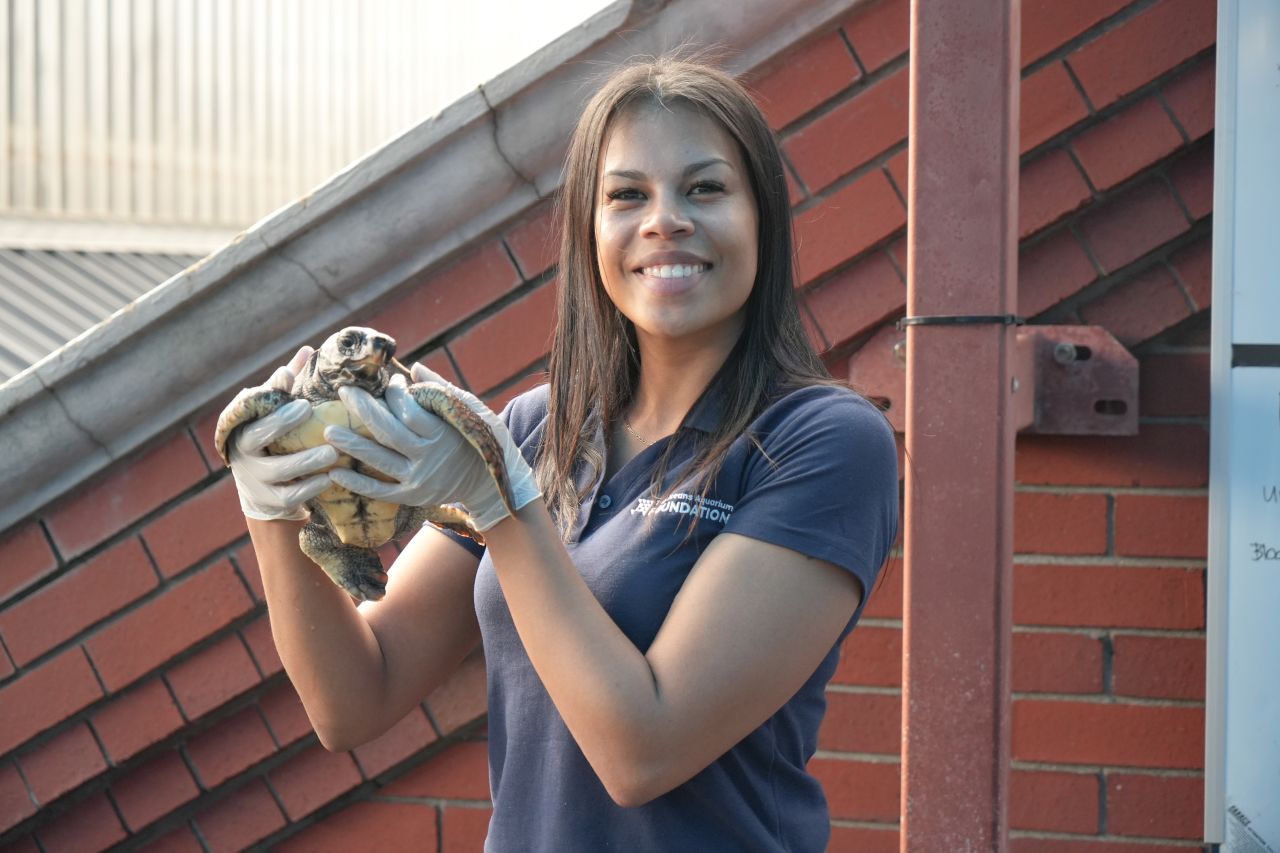 1. What is your job title at the Two Oceans Aquarium?
"Marine biologist and Research Assistant''
2. Briefly describe what your job entails.
"As a marine biologist and research assistant with the Two Oceans Aquarium Foundation, my job description encompasses a dynamic array of responsibilities centred around advancing research and conservation efforts. One of my key roles involves facilitating productive research and utilizing my expertise to design, execute, and analyse studies that contribute to our understanding of marine ecosystems. In addition, I actively engage in citizen science projects, encouraging public participation in data collection to foster a sense of environmental stewardship and collaboration. As a mentor and supervisor, I take great pride in guiding undergraduate and graduate students, nurturing their passion for marine science and supporting their academic growth. My commitment to animal welfare extends to assisting with animal husbandry, ensuring the well-being of marine creatures, and taking part in underwater feeding and exhibit cleaning as a commercial diver. Furthermore, I actively contribute to the development and delivery of adult training courses, sharing knowledge and expertise to empower professionals with the tools they need for marine conservation. My diverse range of responsibilities reflects a deep dedication to the preservation and sustainable management of our oceans and the life they sustain."

3. What is the most rewarding thing about your job?

"During rescue missions, the thrill of helping an animal in distress and witnessing its recovery is incredibly rewarding. It's heart-warming to see these animals get a second chance at life, and it motivates me to keep working towards a brighter future for them. Taking part in rehabilitation centres has been eye-opening, as I've learned about the intricacies of providing specialized care for injured or orphaned animals. Each day spent nurturing them back to health has deepened my appreciation for the interconnectedness of all life forms.
Contributing to the conservation of certain species has been a transformative journey for me. It has strengthened my commitment to preserving our planet's biodiversity and has instilled a sense of responsibility to act as a steward for these magnificent creatures. I firmly believe that by combining rescues, rehabilitation, and research efforts, we can make a tangible difference and safeguard the natural heritage of future generations. As I continue down this path, I hope to inspire others to join in this noble cause, ensuring a brighter and more sustainable future for all living beings.''
4. What does Women's Day mean to you?
''Women's Day holds immense significance to me as a day of celebration, empowerment, and reflection. It is a time to honour the countless women who have championed equality, fought for women's rights, and shattered societal norms throughout history. On this day, I feel a deep sense of solidarity with women from all walks of life, as we unite to celebrate our achievements, resilience, and strength. Women's Day serves as a poignant reminder of the progress we have made, but also as a call to action to continue advocating for gender equality and uplifting the voices of marginalized women. It is a day to recognize and appreciate the women who have influenced and supported me on my journey, while also acknowledging the work that still lies ahead. Women's Day inspires me to be unapologetically myself, to pursue my dreams, and to stand up for the rights and empowerment of women everywhere. Together, we strive for a world where women's contributions are valued and recognized, where gender-based discrimination is eradicated, and where every woman has the opportunity to thrive and fulfil her potential.''
5. What advice would you give young women/girls who wish to enter the marine/ocean space as a career?
''To young women and girls aspiring to enter the marine/ocean space as a career, my advice is to embrace your passion and fearlessly pursue your dreams. The marine/ocean field offers a world of exciting opportunities, so explore different aspects of it and find what resonates with your heart. Focus on your education, as a strong foundation in relevant subjects will open doors to diverse career paths. Seek mentors and role models who can provide guidance and support along your journey. Gain hands-on experience through internships and volunteering, as practical skills and field experience will enhance your understanding and make you more competitive in the job market. Be resilient and persistent, as challenges may arise, but they are opportunities for growth and learning. Advocate for diversity and inclusion in the marine/ocean industry, knowing that your unique perspective and voice matter. Stay curious, be eco-conscious, and believe in yourself. Remember that you have the potential to make a positive impact in the marine/ocean space, and the world needs your passion and dedication to protect our oceans and marine life for future generations. Embrace the journey with confidence and know that you can achieve greatness in this incredible field.''

Ayesha Cornelius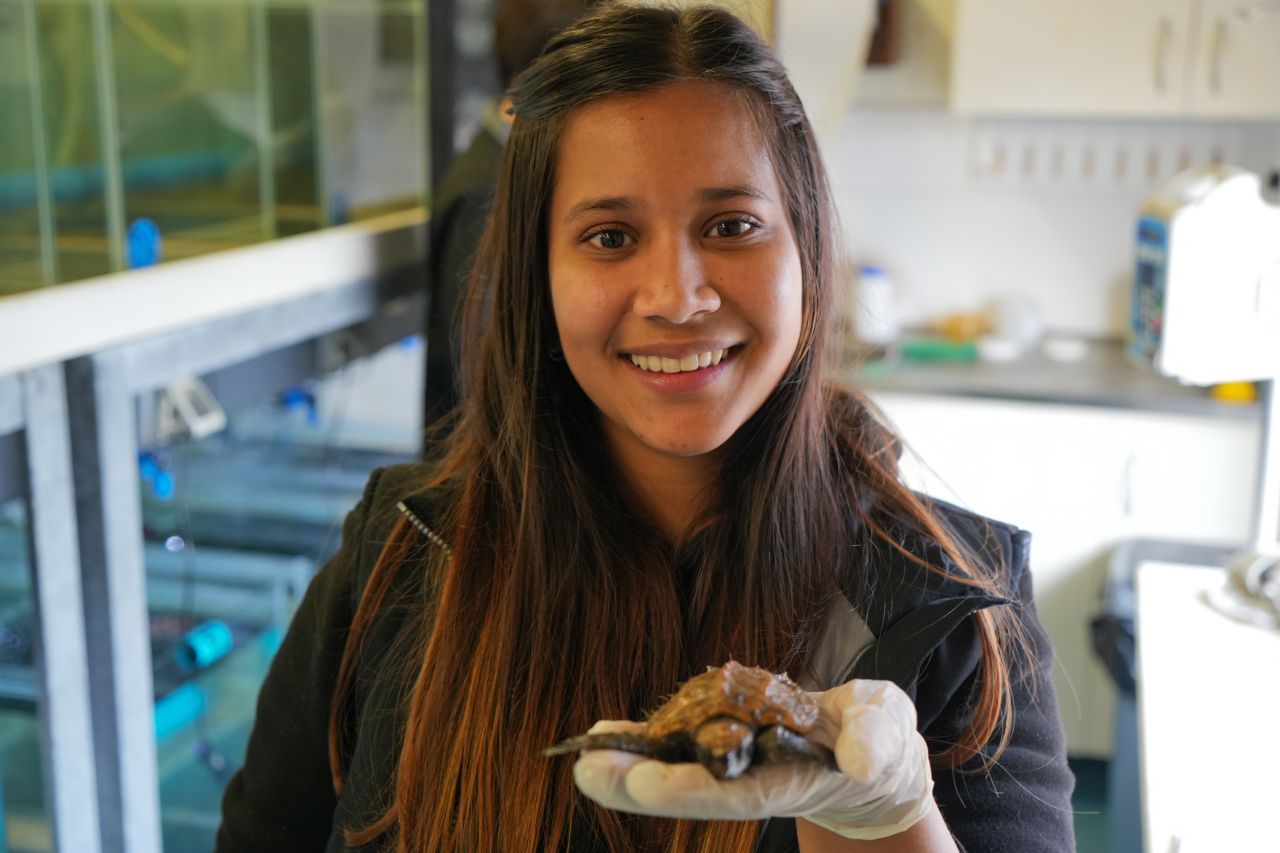 1. What is your job title at the Two Oceans Aquarium?
''Sea Turtle Aquarist.''
2. Briefly describe what your job entails.
"As a result of working in the Turtle Conservation Centre, my job entails caring for the wellbeing of our turtles and making sure that their daily requirements are fulfilled - this can include preparing food for our large turtles and hatchlings, and ensuring they eat their food whilst also receiving their vitamins. A key part of my role is to make sure that any and all critical care turtles receive their medication each day, which is vital for their rehabilitation. Being an aquarist means that you have to do the dirty work as well, such as cleaning up any leftover food or faeces in the turtle tanks. Although, there is a bright side to the dirty work, as the faeces are inspected for any microplastics which are then documented for each turtle, and kept for research. Other than caring for our turtle babies, I also need to care for our human babies – the interns and volunteers. They need to be specially trained to work with the turtles in rehab. I have to ensure the environment that they are working in is filled with love and light, not only for our benefit, but for the benefit of our turtles as well."
3. What is the most rewarding thing about your job?

"The most rewarding thing about my job is seeing how our turtles recover throughout their time in rehabilitation. These turtles come to us in all shapes and sizes. Some with wounds and injuries, others weak and covered in algae, but because they are such strong and resilient animals, it is also so rewarding to see them overcome it all. It is an extremely wholesome feeling to know that you are saving lives and doing good in the world. I can feel that I am making a difference when I see our turtles rescued, rehabilitated and released."
4. What does Women's Day mean to you?
''To me, Women's Day means that we need to acknowledge, appreciate and celebrate the women in our lives. It is a day dedicated to raising awareness about the equality of women in society. Fight for them and not against them. Support them in areas where they are struggling. Be proud of them for everything they have achieved. Be inspired by women all across the globe working in different fields. Commemorate them. Empower them."
5. What advice would you give young women/girls who wish to enter the marine/ocean space as a career?
''My advice is to follow your heart and start now. Get involved with anything and everything. Start volunteering at places and learning the basics as soon as possible. Work hard at school, take up science, study it further at university and get out in the field to gain experience. Find your passion and dive deeper into it. There is a whole ocean out there to explore. Become a mermaid, spread out your tail and just keep swimming.''
Chanelle Thomas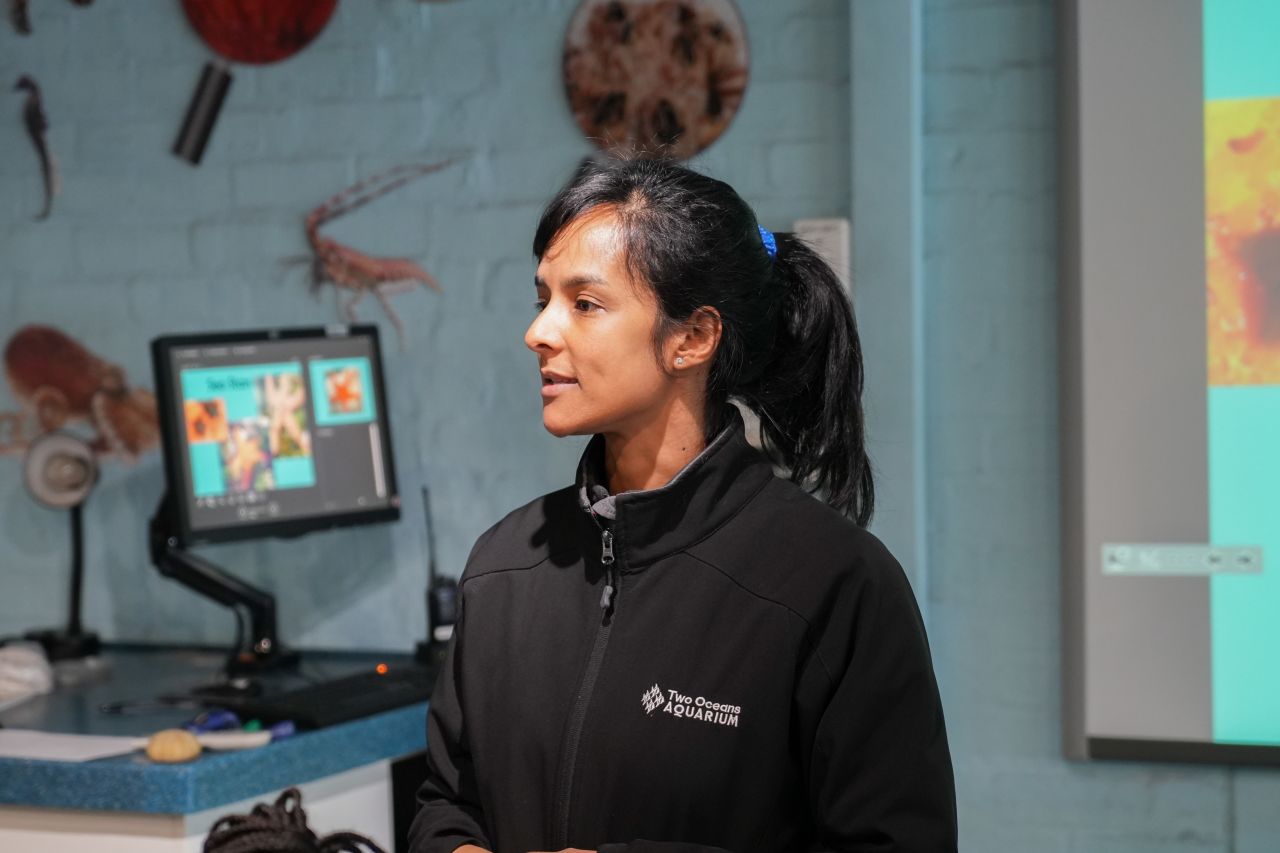 1. What is your job title at the Two Oceans Aquarium?
''Education program manager.''
2. Briefly describe what your job entails
''My job includesfinding different ways to make ocean education interesting, fun, and exciting for all ages and walks of life through our education programs. I am a teacher and work with the most amazing team of passionate people who together create memorable opportunities to expose young people to the mystery and magic of the ocean and its inhabitants. We offer various marine courses and lessons at the Two Oceans Aquarium, and we have a fantastic Outreach team that visits schools in the city. I picture my role as a conduit for connecting people to the ocean, and for speaking for the ocean inhabitants who cannot speak for themselves.''
3. What is the most rewarding thing about your job?
''I get to meet and engage with young people every day. Young people are super inspiring. I enjoy sharing interesting facts with students or witnessing their first encounter with a sea star or anemone. Seeing students' reactions or responses, they often surprise me with their questions and answers. I am also often reminded that we should not take simple things for granted. Through my work, I get to learn from them, and they teach me so much.''
4. What does Women's Day mean to you?

''It's special because women are special. We are smart, we are tough, resilient, and the heartbeat of our families and society. This is why women should be celebrated every day.''
5. What advice would you give young women/girls who wish to enter the marine/ocean space as a career?
''I would say find positive mentors, volunteer, and reach out to various organisations and try and learn as much as you can about the ocean, as well as prominent leaders in this field. Reach for the stars. Be yourself and always remain focused on the goals you set for yourself.''
These outstanding women, along with the rest of the women who are part of the Two Oceans Aquarium staff, actively contribute to conservation, sustainability, and education on a daily basis. Without them, the Aquarium and all of its success would not be possible. So, as we end this month off, and head into the next - let's remember to continually celebrate the women doing amazing things around us.