The festive season is jam-packed with underwater merriment for the whole family! We are open for longer and will be having free face painting. We've planned the perfect festive family day out for you...
The Two Oceans Aquarium has extended its opening hours for you this festive season:
17 Dec until 6 Jan open 09:00 - 19:00 (last ticket sold 18:30)*
We are open every day during this time. This means more time for you and your family to be surrounded by the wonders of the underwater world. Buy your ticket online to skip the queues!
---
Extended Hours
The Two Oceans Aquarium has extended its opening hours for you this festive season:
17 Dec until 6 Jan open 09:00 - 19:00
We are open every day during this time. This means more time for you and your family to be surrounded by the wonders of the underwater world.
---
Catch our feeding times
Be sure to join us for animal feeds - your chance to see the sharks, penguins and rays at their quirkiest and have all your questions answered. Feedings take place several times a day:
I&J Ocean Exhibit at 12h00 and 14h00 daily
Penguin Exhibit at 11h30 and 14h30 daily
Predator Exhibit at 15h00 on Sundays
Kelp Forest Exhibit at 11h00 daily
---
Get your face painted
From 17 December to 6 January, our face-painting fairy will be taking up residence in our foyer to decorate your kids' faces with all things fishy, festive and fun!
This comes at no extra cost - everyone visiting the Aquarium during this time is welcome to have their face painted.
---
Take a photo with our roaming mascots
The Aquarium mascots will be all over the building during the festive season - feel free to take your family photo with them. The mascots don't bite (not even Silver the Shark)!
Everyone will have a fun time meeting the Aquarium mascots. Remember to take selfies or gather the family for a group shot (and don't forget to tag us on Instagram).​
---
Meet the sharks and sunfish
Not only will be the Aquarium be open for longer each day, but you will also have the opportunity to take some time out in front of the Predator Exhibit. That's right! The sharks have been wowing young and old, and they are joined by schools of giant kob, Cape yellowtail and a very special newcomer - an ocean sunfish! For an extra-special experience, be sure to visit during feeding time on Sundays at 15:00.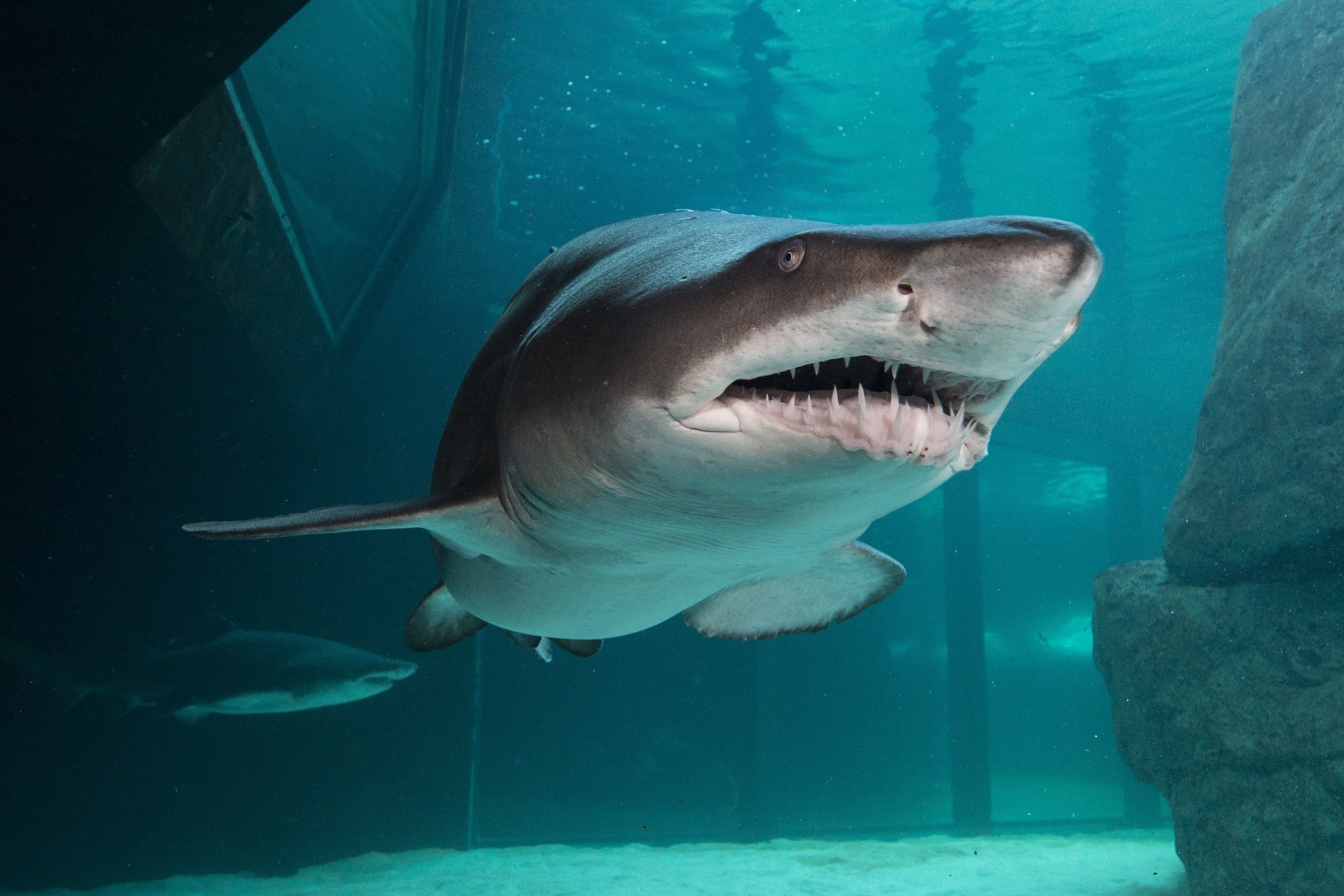 ---
Animal interactions - great for kids
While you are at the Aquarium this festive season, take the time to experience plenty of other great animal interactions:
Kids of all ages can get hands-on at the Skretting Touch Pool - touch a starfish, seaweed, chitons and even a sea anemone and learn about their lifestyles from our volunteers. Get up close and personal with the ocean's microscopic inhabitants at the Skretting Microscope Exhibit.
We've opened several new interactive displays: Learn all about South Africa's most treasured living fossil - the coelacanth, or find out about sea turtles and their cool quirks with some new interactive activities at our Turtle Wall. You can also explore South Africa's brand new marine protected areas in the Diversity Gallery (near the entrance to the Jelly Gallery).
---
Snack time for the oceans wonders
Every day a diver feeds the rays and turtles in the I&J Ocean Exhibit at 12:00. At 14:00 every day, the fish in the I&J Ocean Exhibit receive a surface feed. During both these feeds a presenter provides insights and valuable information to those who have gathered to watch - that's right, our divers can talk to you from underwater!
---
Meet the little waddlers
The African penguins are fed daily at 11h30 and 14h30 - our trained staff provide plenty of info for those watching the feed, and are happy to answer all your questions. If you want to meet the penguins up close, treat yourself to a personal Penguin Experience (which also makes a great gift and supports our conservation efforts). If you're lucky, you may also get to experience the most adorable waddle through the Aquarium...
Want to get up close and personal with a penguin? Penguin Experiences offer you the opportunity to meet our adorable rockhopper penguins (booking essential) - and contribute to our conservation fund.
---
Unforgettable experiences for kids of all ages
The Aquarium's I&J Children's Play Centre will have a jam-packed festive season programme on offer - little ones can enjoy themed arts and crafts and the ever-popular puppet shows. Take a breather, parents - sit back and watch as the little ones play and tap into their creativity.
---
Last-minute gift ideas
Scuba Claus is also here to help you pick some great last-minute gifts for your friends and family.
---
Lasting memories make the perfect gift
Finding the perfect gift is never easy - why not give a wonderful experience which not only provides adventure but is sure to create memories for years to come?
A Two Oceans Aquarium annual membership provides many hours of exploration of our incredible underwater world as members enjoy unlimited visits to the Aquarium from the day they join.
The Aquarium's website has a wealth of information - plan your visit, buy discounted tickets, book a dive (yes you can dive in the I&J Ocean Exhibit), purchase a membership (as a gift or for yourself) or donate to the Aquarium's conservation efforts.