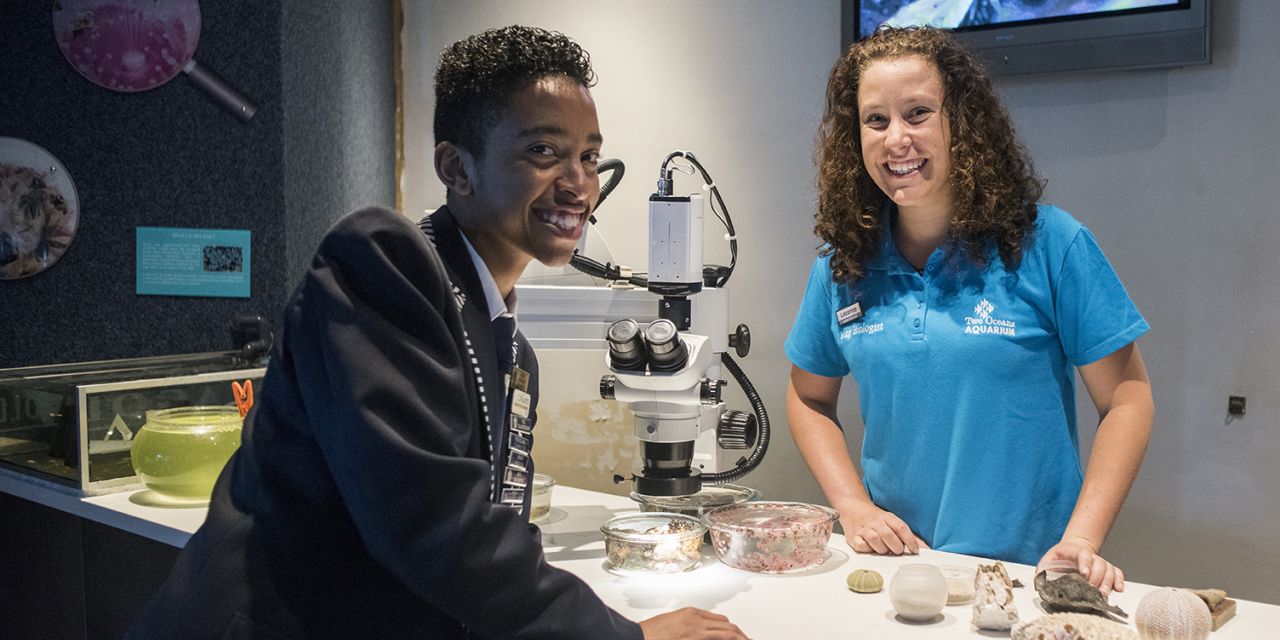 Volunteer at the Two Oceans Aquarium
Do you love the ocean? Would you like to be immersed in a fascinating underwater world of colour, beauty, tranquillity, and abundance?
Discover the wonders of the oceans surrounding Cape Town and meet some of your marine neighbours. Volunteer at the Two Oceans Aquarium!

What is volunteering all about?
Two Oceans Aquarium volunteers are ocean-minded members of our community who dedicate their free time to spreading awareness and love of the marine environment, caring for the animals at the Aquarium, and assisting in the technical aspects of running a top Cape Town attraction.
You don't need any prior experience or qualifications to become a volunteer! This is the perfect opportunity for anyone who wants to dip their toes into a future career in marine science or those who already have a job and want a hobby that keeps their connection to the ocean alive.
All are welcome - as an ambassador for the oceans, you will share your knowledge with our visitors and assist us in conveying the message of the oceans and its inhabitants.
Who can be a volunteer?
Our volunteer programmes are open to anyone. Here's who can apply and what they need to do:
Adults can sign up for our Volunteer Induction Course - no prior experience or qualification is needed.
High school learners (Grades 10 to 12) can sign up for the FET Young Biologist Volunteer Course with the Two Oceans Aquarium Foundation.
Qualified commercial scuba divers can join our Volunteer Diver programme.
Please note that Young Biologists and adult volunteers who have not volunteered at the Aquarium in over a year will be required to retake the Volunteer Course. Prospective volunteers with a marine sciences qualification or former zoo or aquarium experience will still need to take the Volunteer Course, as this pertains to running our specific facility. Still, these applicants may be able to assist in unique ways should they opt to become behind-the-scenes volunteers.
Adults
During the course, you will be introduced to the fascinating lives of a variety of marine animals, such as sea anemones, sea urchins, sea stars, and a range of sea plants.

All our volunteers need to complete a volunteer training course before doing any volunteer work at the Two Oceans Aquarium. This enables you to work on the floor with our visitors, educating them on the animals and plants found along our coastline. We require each new volunteer to volunteer at least 45 hours as a front-of-house volunteer before being allowed to assist in other roles too.
For more information about the training course please contact Visitor Services at the Aquarium at 021 418 3823 or email volunteer@aquarium.co.za.
Scuba Divers
If you would like to become a volunteer diver and assist with the cleaning of our exhibits, help with the feeding of our animals and join the collections team on occasional trips into Table Bay, please note that you are required to have valid commercial diving certification. Class IV and higher are suitable for all volunteer diving work, and Class VI and Class V are only suitable for work inside the Aquarium's exhibits.
We are legally obligated to only allow commercial divers with up-to-date dive medicals* to work with us, even in a volunteer capacity. If you have a commercial diving qualification and would like to volunteer, please contact us directly at kevin.spiby@aquarium.co.za.
*Regular volunteer commercial divers are invited to join the Two Oceans Aquarium staff team for their annual dive medical at the Aquarium's expense.
High School Learners
Children who wish to volunteer at the Two Oceans Aquarium are eligible when in Grades 10, 11 or 12. The FET Young Biologist Volunteer programme is a course for Grade 10s, 11s and 12s who are passionate about the marine environment and committed to positive action by volunteering at the Two Oceans Aquarium.
What do volunteers do?
Our volunteers are as diverse as their roles, and each volunteer's daily schedule is different! Usually, volunteers begin as front-of-house assistants on the Aquarium floor - as they gain competence and experience, they may specialise in other types of service that they find fulfilling.
Our volunteers work flexible schedules and may sign up for shifts that suit family, work, and school commitments. In return, we ask that volunteers keep their commitments to us, too. If you prove yourself a reliable volunteer, here's what you can look forward to.

Front-of-house volunteering
After completing your course you'll begin volunteering on the floor of the Aquarium, assisting visitors with information and taking care of the plants, animals and equipment of the Touch Pool and Microscope Exhibit in the Diversity Gallery.
This is the first step for all volunteers and the perfect way to learn about the animals and exhibits they may care for later.
Note: All volunteers, except commercial divers, need to complete at least 45 hours of front-of-house service before being allowed to assist in other roles too.
Behind-the-scenes volunteering
Behind-the-scenes volunteering involves a wide range of tasks, from assisting aquarists with exhibit maintenance and cleaning, to small husbandry tasks such as the feeding of some animals.
A great way to gain experience in animal husbandry, behind-the-scenes volunteers may have the chance to help maintain the exhibits of the Skretting Diversity Gallery, help or Animal Nutrition Coordinator prepare food for the diverse animals in our care, and assist with moving animals in an out of the Aquarium. No two days are ever the same!
Note: All behind-the-scenes volunteers are required to have a valid tetanus vaccination (and we recommend that front-of-house volunteers have one too)
Education volunteering
Volunteers with a passion for working with children, or who love spreading the love of the ocean may enjoy helping our Environmental Education programme.
Join the Aquarium's teachers on school field trips, assist in school group visits to the Aquarium and hop aboard the Oceans In Motion and Smart Living outreach vehicle to join our team taking lessons into the greater Cape Town community.
Penguin team volunteering
Penguin volunteers get to help clean the penguin exhibits, prepare food for the birds, assist with presentations, feed the penguins, record-keeping and spend quality, interactive time with the birds.
Volunteers who work with penguins will share many of the same duties as other behind-the-scenes volunteers, but because the birds in our care take time to form an affinity with their carers, most duties will be on and around the Penguin Exhibit.
Note: Working with penguins requires a reasonable degree of fitness and mobility and may not be suitable for all volunteers.
Conservation volunteering
Volunteers who have completed their front-of-house service may be called on to assist our conservation programmes. These tasks can range from helping to feed and care for stranded turtle hatchlings to joining the team for a spur-of-the-moment sunfish rescue. There is never a dull day for our volunteers!

Note: Volunteers may be required to complete additional on-the-job training courses before having the opportunity to work with rescued sea turtles. The availability of volunteer posts in the rehabilitation centre is dependent on the number of turtles in our care.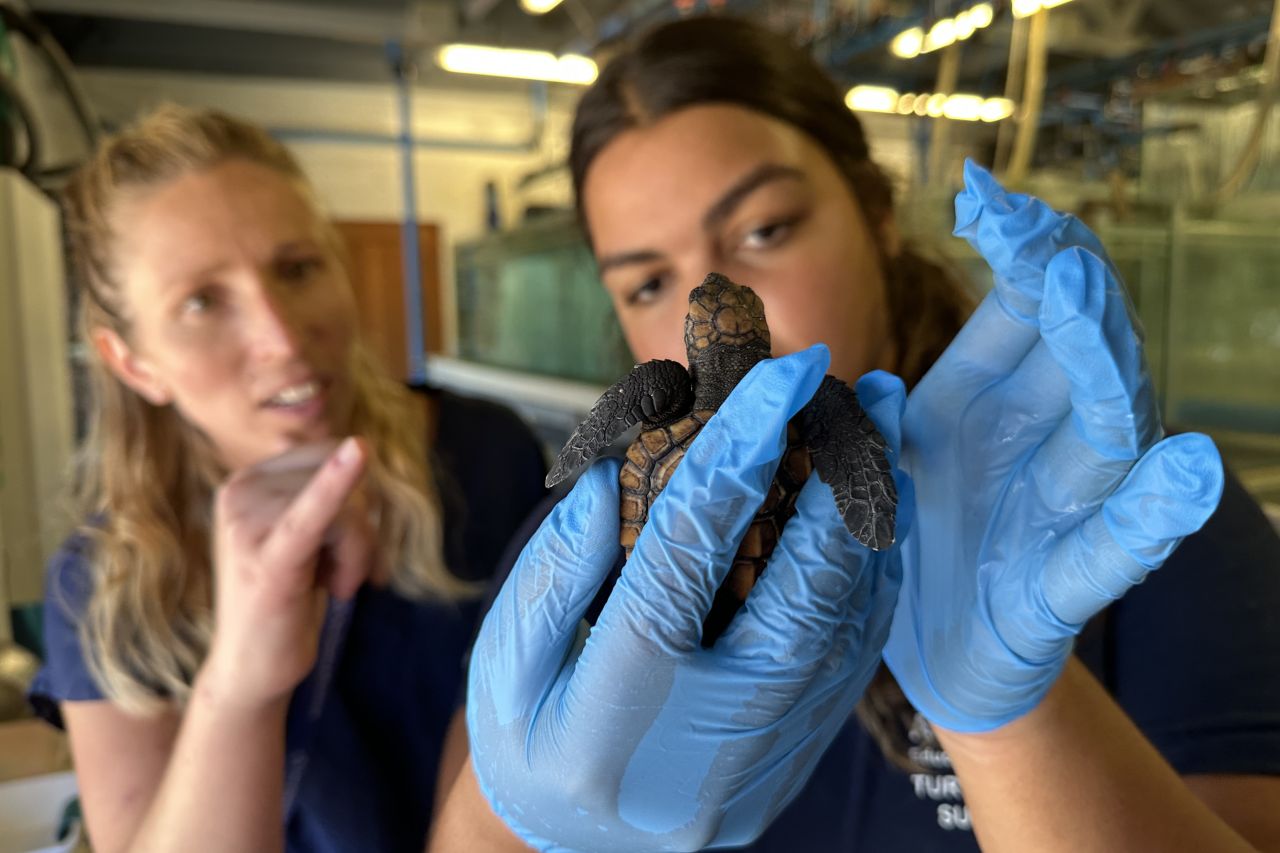 Scuba volunteering
Volunteer scuba divers get to help with a diversity of underwater tasks at the Aquarium and beyond. From assisting with tank maintenance, and cleaning, to assisting with underwater husbandry and joining our collections team on trips into Table Bay.

Note: A valid Commercial Diving qualification is required to become a volunteer diver. Class IV or greater is required to volunteer outside the Aquarium.